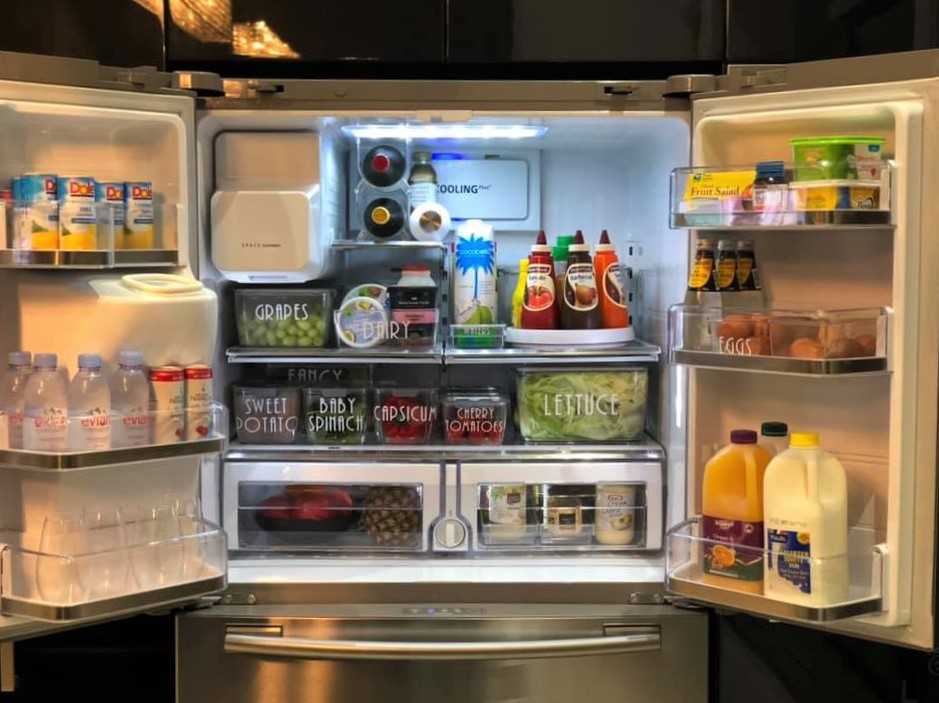 I've seen so many photos of gorgeous, organized fridges, which quite frankly, put my fridge to shame.  I honestly couldn't tell you the last time I took out my crisper drawers and cleaned underneath them or took the things out of the doors and wiped the actual fridge down …. Slack, I know, but points for honesty, right?!
But check her out now! She is a thing of beauty! And every single storage item was purchased from Kmart.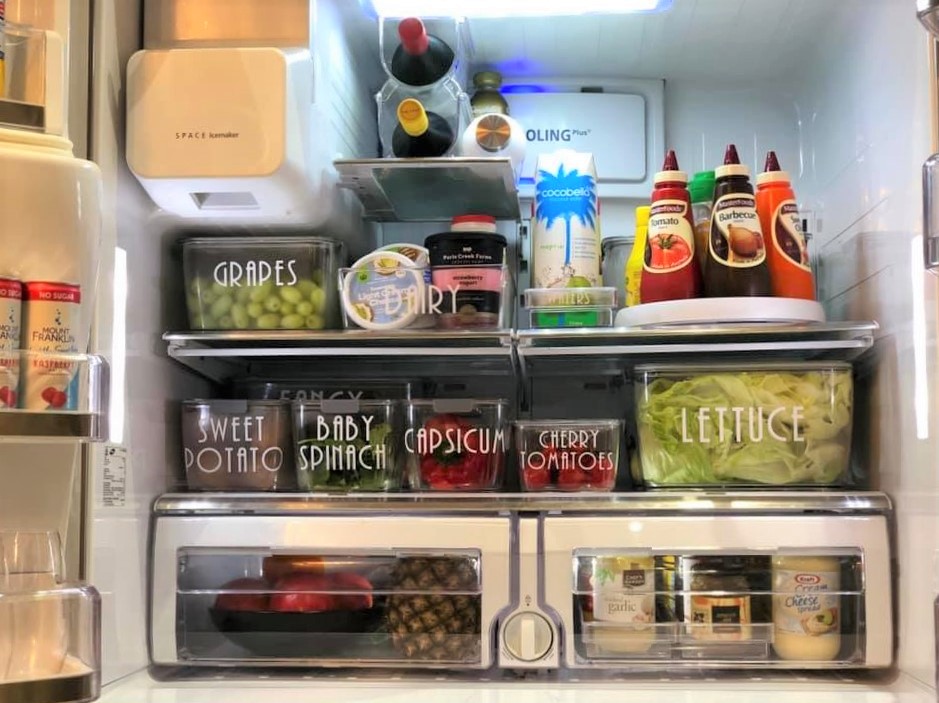 I didn't have a plan when I started this operation … in fact, I didn't think for a second that it would take quite a few hours of solid work to empty and clean the fridge and then organize it all … but it's definitely worth the effort!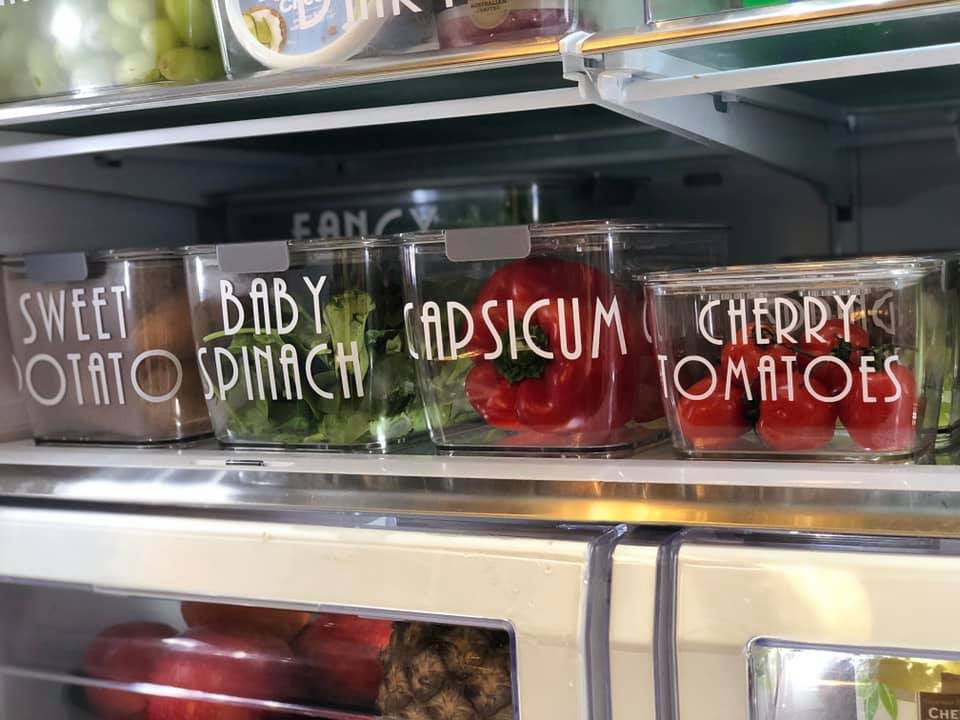 I started by taking everything out (and throwing out one or two past use by date items) and then I removed the drawers and shelves and gave everything a really good clean.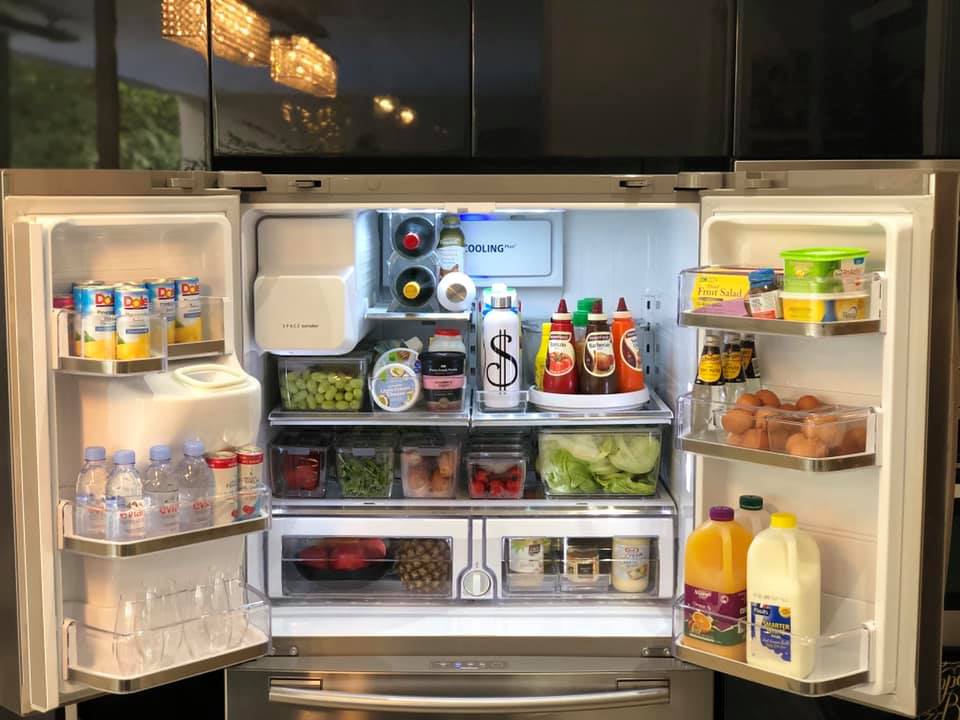 Now for the fun part! I sorted all the fruit and vegetables into an appropriate sized Fridge Food Saver container.  These are brilliant and very budget friendly.  The small one is $4, the medium $7 and the large $9. These come with a removable insert, drainer and drainage valve and they're BPA free.  You can also put them in the freezer and dishwasher. The FFS's also have adjustable air vents to maintain airflow and keep food fresher for longer.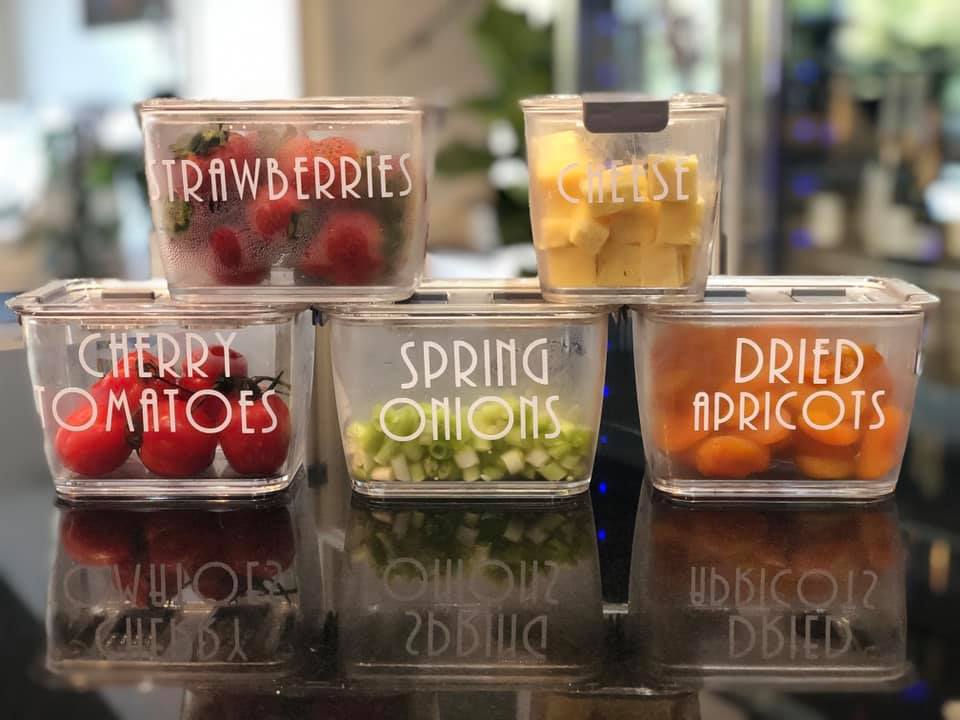 All up I used 5 of the small ones and have the air vent opened just one notch.  These containers act like individual crispers for your food so now your produce can be stored anywhere in the fridge.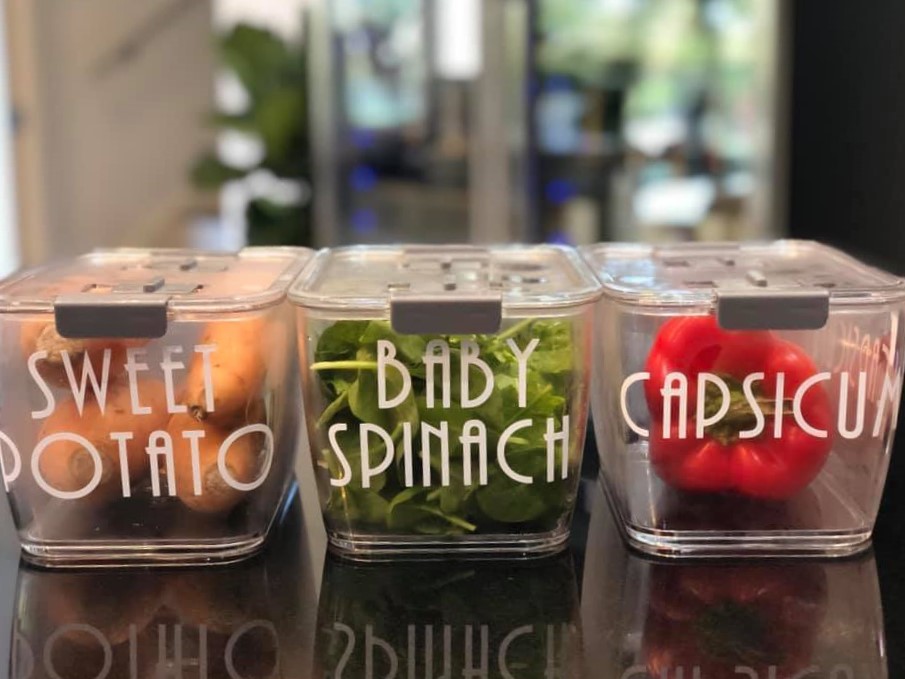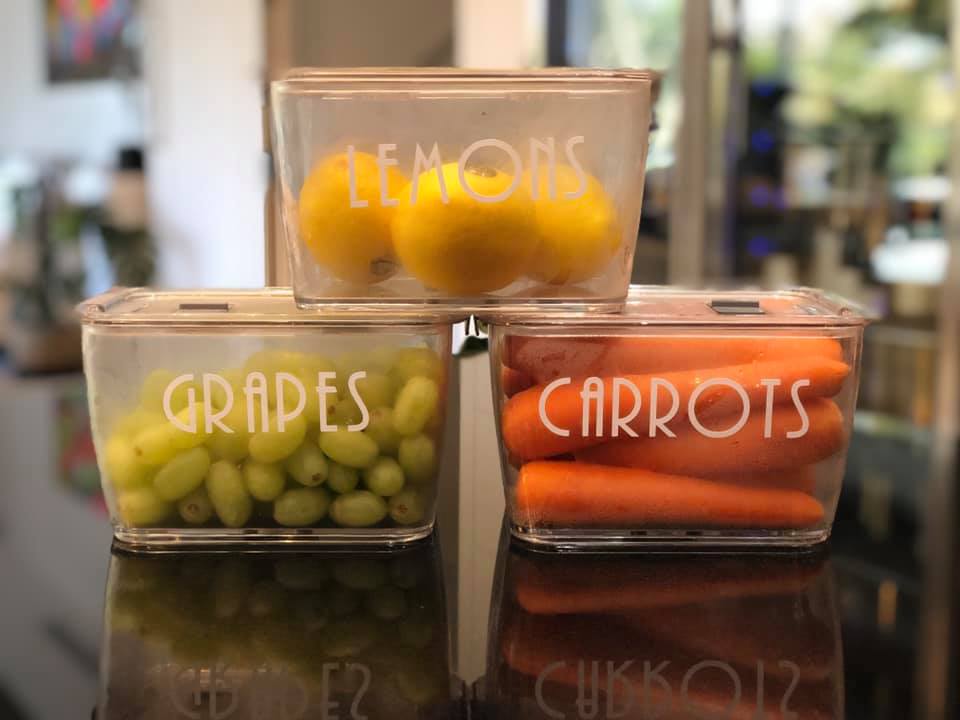 Next I used 6 medium containers and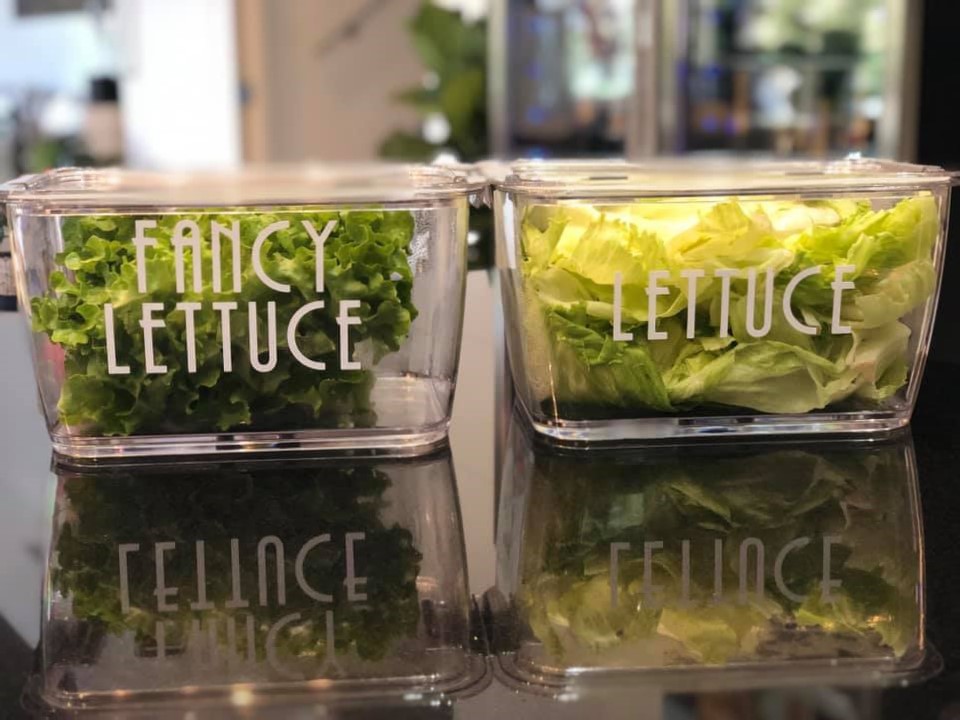 4 large ones. And yes, I may have forgotten to label the onions and the corn!! Oh well, that's a job for tomorrow!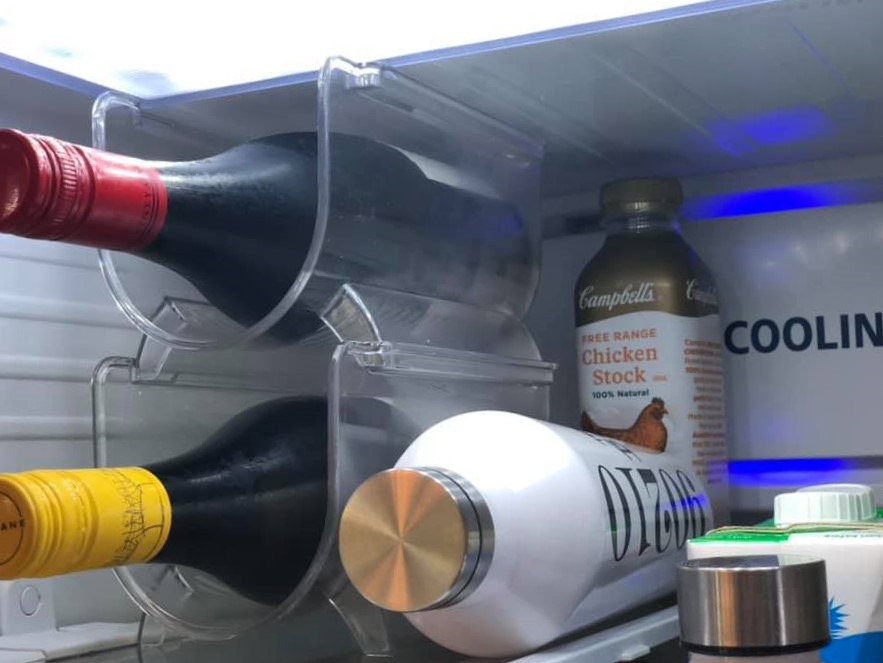 On the small shelf at the top of the fridge, I've used 2 of the Stackable Bottle Holders – $4 each to hold some wine – possible the best part of an organized fridge – I know have room for wine!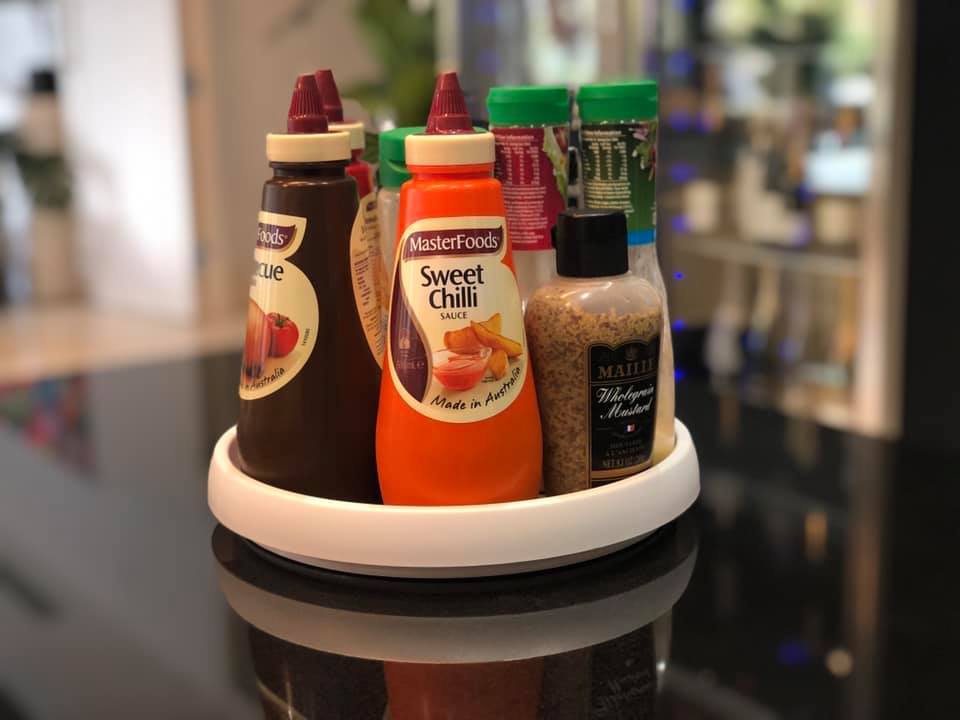 On the top shelf I've used one of the turntables from the kitchen section to hold the sauces and salad dressings – this works really well in a fridge!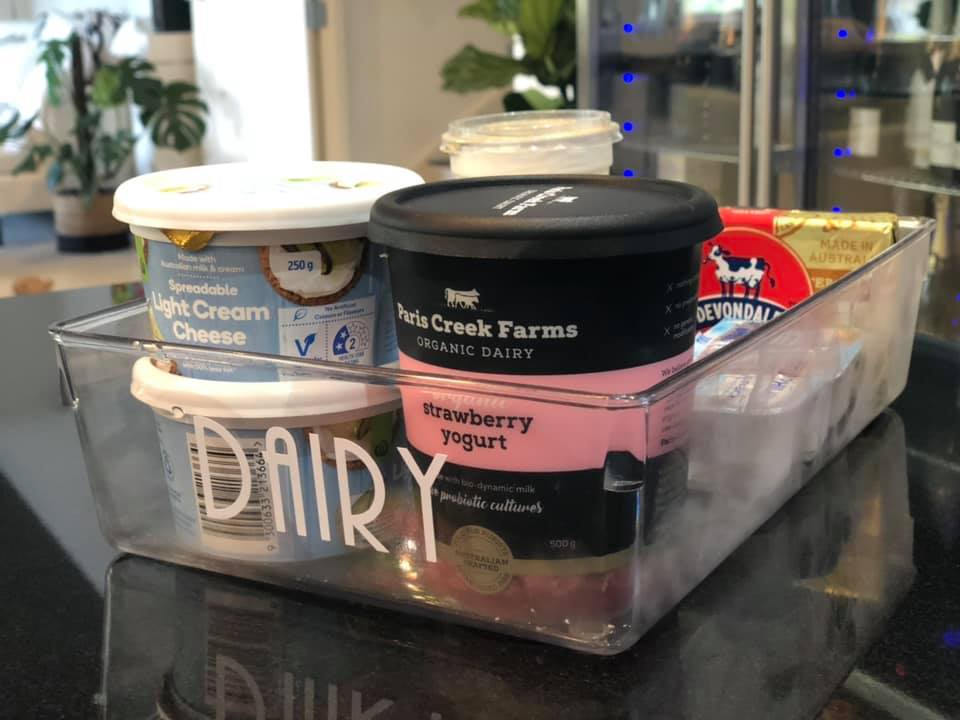 I've got the dairy items on this shelf which are stored in one of the wide clear drawers.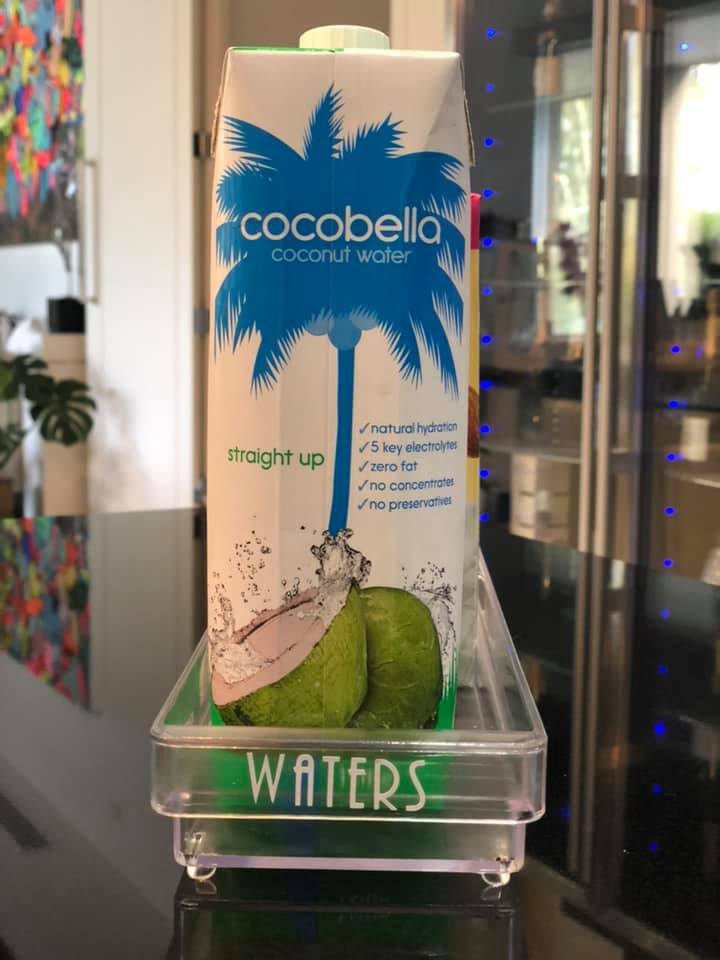 And next to the dairy is my tray of waters.  This has enough room to also hold 2 cartons of coconut water, my personal water bottle and a carton of almond milk hidden at the back.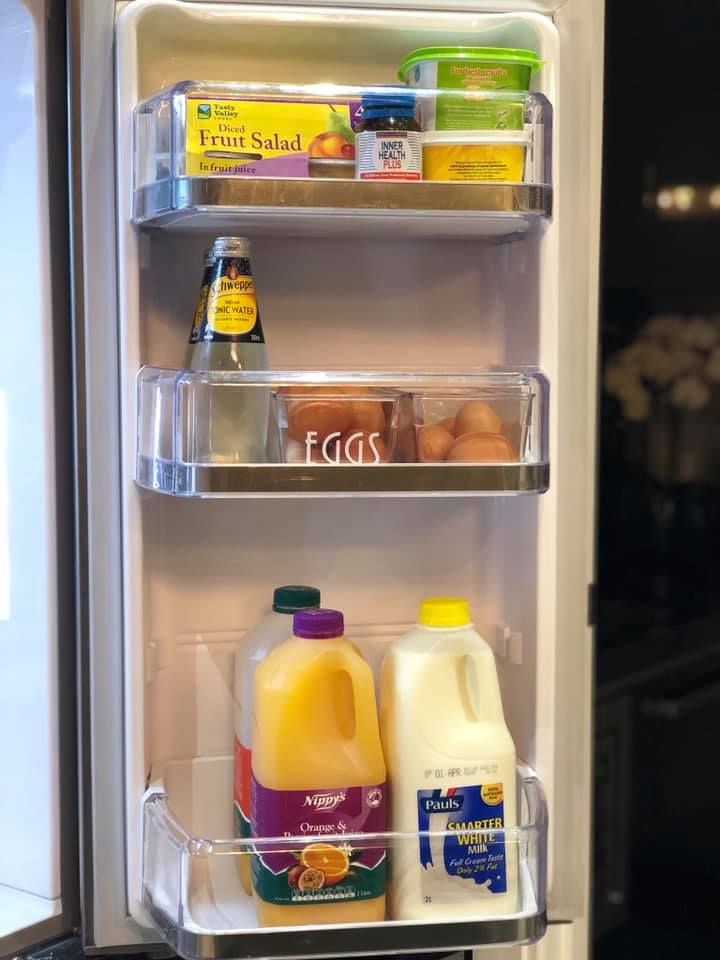 The right door holds our milk and juice, so I've put the margarines in there, some fruit cups and tonic waters along with 2 of the Small and Narrow Clear Drawers $2 each to hold the eggs.  I've cut the best by date off the carton and popped it in the back of the container so I'll know when to use my eggs by.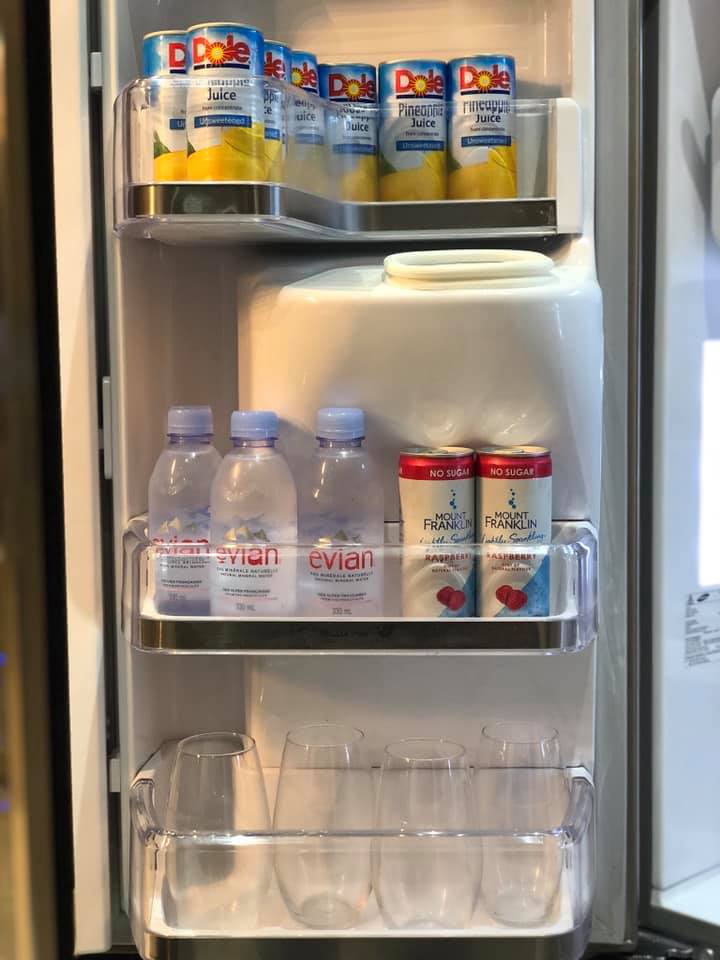 The left door holds some juices and personal sized waters and on the bottom shelf I like to always have some glasses chilling in the fridge.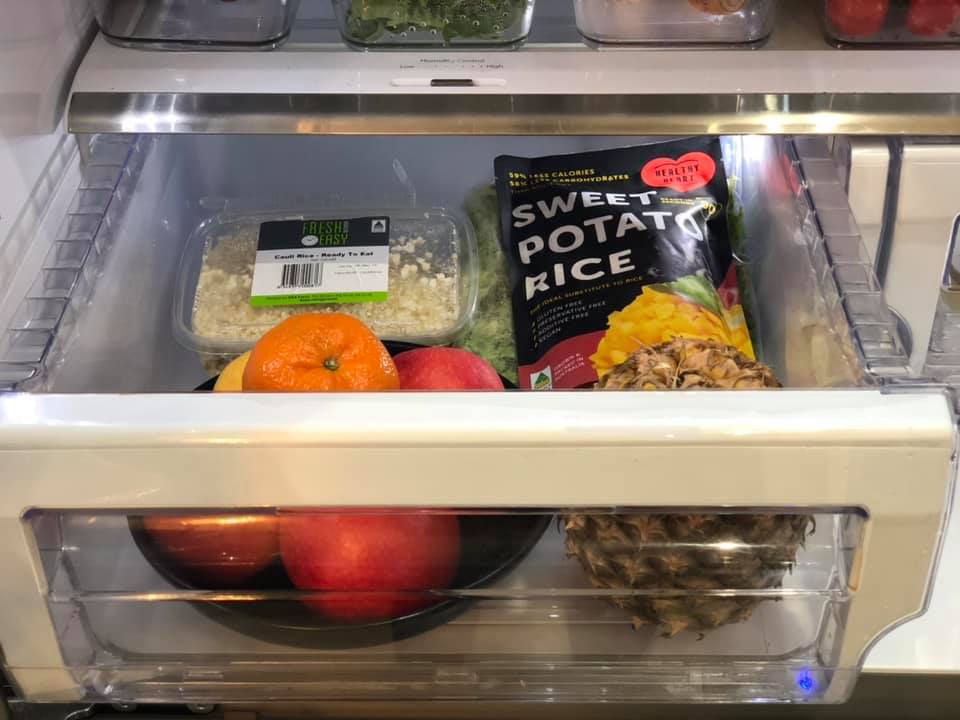 Because I'm storing most of my produce in the main part of the fridge, I have heaps of room in my crisper drawers. This drawer holds a bowl of nice crisp apples, a pineapple, and some different packets of vege rice that I will get around to cooking one. day. soon.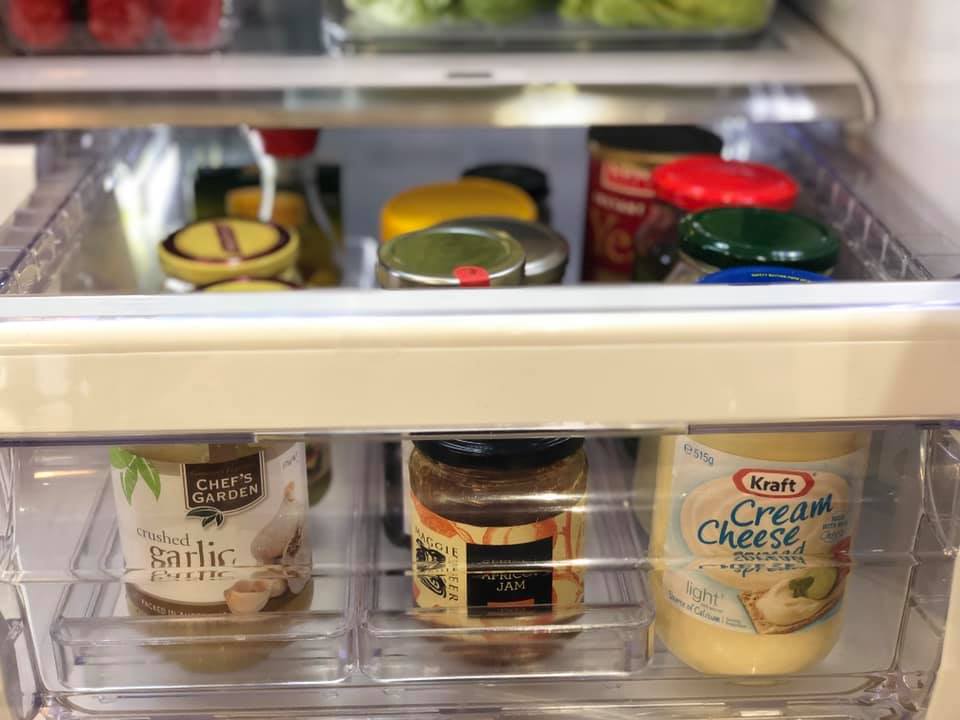 The other drawer holds all the goods that are in jars – condiments, spreads, pickles … all those kind of things.  I've got them all contained in the clear Deep Drawers – Narrow and Tall – $5 each and now I can at last, see them all! Prior to this, I'd always just thrown them in the door if there was space, or at the back of the fridge!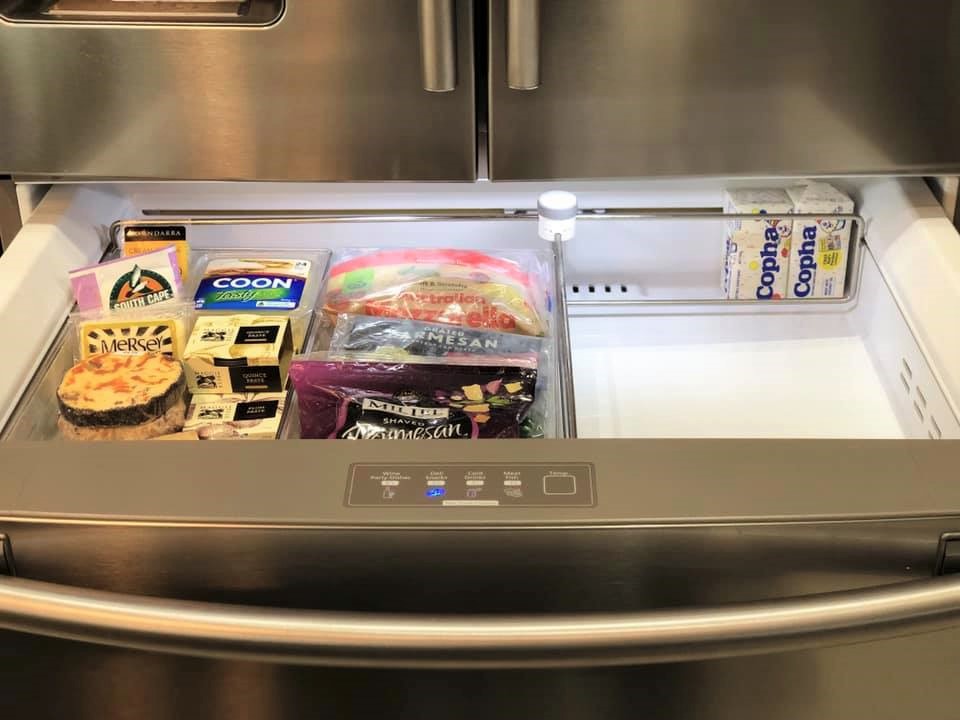 I also have a large  drawer in my fridge, so I've used half of this to store my cheeses in 2 clear acrylic drawers – one for block cheese, one for grated.  I've left the other side of the drawer empty so I can put leftovers in there – just some spare space which is really handy!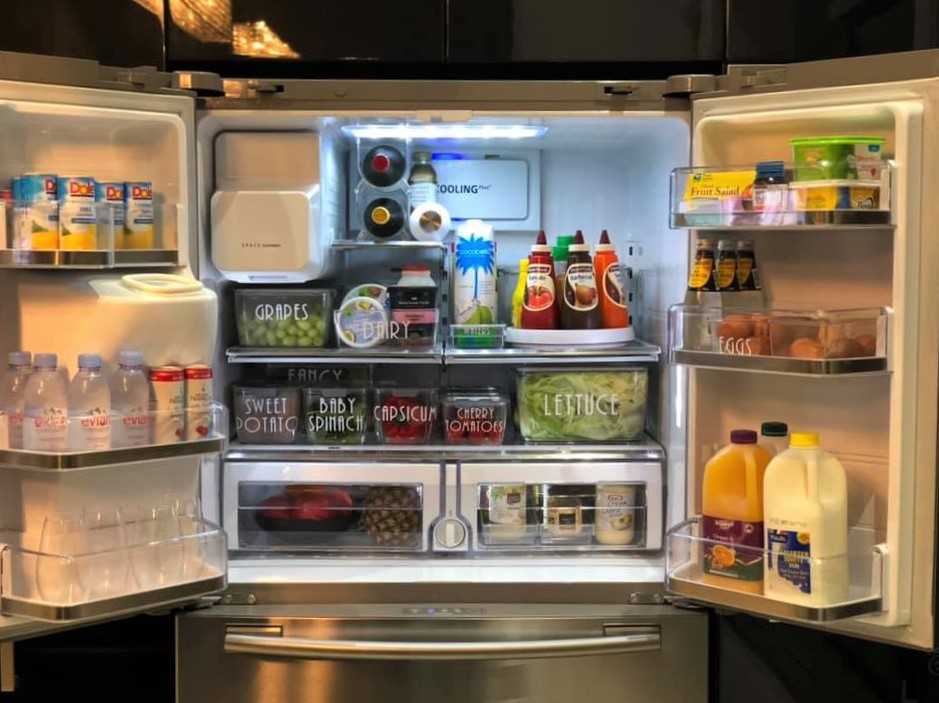 If you've ever wanted to organize your own fridge my advice would be to go for it!
I'm super chuffed with my new Pinterest worthy fridge!
Until next time…
Happy Styling!
Categories: Learn How To