Check out these GIANT playing cards that Kmart have in stock just in time for Christmas … They are HUGE and a lot of fun! Best part of this story is, they retail for only $5! Fantastic idea for Kris Kringles, stocking fillers or Kids parties! (Obviously, make sure you buy yourself a pack or two!!!)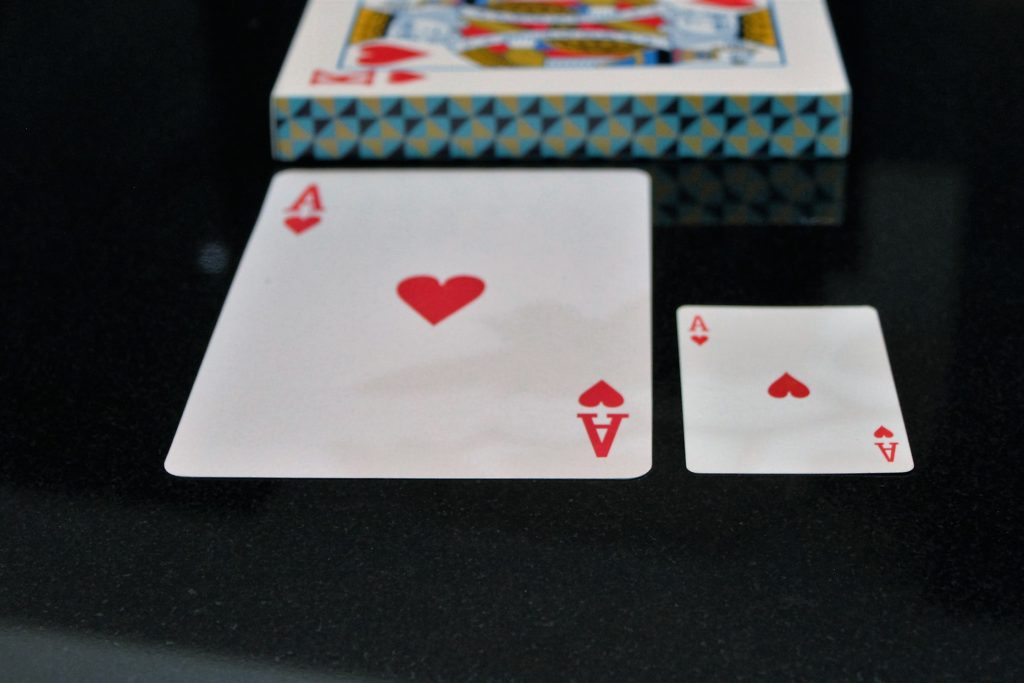 We've got a few great ideas for these fun decks once we stop playing with them! Today we're going to show you how to use them to organise and display your necklaces and earrings and it's simple!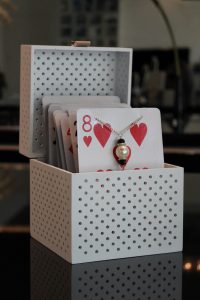 All you need is a deck of cards, a ruler, some small zip lock bags, a sharp craft knife and some sticky tape. The longest part of this project for us, was untangling all our necklaces!
First count out how many cards you're going to need – one for each necklace. We went with an assorted selection of cards, but of course, you could choose just one suit, or just picture cards, whatever you like!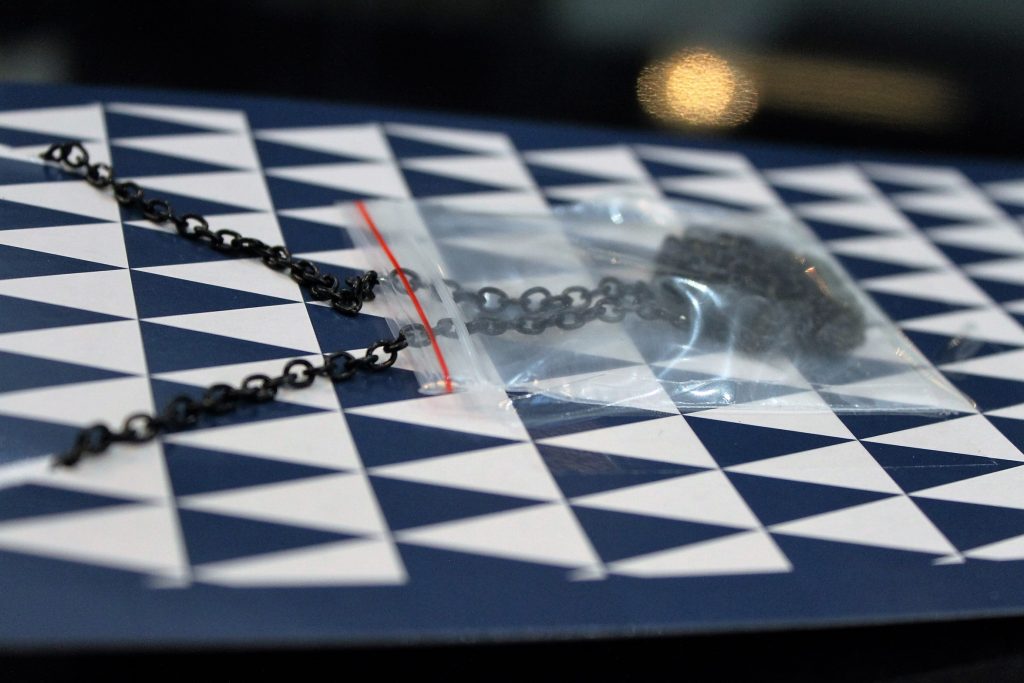 Turn the card over so the back is facing you and then using your zippy bag and sticky tape, carefully stick the bag onto the card. Do this as neatly as you can, although you won't necessarily see it once the project is finished.
Now turn the card over and place a mark 2cms in from each side edge on the top. Mark the card gently, just so you can see it as a guide.
Now measure down the side 2cms and in 3cms and put another guide dot.
Using your ruler, draw a connecting line between the two dots and then carefully using your craft knife, cut along the line.
You should end up with two angled cuts like this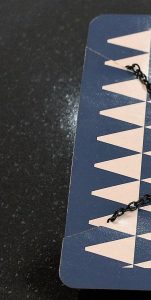 Next it's simply a matter of taking your necklace, positioning it on the front of card and slipping the chain through the slits. Turn the card over and put the excess chain hanging on the back into the zippy bag and that's it! One necklace organiser done!


You can store most earrings on the cards as well! Instead of using a craft knife to cut slits in your card, take a needle and poke holes through it. Then take the back off your earrings, thread them through the hole and put the back on to secure it to the card.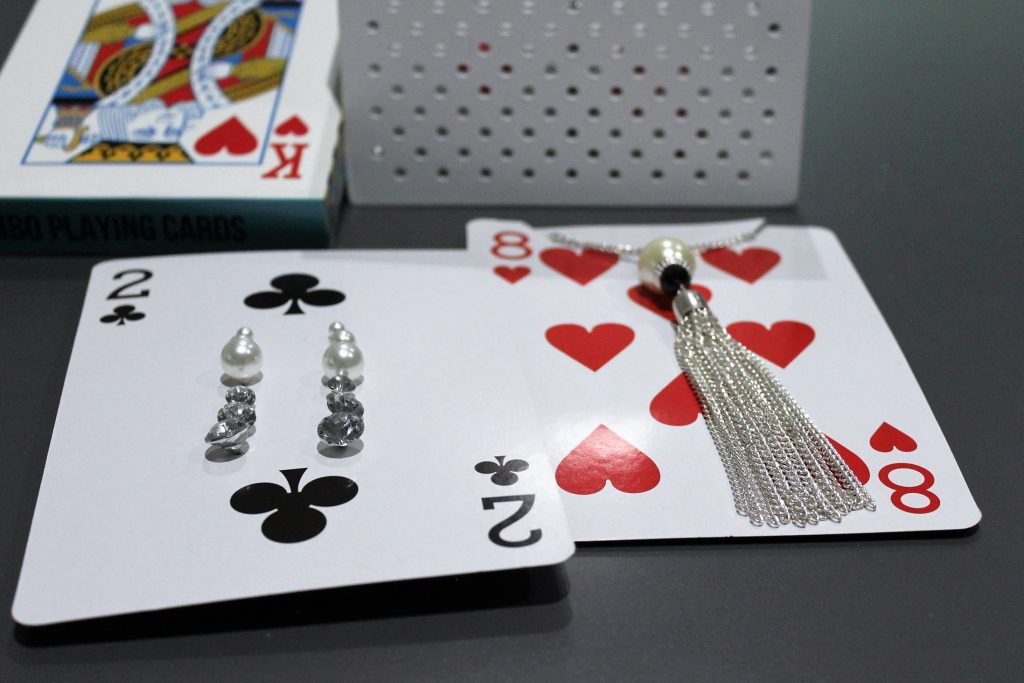 As you can see, we fitted up to 6 pairs of studs on one card and they look great!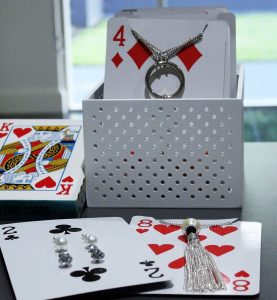 We hope you like this unique way to organise and display your necklaces. We think it's fabulous – no more tangles, everything in the one place and so easy to see all your jewellery by flicking through the cards!
We've got ours displayed in the peg board box but we discovered something very special after this project …..
It's so great we need to share it with you ….. These cards fit PERFECTLY in a Champagne box!! Next time you have a bottle of boxed champagne, don't throw the box out! Keep it! Store you necklaces in it! The results look FAB!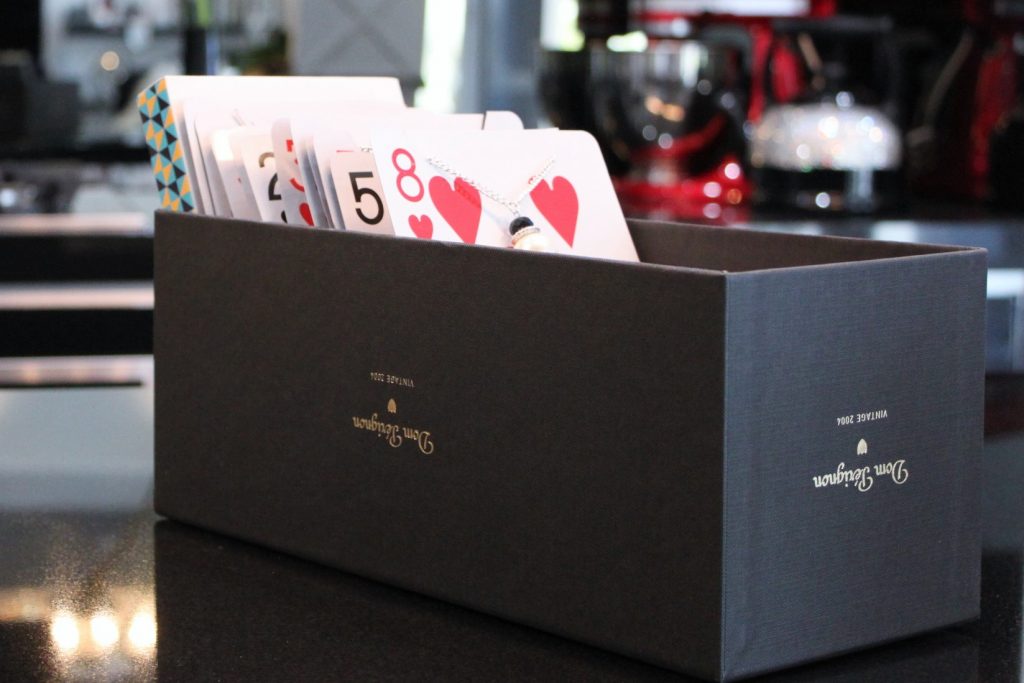 Make sure you tag us in your social media pics – we love to see your own styling and designs and so do our followers. If you'd like to share pics of how you organise and display your necklaces, make sure you pop them up on our FB page, or tag us on Insta so we can all see what you're doing!!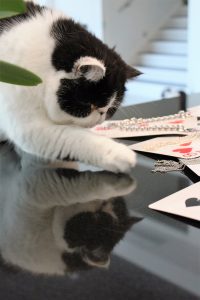 As always, have a blinging great day!
Categories: Clothes & Footware