A Fabulous Felt Board!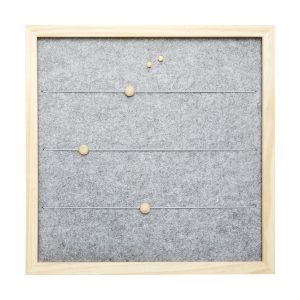 Kmart have this fabulous felt board for only $8 and it's a great piece just as it is, but we don't need a felt board, we need somewhere to store and display sunglasses and this is just perfect!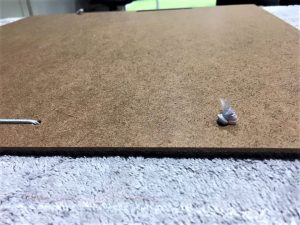 We turned the frame over and removed the felt board from the frame – and then we undid the knots that hold the string in place.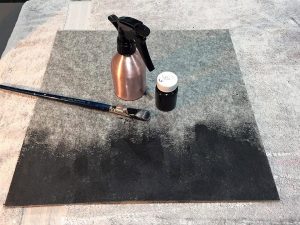 Next we dampened the felt with water from a spray bottle and painted it using Kmart's Chalk Paint (4 chalk paints for $5). We've diluted this paint at a ratio of 1/1 – one part paint, one part water – and did 2 coats, plus a touch up coat. You can choose not to dilute the chalk paint as much, and you will end up with a heavier application and a fuller colour at the end.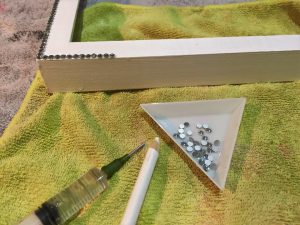 After we painted the felt, we moved onto painting the frame white – (we used the white pot from the chalk paints) and set that aside to dry.
Once that was dry, we spent about an hour placing a line of our KS 1.6 stones (available here for $7) around the edge of the frame. Of course, larger stones could be used which would take less time to apply!
We also painted the elastic string and three wooden balls black with the chalk paint so it would blend with the colour of the felt.
Once the felt, the frame, the string and the balls are dry, it's time to reassemble everything!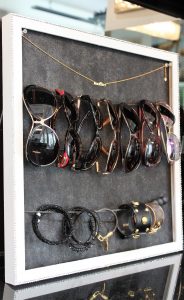 You're going to need to rethread the elastic back through the holes which isn't hard if you use a piece of sticky tape wrapped tightly around one end!
You may find you will need to retighten the elastic once or twice after you've hung your sunglasses.
How great does that look and the total cost is under $20! Crazy right?!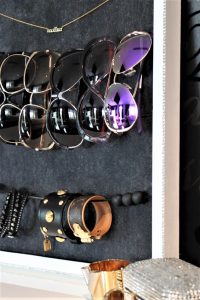 These boards could be adapted to fit any colour scheme and décor. They also come with a hook on the back so you can hang it if that's your preference.
We hope you like this project and we can't wait to see your 'spin' on this great felt board! Make sure you tag us in your social media pics using the hashtag #kmartstyling – that way all our @kmartstyling_official followers can see them as well!
Until next time,
Happy KmartStyling!
xoxo
Categories: Homewares