We are so excited to share this project with you! We think it may be our best yet and we can't wait to show you!
We are going to turn a $7.00 beauty mirror into a show stopping piece that will blow your mind!!



This post is v v photo heavy – we couldn't stop taking pics of it and we knew you would want to see them all!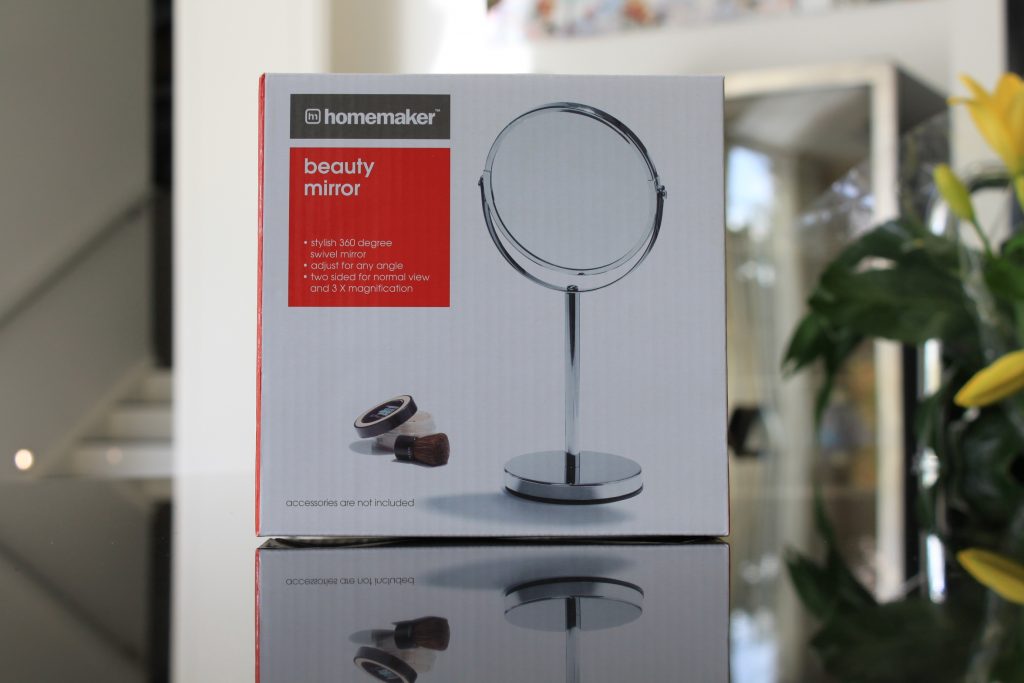 We've started with this plain beauty mirror which retails at Kmart for a mere $7.00.
We were so excited to get this make over underway, we never actually took the time to photograph this piece
straight out of the box! Never mind, we think you get the idea!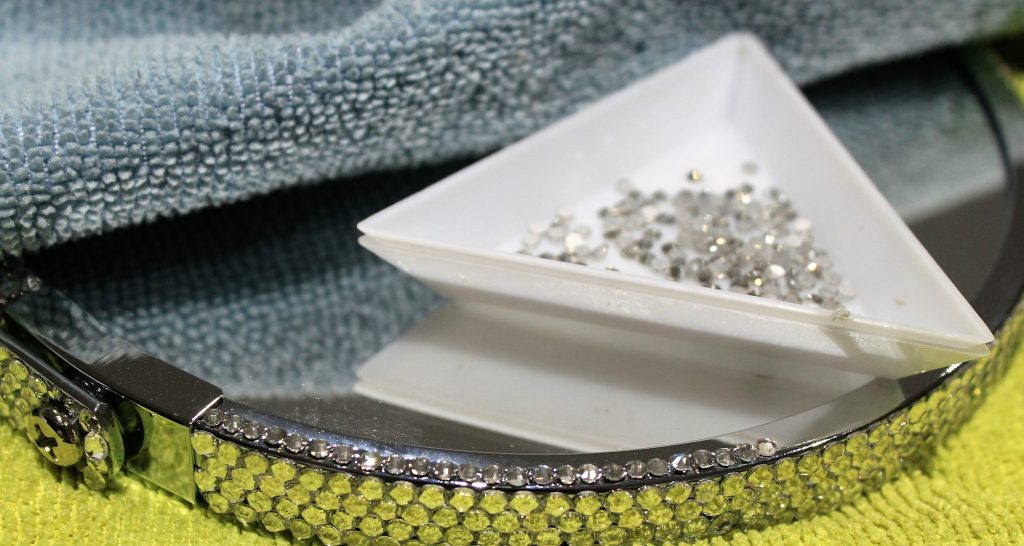 When you open the box, the mirror is already in parts so we don't have to deconstruct anything.
Later on we will give you a complete breakdown of all the stones we used for this project but for now let's just take
a deep breath and get on with explaining how we restyled this mirror.
We started with the actual mirror first. On the outside edge we laid 4 rows of stones the whole way around except for
the square silver hinge pieces.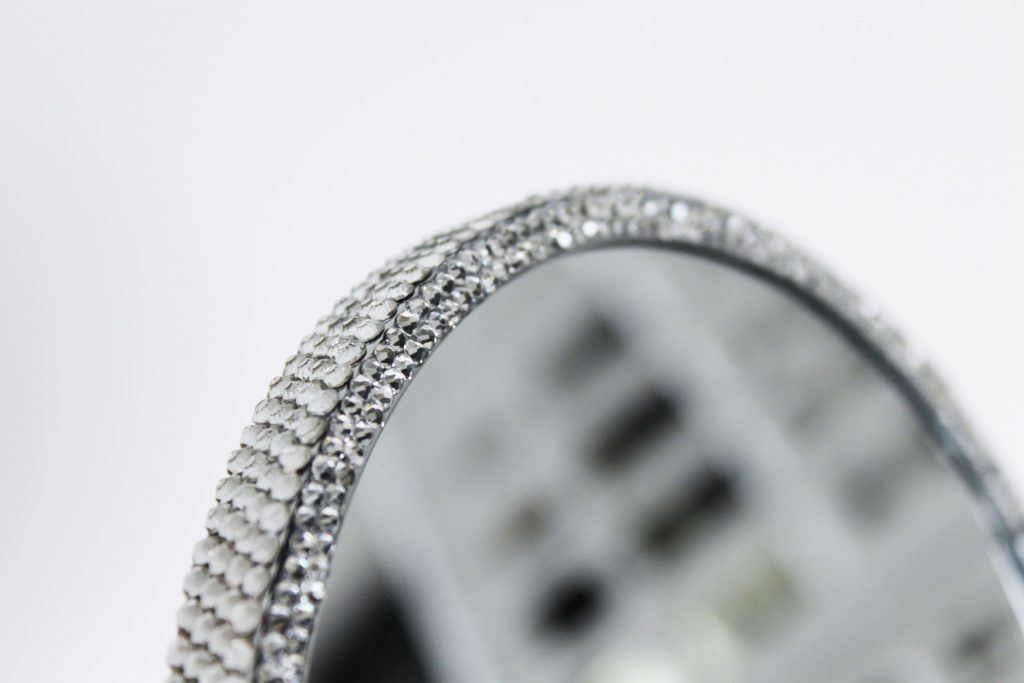 Then when that was dry we laid the mirror flat and laid two rows of stones on the edge of the mirror itself. Of course we've used
the E6000 glue on this project because it dries so clear! Because we're gluing onto a shiny surface, the stones will slide a bit, just
watch out for that and make sure you keep checking the stones that you've laid.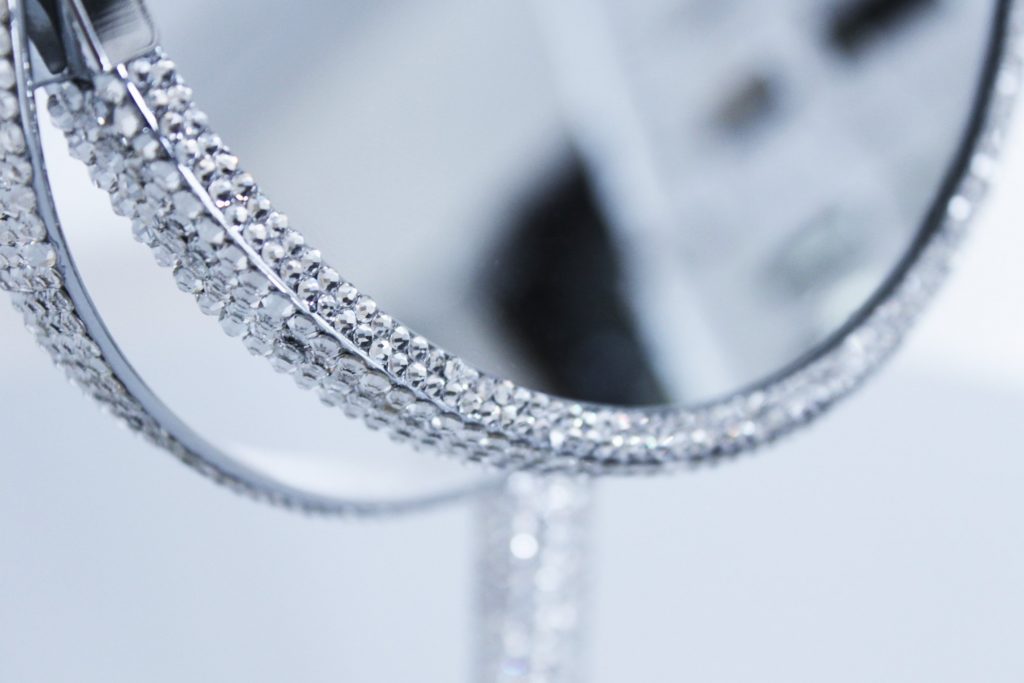 When you've completed the mirror move onto the frame that holds the mirror. It's very important to note here that you only
place stones on the underside of this piece. You can't lay them on the top because they may prevent the mirror swivelling and
they could also damage the stones on the mirror.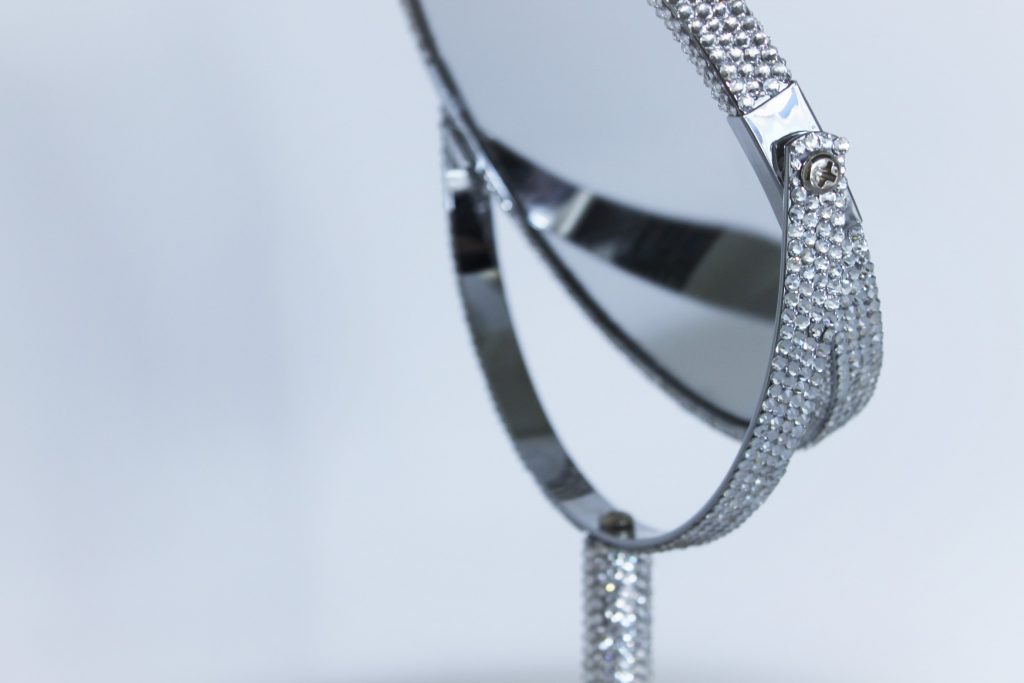 Here you can see the area we've left free of stones.
After we'd done the mirror frame we moved onto the base. It's always fun to do something circular like this!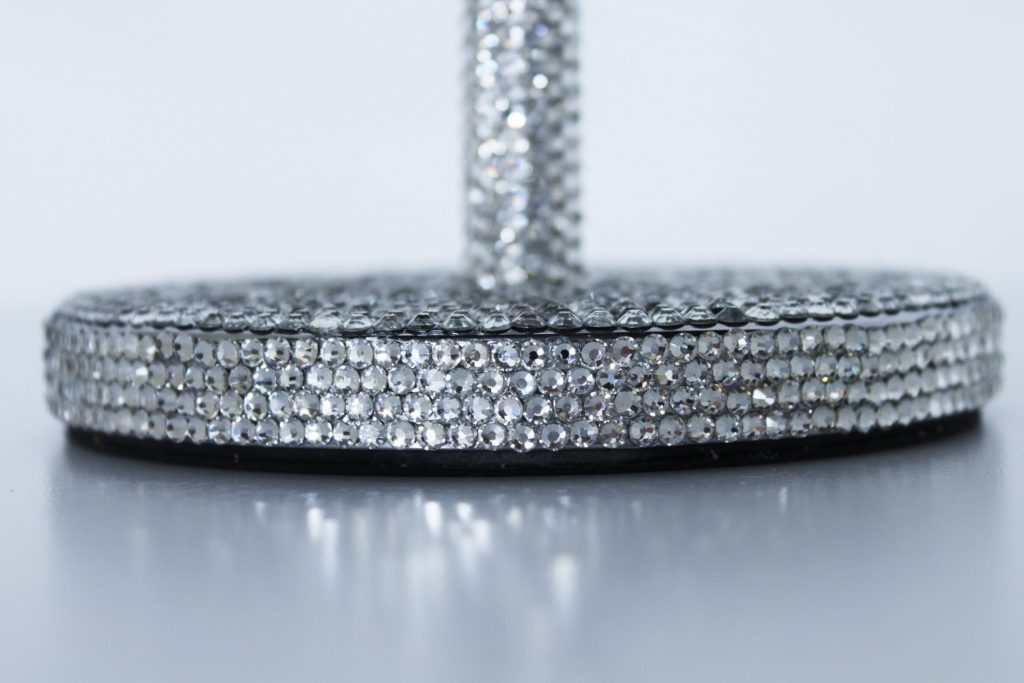 Start on the edge first. We laid 4 rows around the outside of the base and then we started on the top.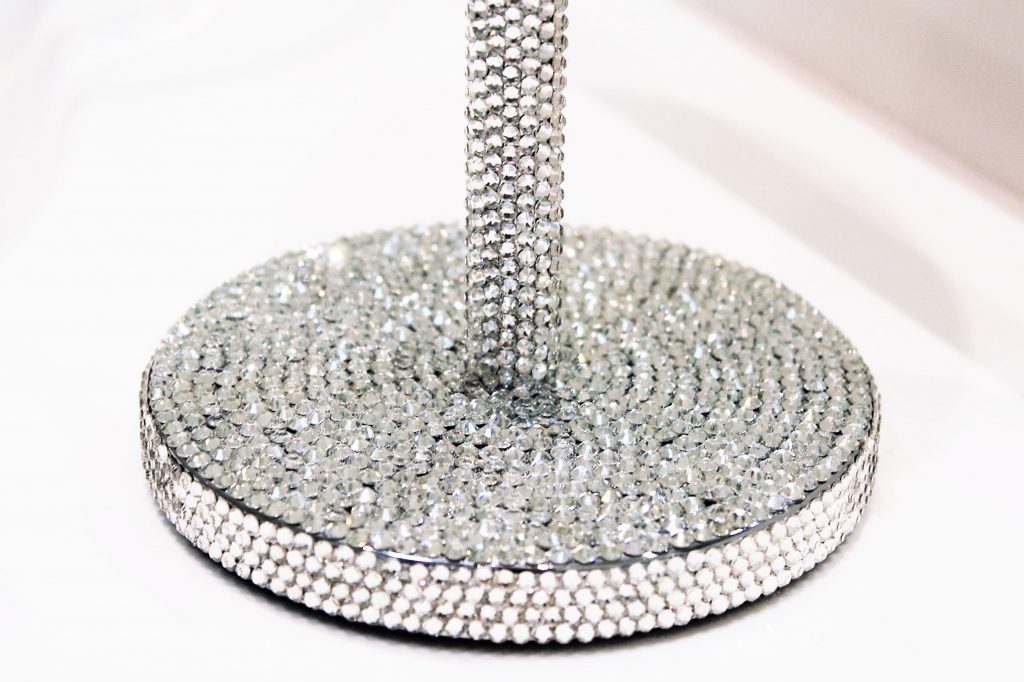 You need to take great care when you get near the centre – you have to leave enough room for the upright piece of the stand
to screw in, and don't forget that piece will be thicker because you've laid stones on that too! Speaking of that upright stand,
you have two ways you can approach that. We've chosen to lay the piece down horizontally and work our stones along the
length of it. You could, if you prefer, start at one end and lay stones around the circumference of it, over and over and over.
We chose to do it our way so the end that screws into the base would be most even and we don't risk any damage to the stones
when we assemble it.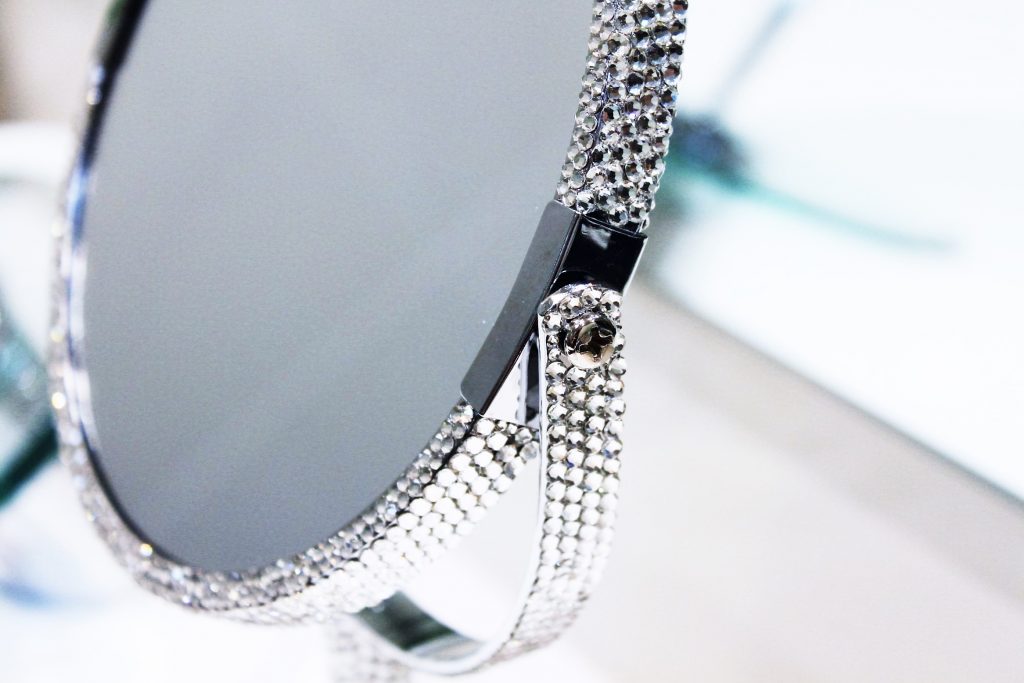 This is one of our more difficult projects, but don't be scared away! When we say difficult, we really mean easily manageable
with a few cups of coffee!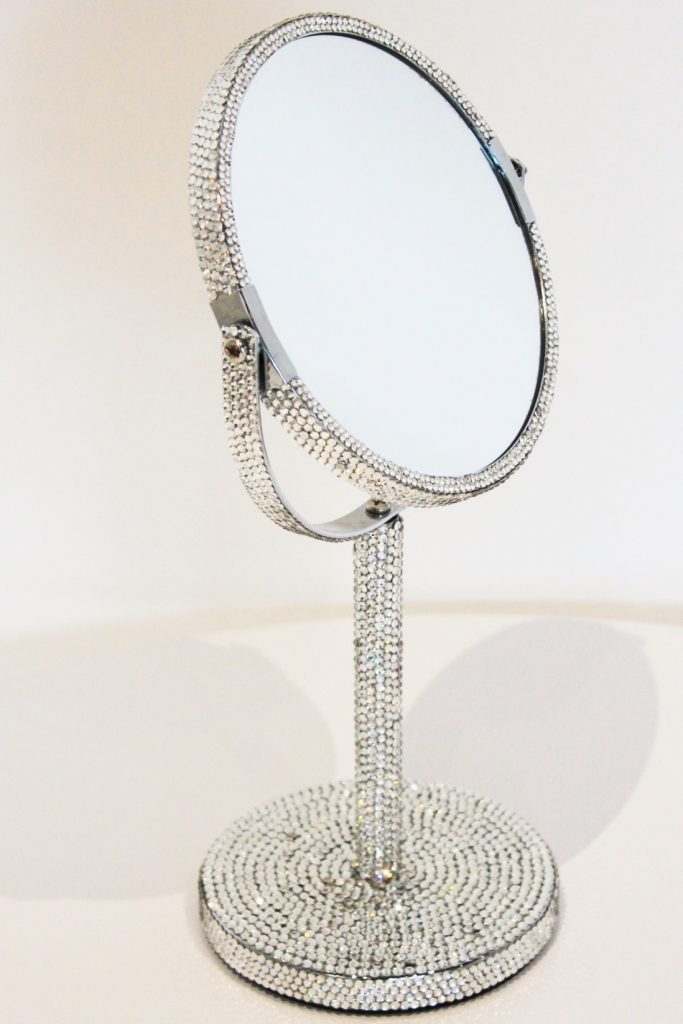 And look at the finished product! Simply Stunning! It's bling to the max, and it will stop you in your tracks every time you
lay eyes on it! Amazing to think it started life as a $7.00 item!!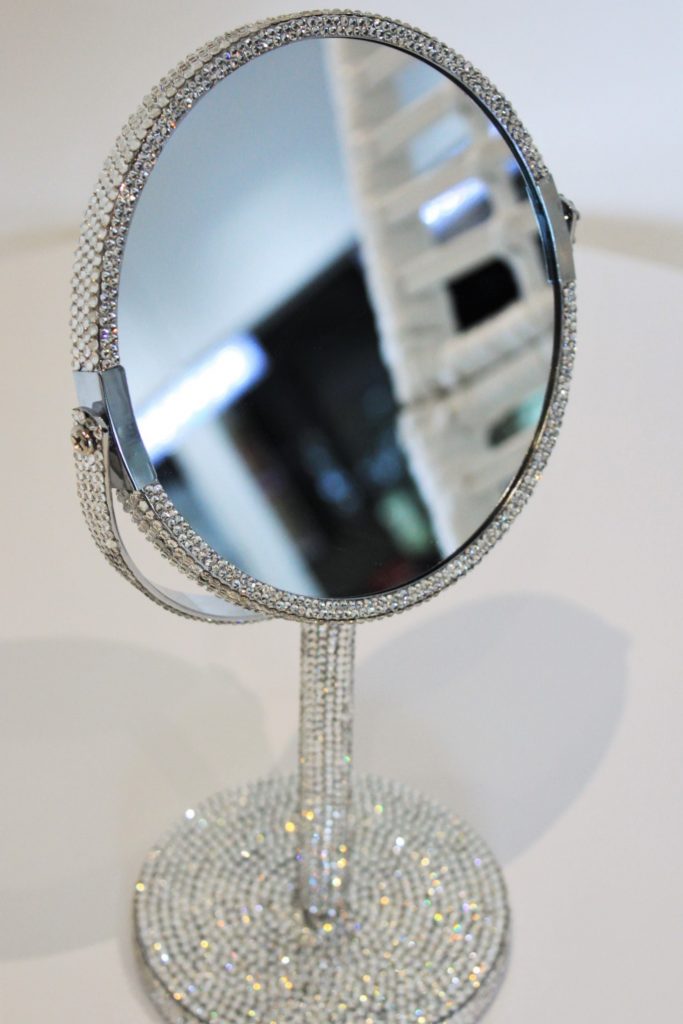 Everything you need to complete this project is available from our store here including all the stones,
glue, and application tools.
Now here's the down low on what stones we used ….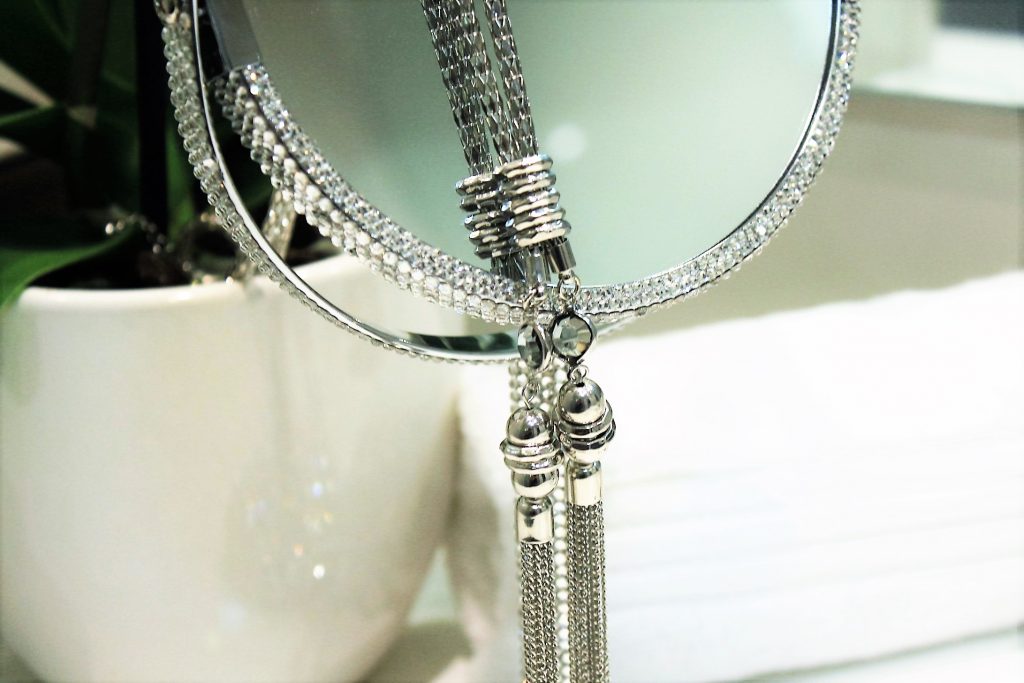 The side edge of the mirror – 520 x KS 1.2
The front face of the mirror – 680 x KS .8
The mirror frame support – 360 x KS 1.2
Base sides – 480 x KS 1.2
Base top – 820 x KS 1.6
Upright pieces of the stand – 620 x KS 1.2
In short that equals –
1980 x KS 1.2
680 x KS .8
820 x KS 1.6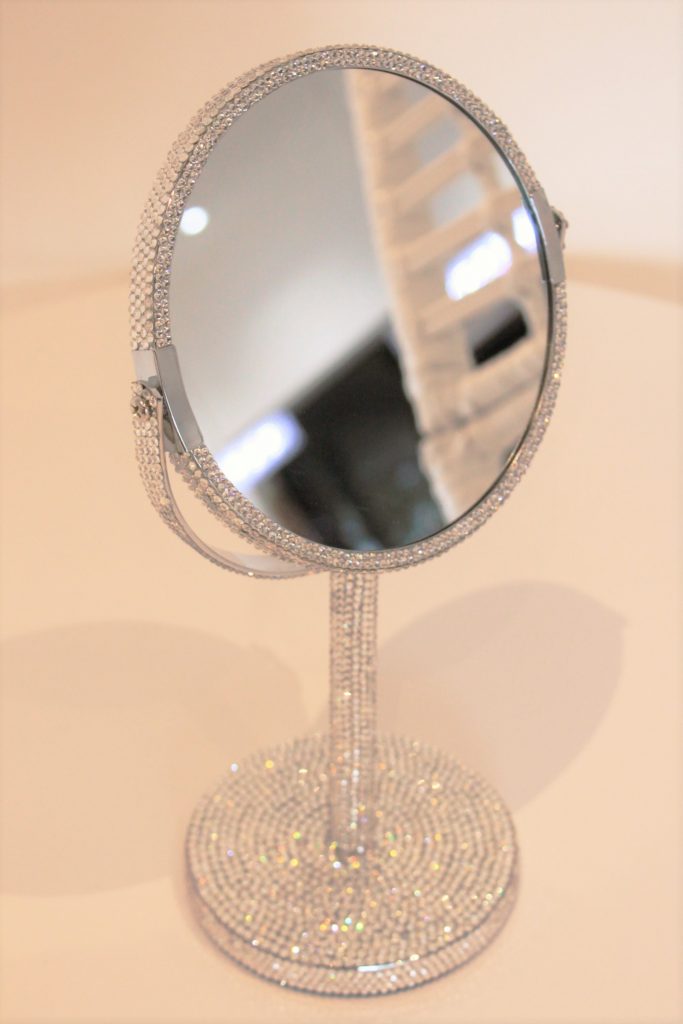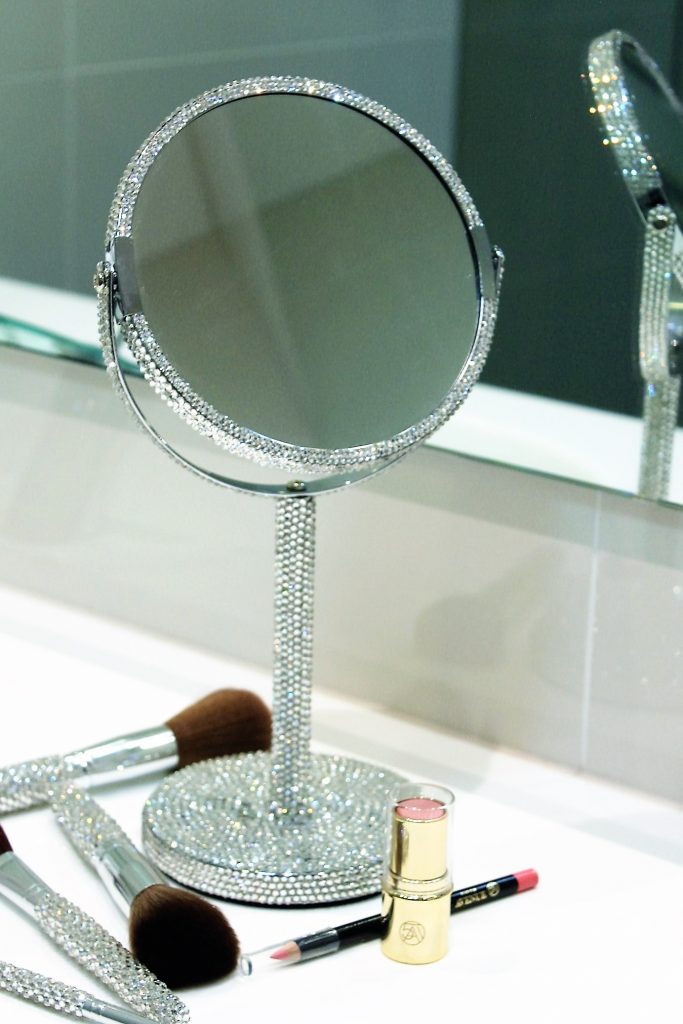 Don't forget we love social media and seeing your creations. Upload your photos and use the hashtags
#kmartstyling and #kmartkraze that way all the other @kmartstyling_official followers can see them too!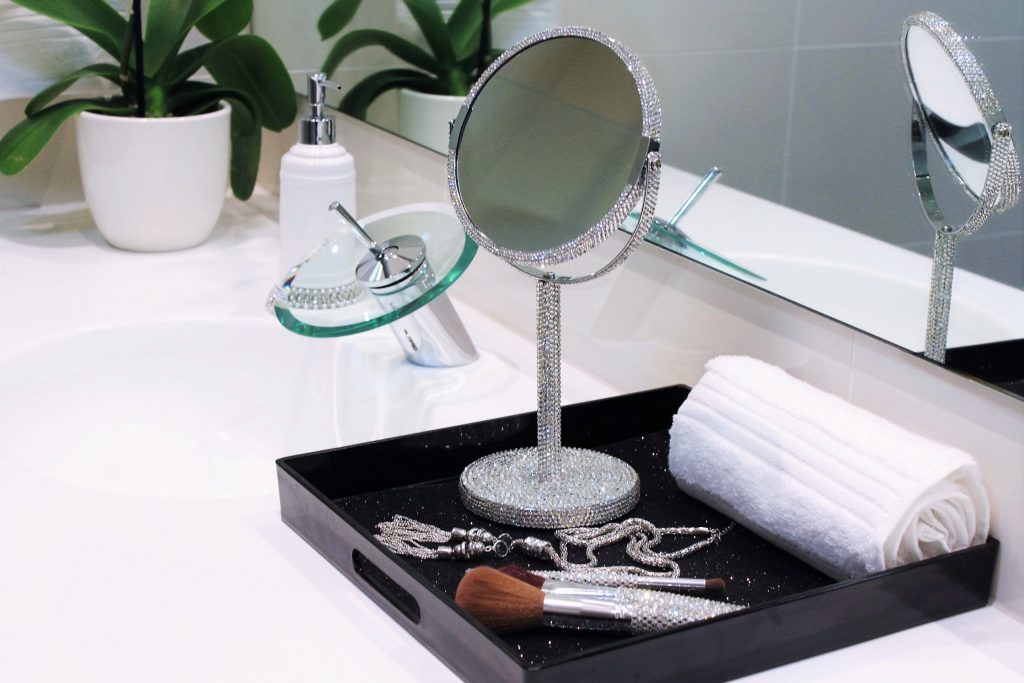 We have a full tutorial on how to apply stones here and our shop has everything you need
to add some glitz to your Kmart purchases!
As always, have a blinging great day!!
Categories: Homewares