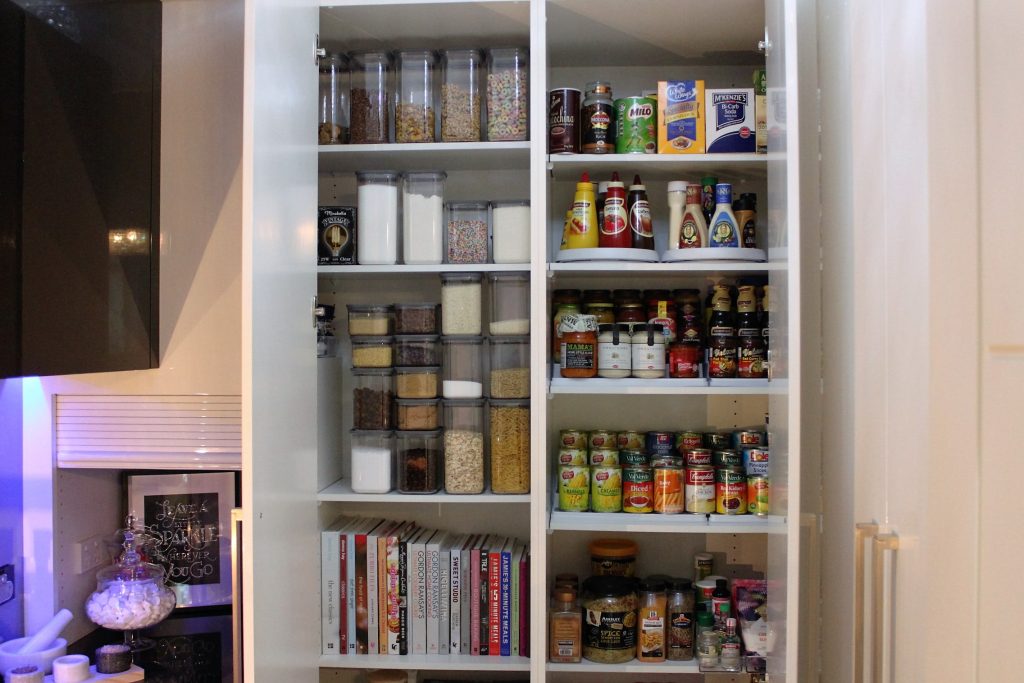 Kmart has made it incredibly easy and affordable to give your pantry a stylish and yet practical make over.
Their range of storage solutions is huge, many choices and endless possibilities so we thought we'd put them to the test!
So we could organise properly, we took every single thing out of our pantry until it was completely bare …. and then we wiped down every cupboard door and shelf. (And yes, we even cleaned inside the doors!) It's always great to start with a blank, clean canvas!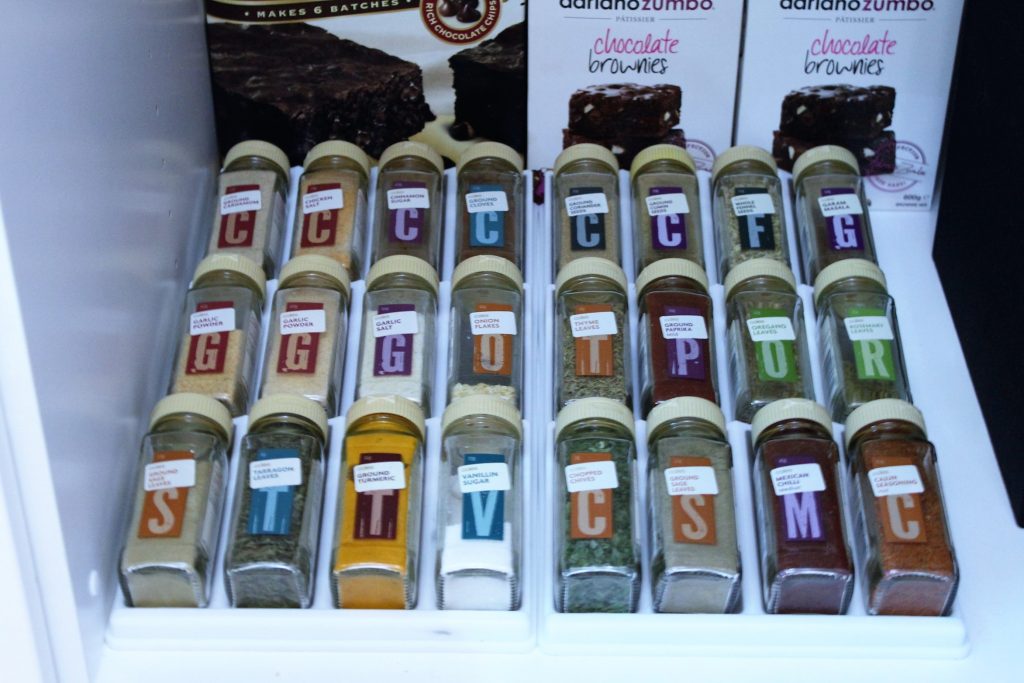 We purchased these spice racks from Kmart a few months ago, before they were discontinued, so we made use of them. But if you're looking for storage racks for your own spices and herbs, Kmart do have other more current options available from $4. These little jars can look messy and trying to find the jar you're looking for can be a pain in the %$#! (neck) , so by keeping them together in a spice rack makes sense all way round.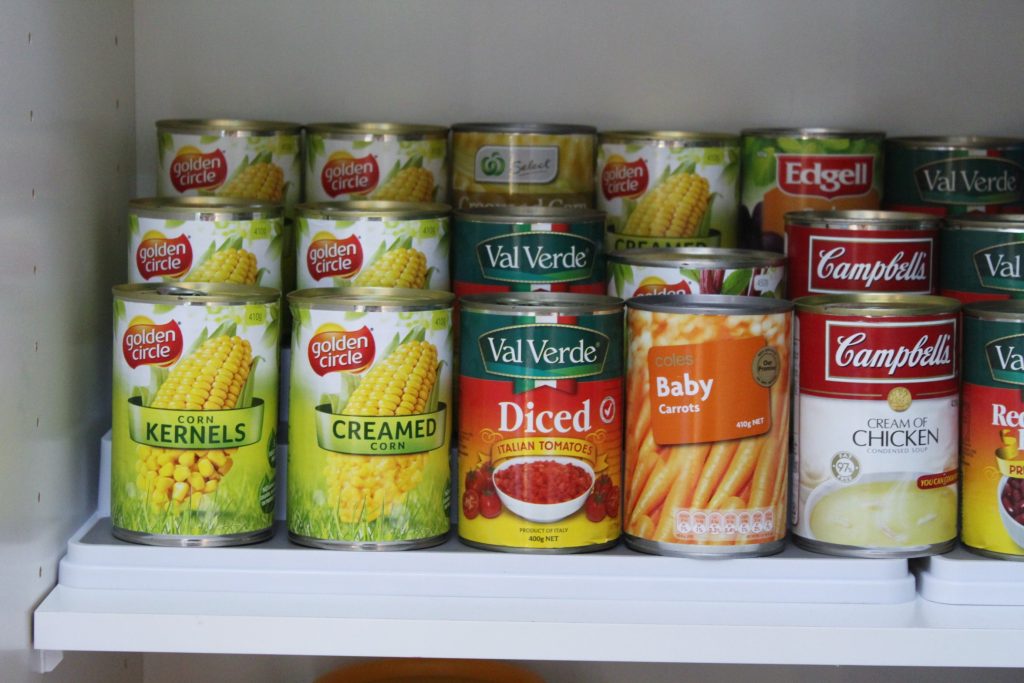 For all our canned goods we've used the 3 Tier Shelf – $7 each. These are great! By tiering the shelfs you can see what you've got at the back of your cupboards. Not to mention, when you open the cupboard door it looks very swanky!
We also used the 3 Tier Shelves for our breakfast condiments … looks pretty great!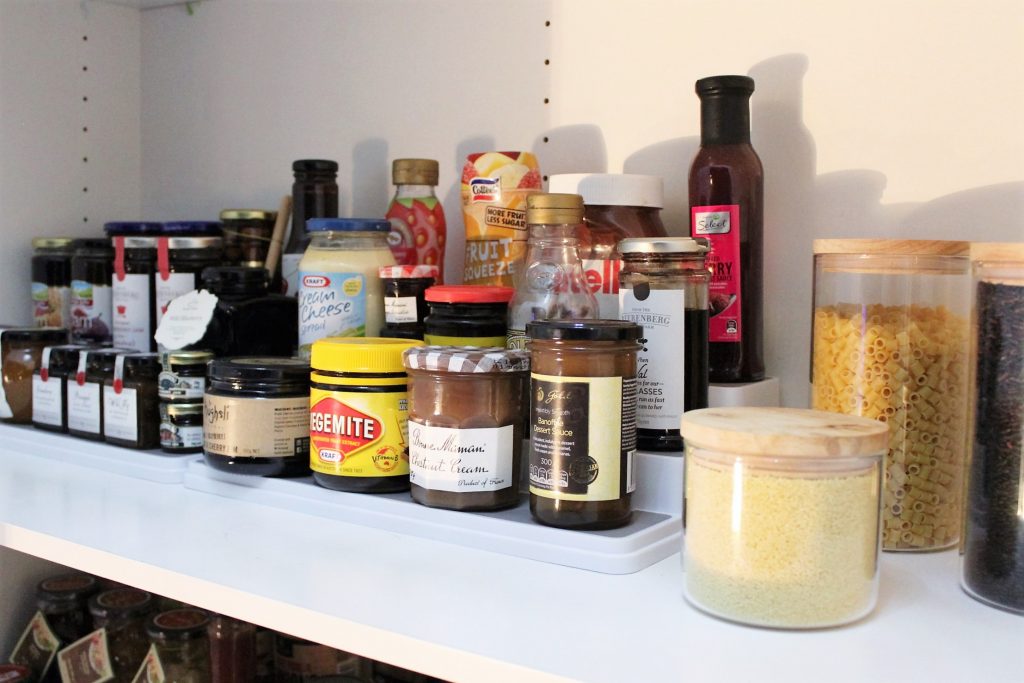 To add a bit of focus to the shelf, we added some glass storage containers. When styling any area, including a small area like the pantry, we always like to deviate from a set range of products. It 'ups the ante' a bit and stops an area from looking boring! Small jars with wooden lid $5.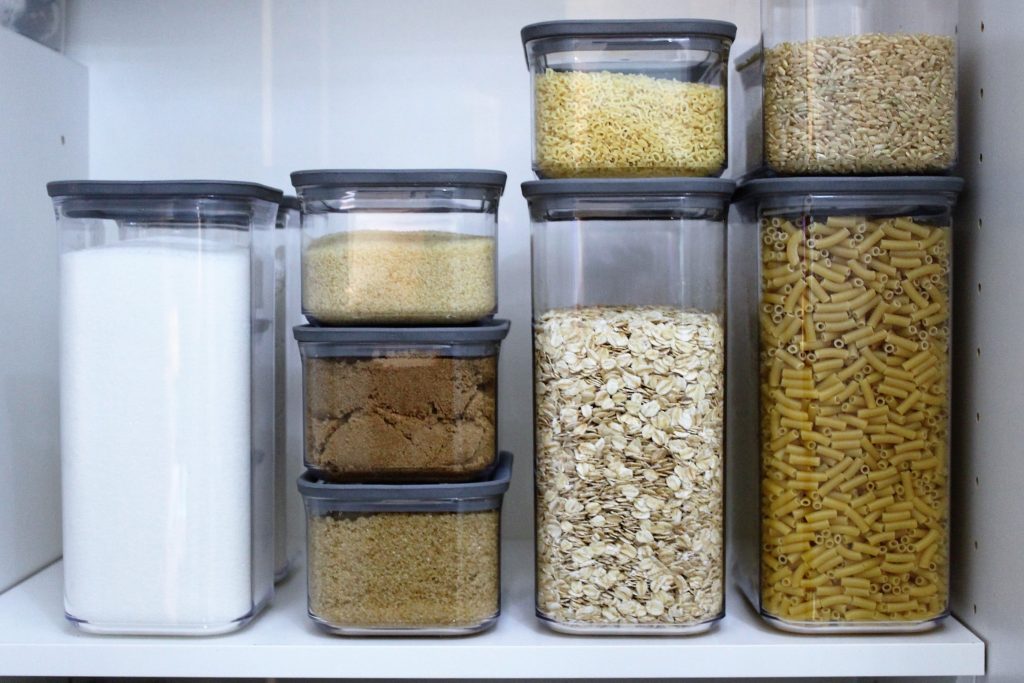 We are loving this range of canisters! They look fab and are a great price! A set of 3 Rectangular canisters is $8 and a set of 3 Square canisters is $6. Such good value – that makes the square ones $2 each … crazy! You could of course, make your own labels for these, but we chose not to, opting for the minimalist look.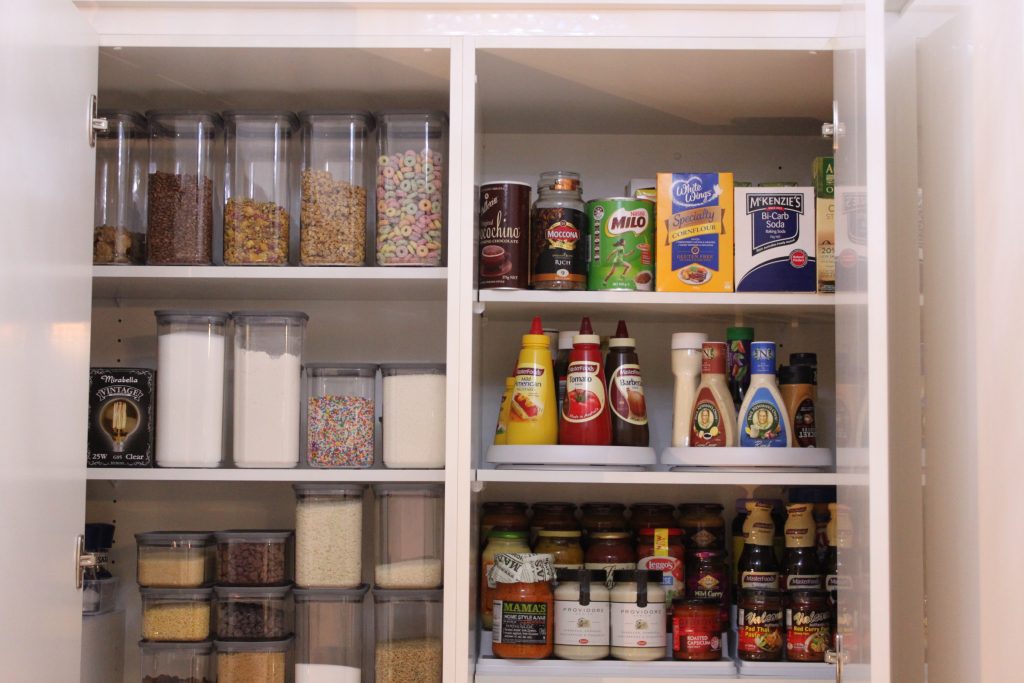 On the right hand side you can see we've used the Storage Turntables $5 for our sauces and dressings. These are a brilliant idea – they work well and you can see everything on the shelf, nothing is hiding behind anything!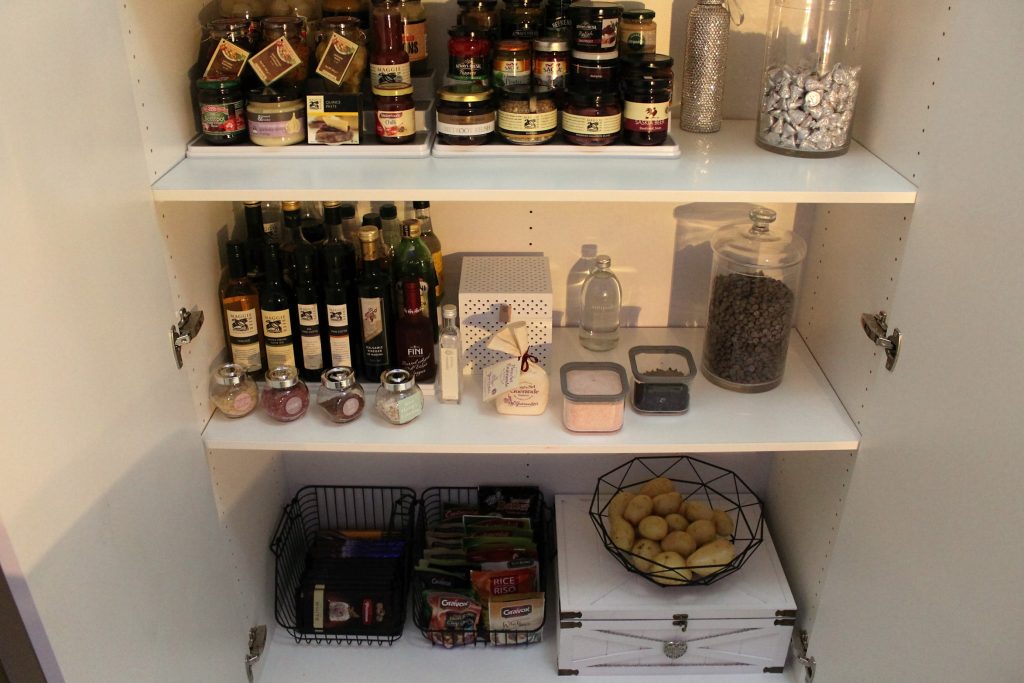 In our larger pantry cupboard we've used the Small Stackable Baskets in Matte Black $7 to store our packets and sachets and in the other one, our huge supply of cooking chocolate! Next to the baskets we've used the Large White Rustic Case (sadly not in stock any more) to hold our rolling pins, food handling gloves and other non essentials and on top of that, the Wire Fruit Bowl in Matte Black $6 for our potatoes. Next shelf up we've used the Pegboard Box $9 for storage as well, again this adds a nice feature to the shelf. We've got our flavoured salts in the Set of 4 Spice Jars $3, and on the very right, we've used the Large Glass Candy Jar $15 and filled it with chocolate chips!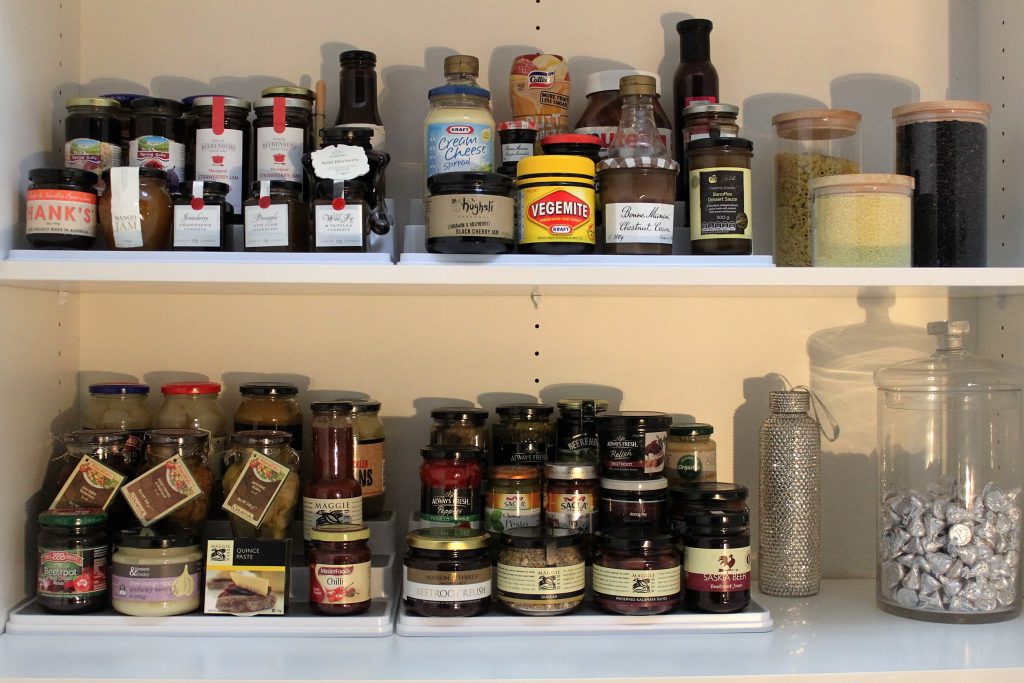 The secret to great pantry storage is having a designated place for every item – from pasta, to herbs to breakfast cereals, it all needs its very own spot.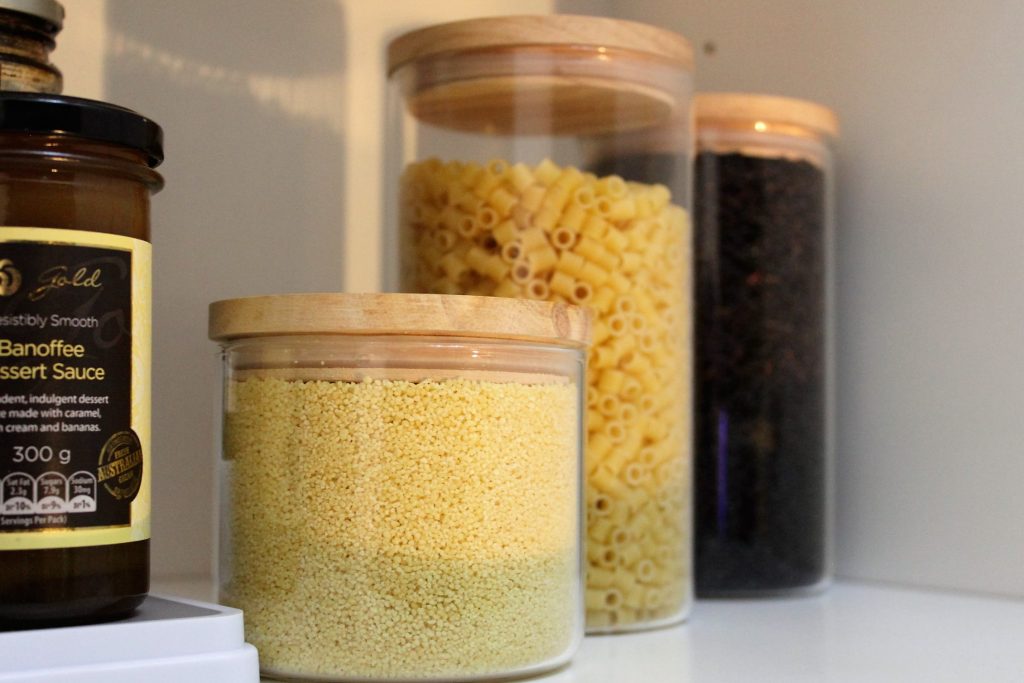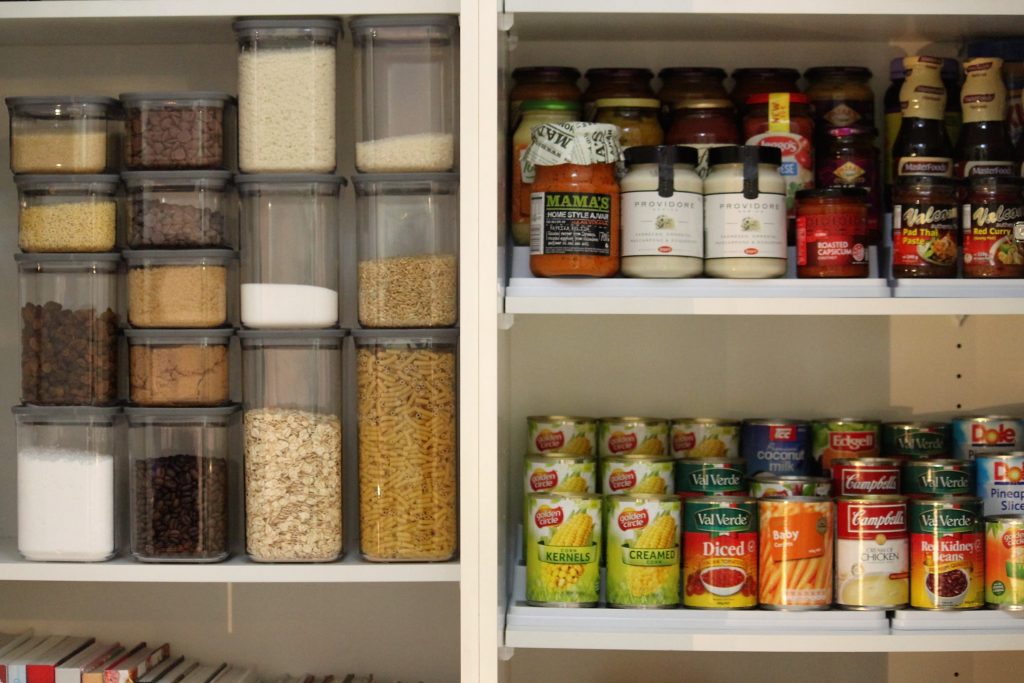 Keep all of your 'go to' items at eye level – this saves a lot of time when you're in the kitchen.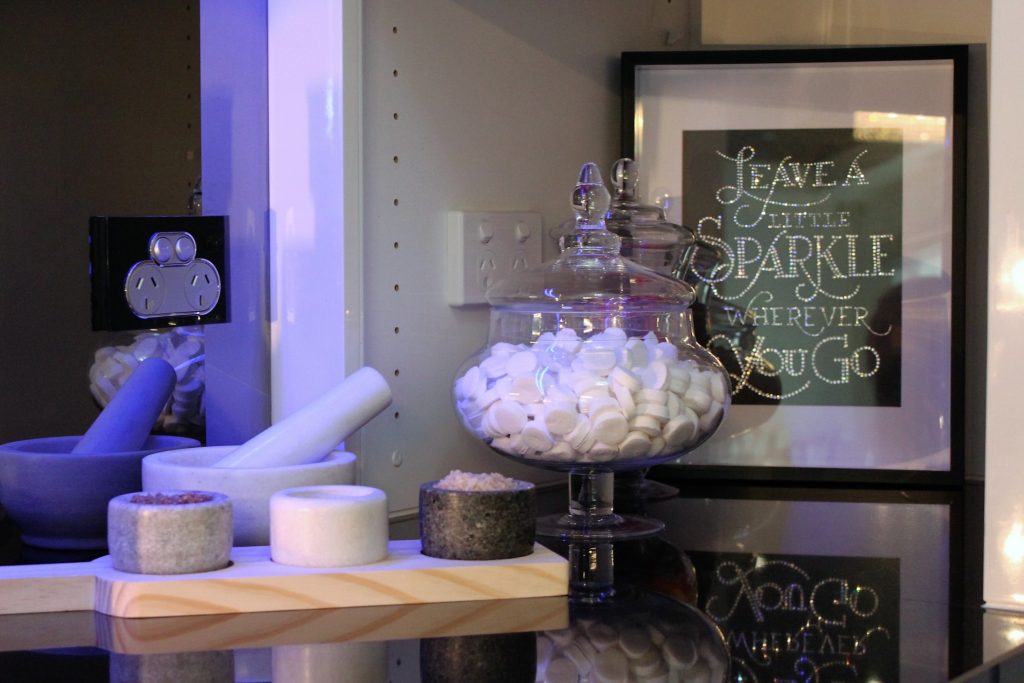 We're lucky enough to have a bench in our pantry, so we styled that with the Mortar & Pestle $12, the Glass Candy Jar Short $10, the Set of 3 Marble Bowls $6 and a Manhattan Black 8 x 10 Frame $10.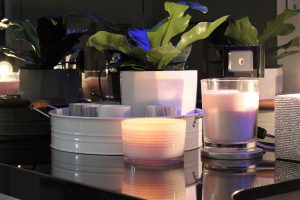 And on the other end, to add a nice ambience to our space we added the Vanilla Fragrant Candle $6, the Dark Rose (STUNNING!) Fragrant Candle $9, the White Metal Tray with Handles $8, the Set of 4 Candles in a Box $10 and the Geometric Pot in White $6.
We absolutely love our freshly styled pantry! It's functional, organised and looks amazing! If you're thinking of giving your kitchen pantry or cupboards a makeover, be sure to have a look at the range of storage solutions available at Kmart. They have pretty much got you covered!
Don't forget to tag us in your styling photos, we love to see them and so do our followers! If you have any questions on this Pantry Makeover you can leave them below, or find us on FaceBook here.
As always, have a blinging great day!
Categories: Homewares
1 comment