You'll be able to celebrate in style with these upstyled Champagne Flutes and they will make for eye-catching photographs! This simple makeover will turn a plain champagne glass into a thing of beauty!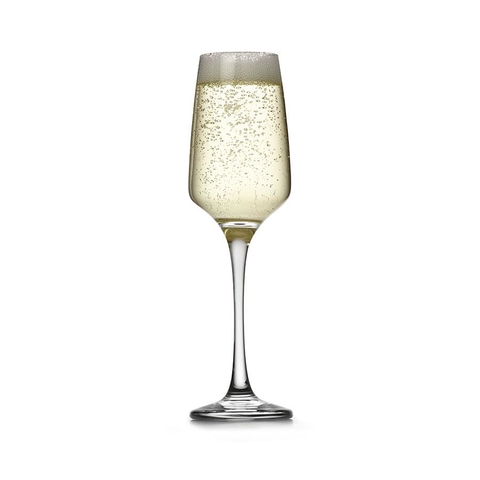 We started with a set of Santorini Flutes which come in a box of 6 for $12. These babies are cheap enough that it won't really matter if you party too much and accidently drop one! Champagne is for celebrating, right?!


There are a few different ways to embellish these glasses. With the first glass, we chose to lay the stones in 'lines' across the base of the glass. This results in a neat overall finish and was quite a fun way to do it!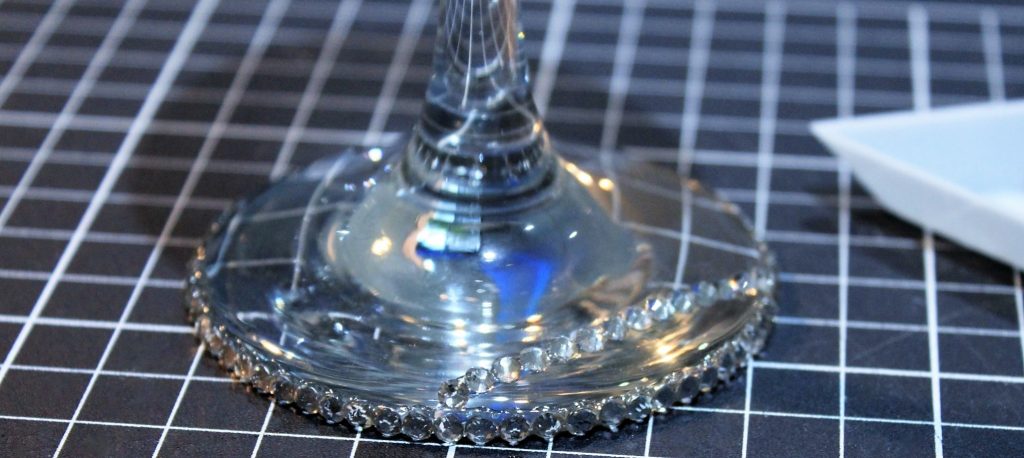 If you opt to lay the stones in lines, we suggest you chose a point on the edge of the base and using the wax pencil draw a straight line across the top of the base. Use that as your guide and carefully lay your rows, working from one side to the other. Then go back and finish the area on the other side of the line.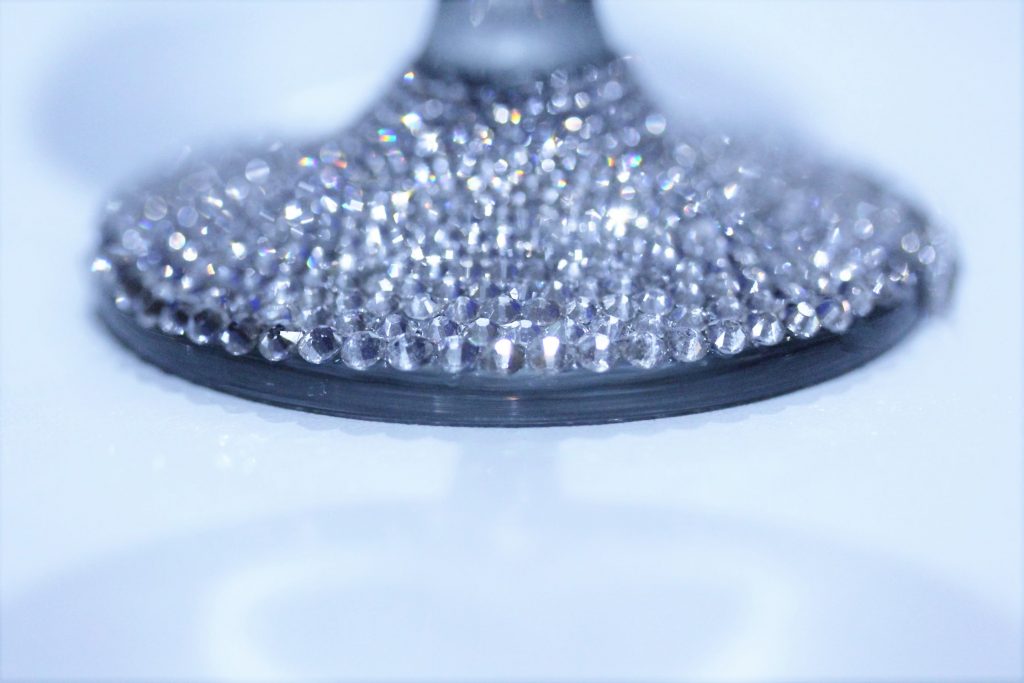 Another choice you have is whether to attach stones to the side edge of the base. If you're on a tight budget this is a perfectly fine option – it still looks gorgeous!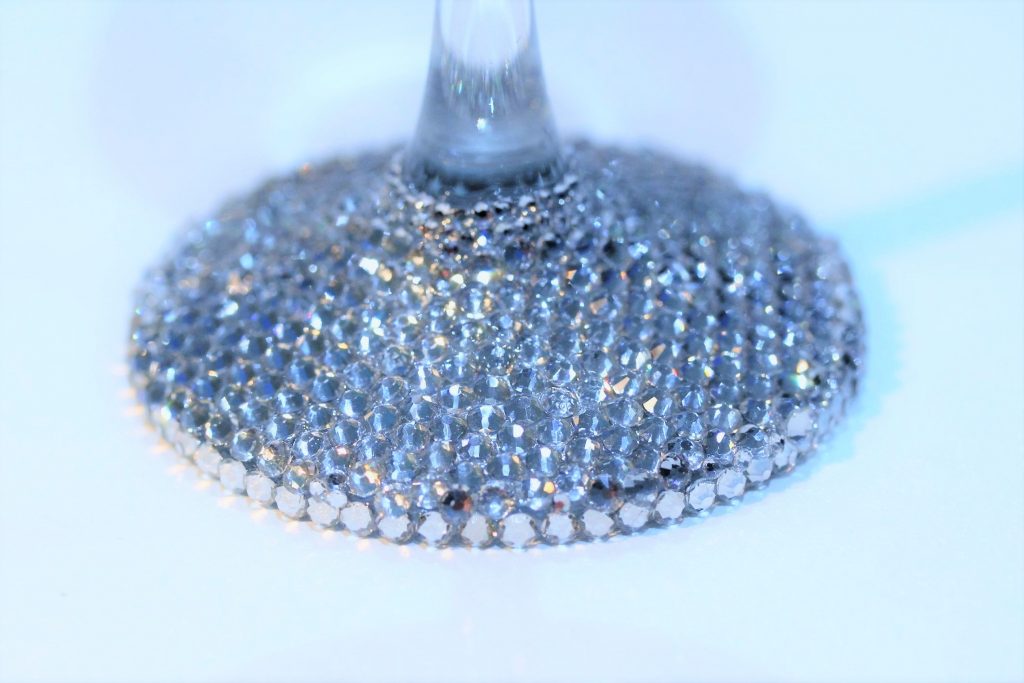 We used our KS 1.2 Stones for this style which are available from our shop. They come in packs of 500 stones and are only $6!
We've also done another flute in a different style. (The glass on the left in the picture above.)
Laying the stones in a circular pattern on the base of the glass results in a very beautiful look, but it is a bit more time consuming than the first way. We needed to use three different sized to stones to accommodate the reducing diameter as you work your way in to the stem.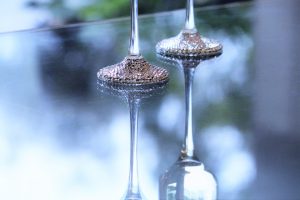 We started with one row of our KS 1.2 Stones, then followed that with 2 rows of our KS 1.0 stones and then continued in circles using our KS .8 Stones until we reached the stem.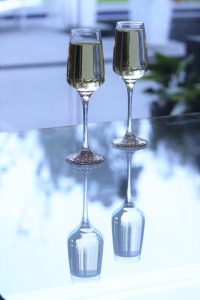 We don't think it matters which way you do them – they're both stunning!!! The perfect Champagne Flute for all the important toasts!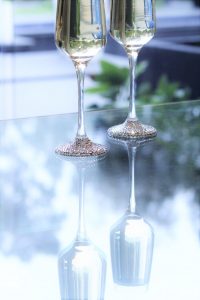 These glasses are so pretty!! You can, of course, also personalise them. The names of the Bride & Groom could be added, an intricate scroll or something more light hearted like 'Mr' & 'Mrs' – it's up to you!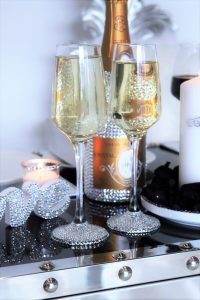 Kmart have hit a winner with this great range of glasses. We love their shape and we love their price! The Santorini Wine Glasses and Tumblers are also available – same deal – a box of 6 for $12!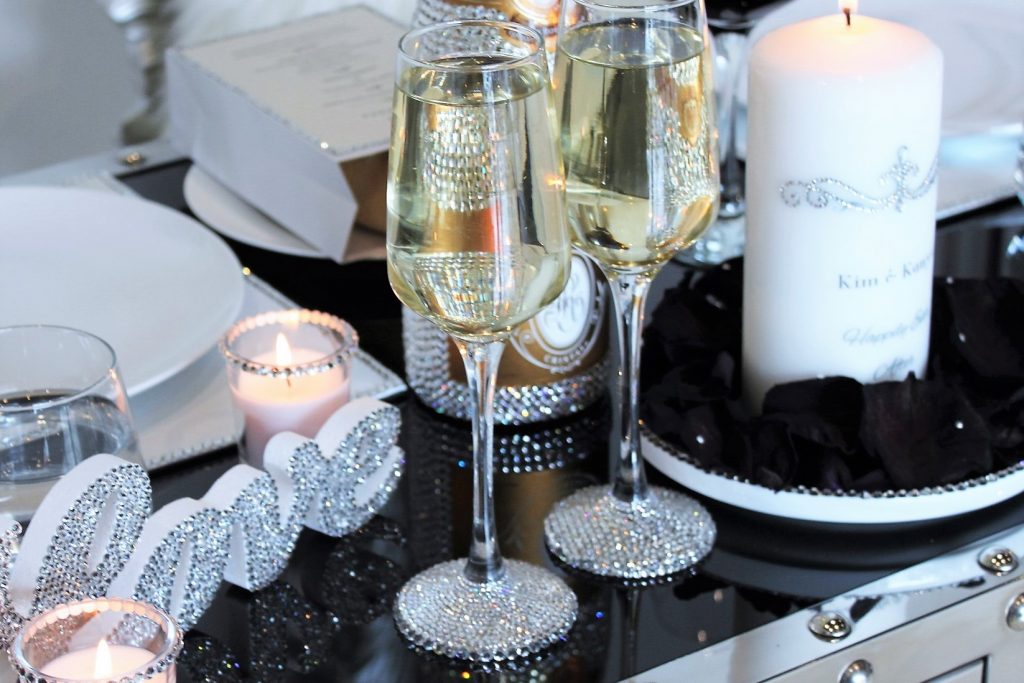 If you're a DIY Bride we'd love to see your creations so make sure you tag us in your social media pics!
If you need any help learning how to apply our stones, make sure you check out our 'how to' instructions here.
If you have any questions you can always leave them below in the comments section or find us on facebook here!
As always, have a blinging great day!
Categories: The Ultimate Kmart Wedding