Eloise is 6 and she lives at the Plaza Hotel in New York City with her Nanny. The story of Eloise was written by Kay Thompson 60 years ago and if you read this book, you will always be glad that you did!
Here's what Amazon say about it :
"I am Eloise I am six." So begins the well-loved story of Eloise, the garrulous little girl who lives at New York's Plaza Hotel. Eyebrow raised defiantly, arm propped on one jutting hip, Eloise is a study in self-confidence. Eloise's personal mandate is "Getting bored is not allowed," so she fills her days to the brim with wild adventures and self-imposed responsibilities. An average Eloise afternoon includes braiding her pet turtle's ears, ordering "one roast-beef bone, one raisin and seven spoons" from room service, and devising innovative methods of torture for her guardians.
We've been lucky enough to visit the Eloise Suite in the Plaza Hotel which you can hire out for parties if you're very very very rich!
Eloise also had a movie made about her – below is a picture of her bedroom from the movie.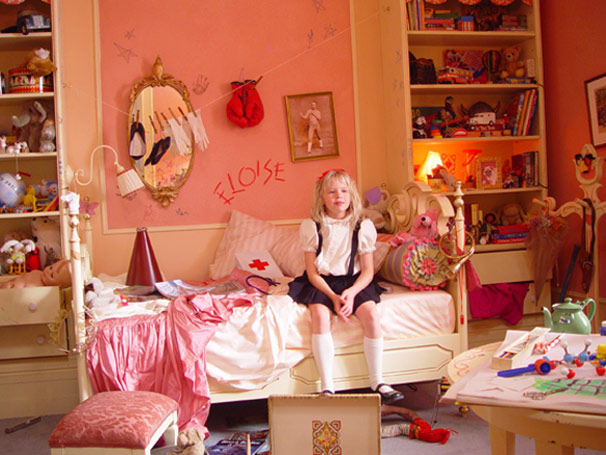 We loved Eloise so much, we thought we'd style our own Eloise Suite – mixing ideas from the Suite in the Plaza, her movie bedroom and of course, a heavy input from our beloved Kmart!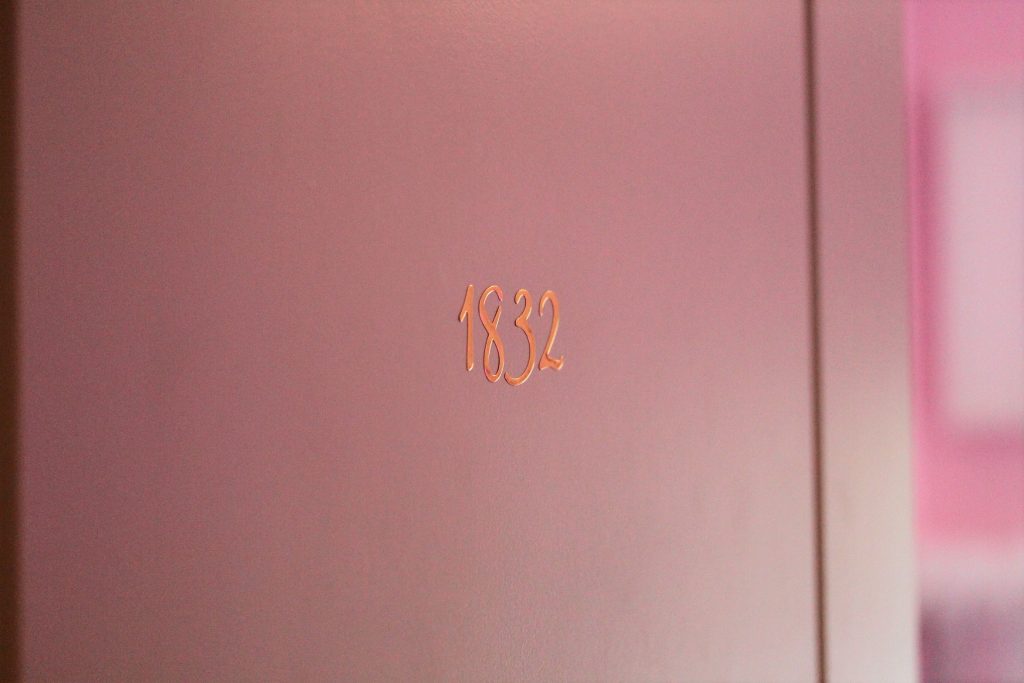 Let's go inside ….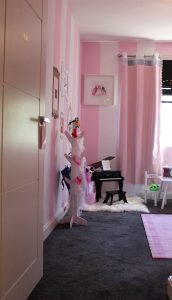 This is what you see when you first open the door. This room is approximately 4 metres x 3.5 metres so we've painted stripes on the two walls that you see first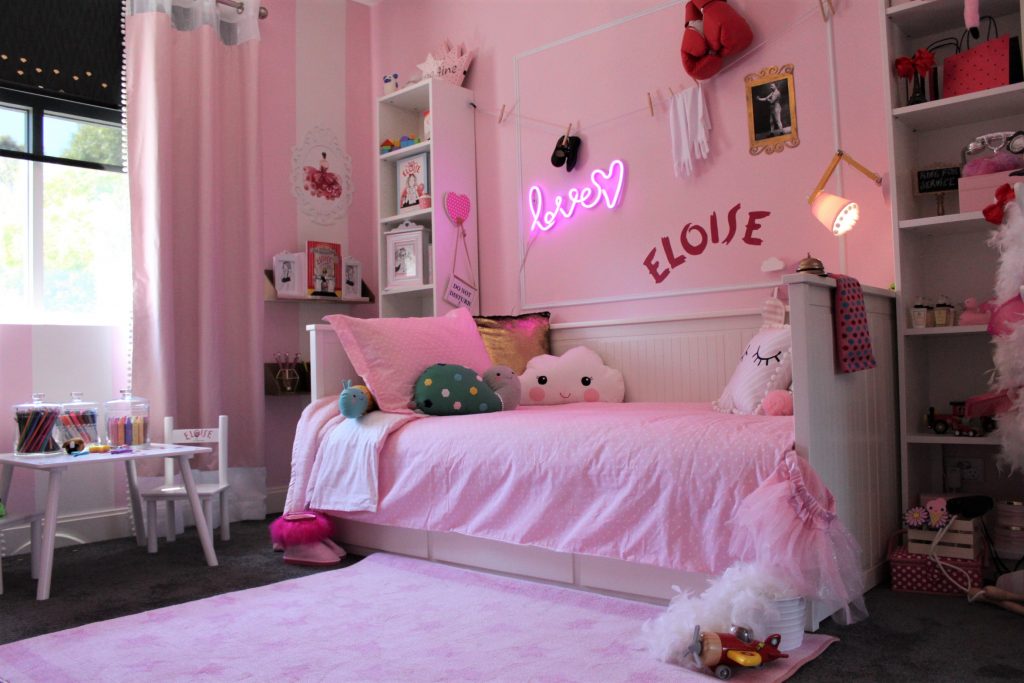 and the feature wall has been painted entirely with pink. The colours that we chose for the room are Dulux colours – 'Lily Legs' (in half strength) and 'White on White'.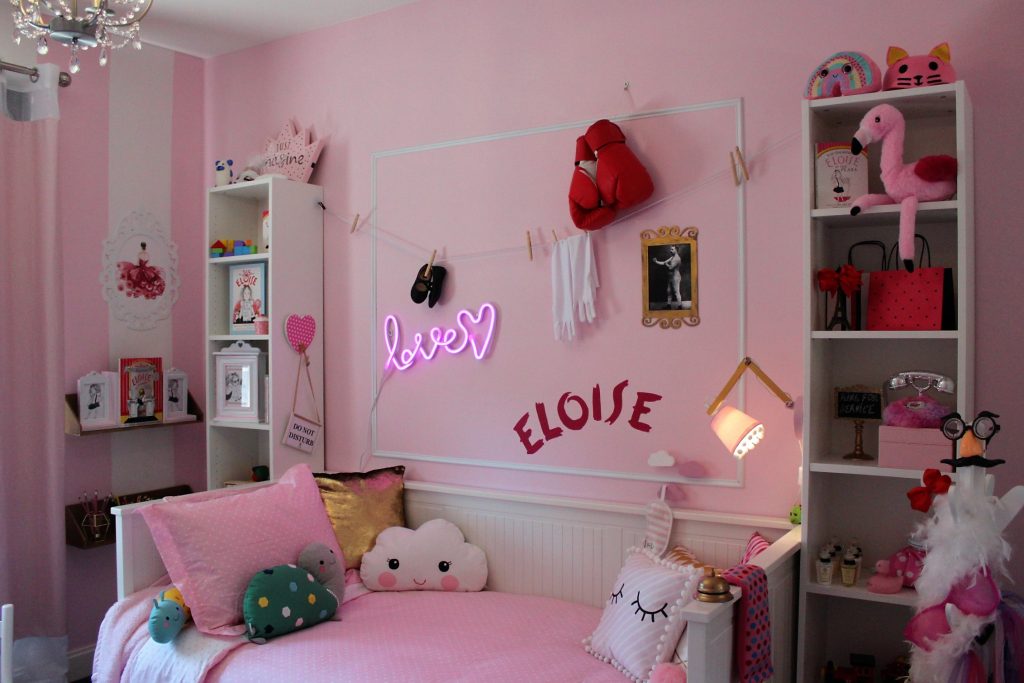 The furniture, chandelier, fashion prints and floor rug are from Ikea. The bedding is from Pottery Barn for Kids. And from Spotlight we grabbed the frames for our Eloise pictures.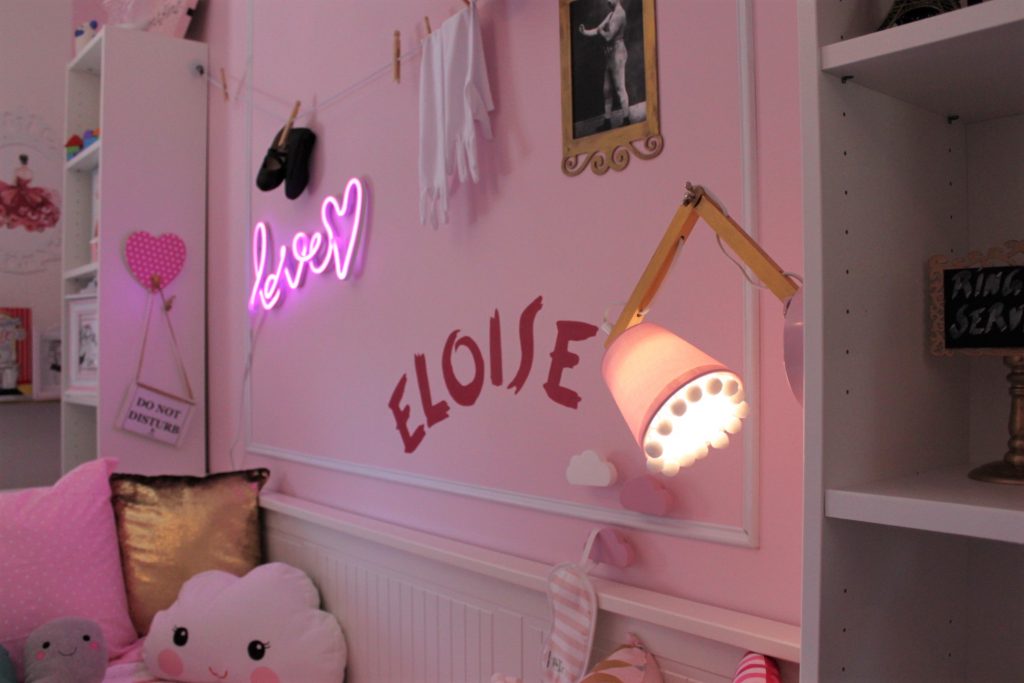 The neon sign is from Adairs and the bookends, long gloves and boas are from Browse in and Save.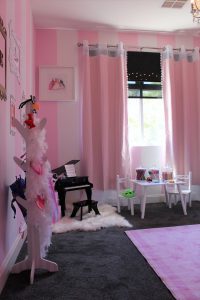 And finally, the last thing we sourced outside of Kmart is the Piano! We absolutely had had had to buy it for the room – it's so unbelievably gawjusssss!



Now that's all out of the way we can talk Kmart! What a fun time we had styling this room! Kmart's range of children's toys and accessories is amazing! We found everything we were looking for and had the best time!
We've used the children's book shelves $9 each behind the bed – sprayed in gold. On the bed is the cute little caterpillar $9. We've also popped some strawberry scented pencils inside the gold geo candle holder on the shelves.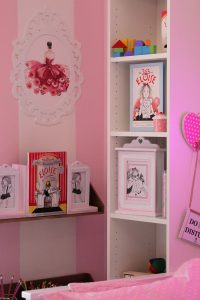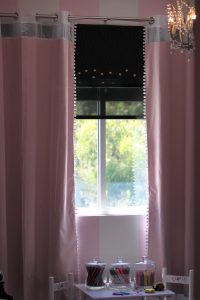 Because we already have screen and block out blinds in the room, we accentuated them with the $29 Pink block out curtains. These curtains are 213cm drop but our windows are a bit higher so we also used the white voile curtains $15 and added them to the top and bottom of the pink ones and then added a pompom trim for a bit of fun! We also used the Silver Curtain Rod $29.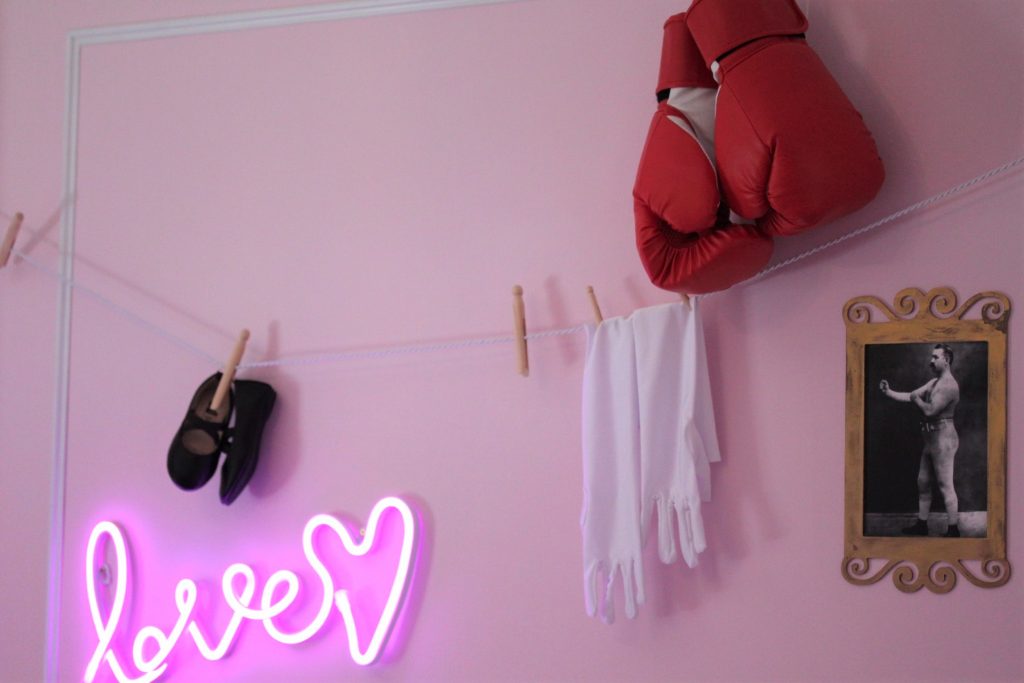 The boxing gloves were from the sport section $18.
To recreate the string Eloise has over her bed, we used two of the Pegless Clothes Lines $4 each and joined them together. These come with suction cups on each end, so to keep things safe, we used our E6000 glue and glued those onto the cabinets for extra stability.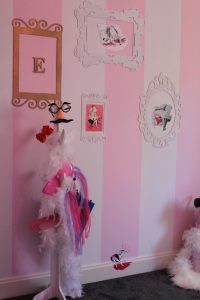 Eloise boasts about having a coat stand as big as her – so we used the Hat & Coat Tree Stand $16 and painted the base in pink and white stripes. We then got the glasses on top, and the big glasses, the umbrella and oversized comb from the party section and recreated her hatstand from the movie! (Just as an FYI …. It's a very good replica!!)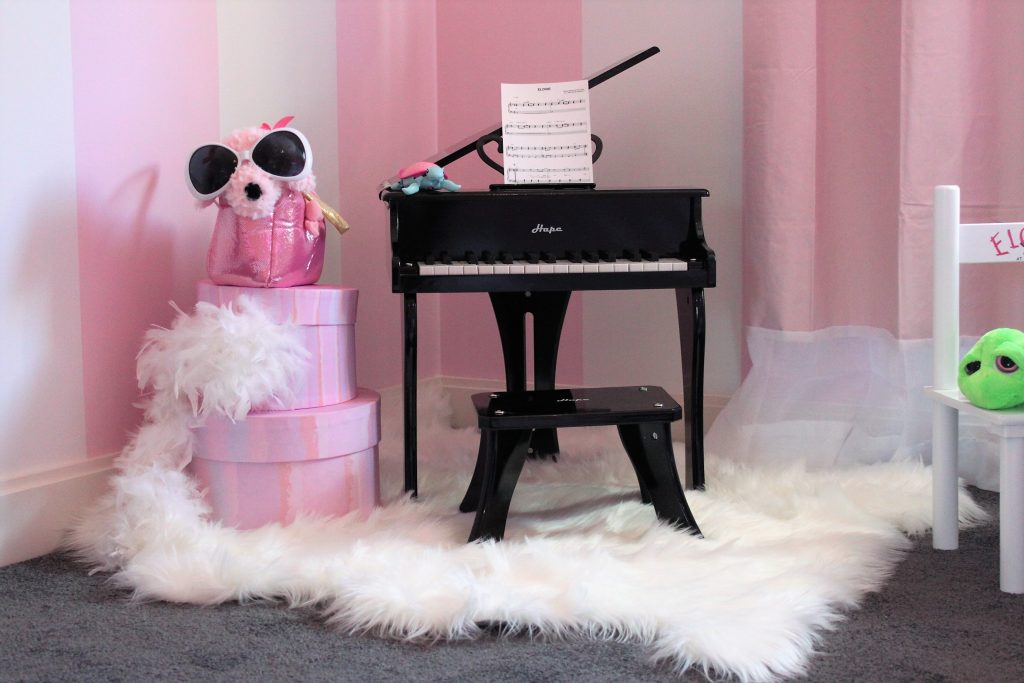 Eloise lives at the Plaza with her Nanny, her dog Weenie and her Turtle Skiperdee, so we've kept with that theme by placing dogs and turtles around the room. We couldn't resist the Poodle in a Handbag $9 – it's so Eloise! The piano is also sitting on two x Wellington Rugs $19 each.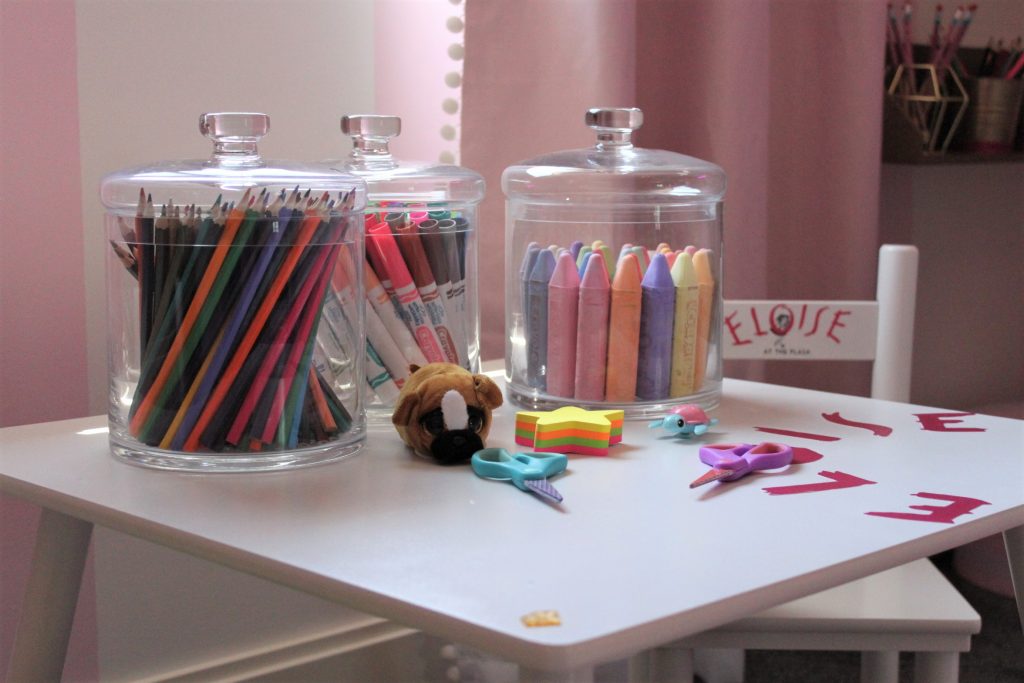 We've used the Table and Chair Set $29 as a craft station. Eloise is never allowed to be bored! A place for little people to sit and colour and do some fun crafting!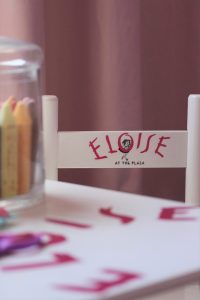 We added Eloise's name to the chairs and table by printing out the names and applying it with some Modge Podge and the results looks fab!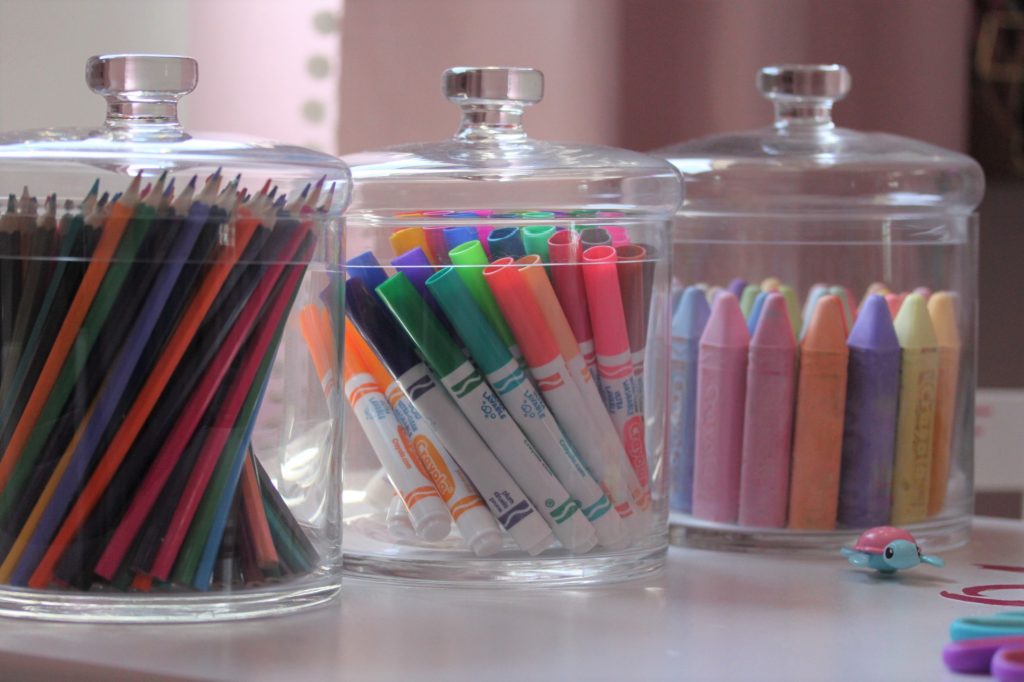 We put the pencils, textas and chalk into the Glass Jar with Lid $8 each.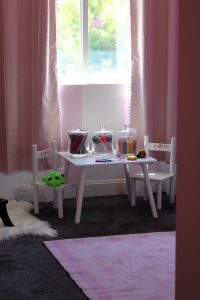 This is a really great area for some small creative people!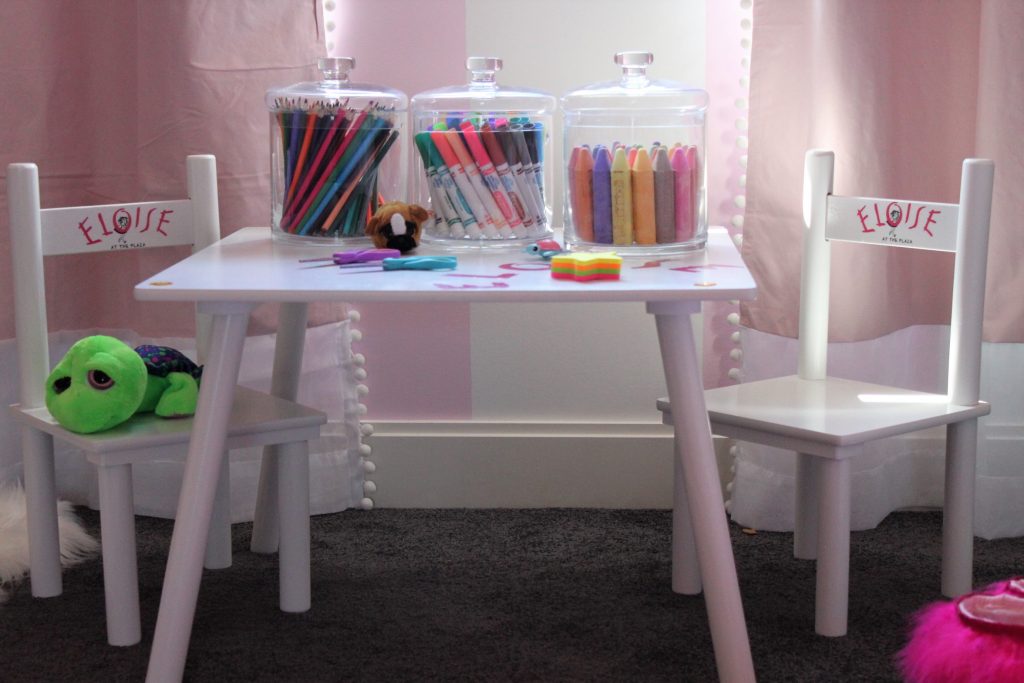 So that's the end of the first part of our blog on the new Eloise Room.
In the next part we'll look at a few more of the features that we've used to complete this room.
We hope you like what you've seen so far – don't forget to follow us on Instagram – @kmartstyling_official, and find us on Facebook here!
As always, happy styling!
xoxo
Categories: Learn How To