Under the kitchen sink – that cupboard that can actually make your heart sink! Today was the day we tackle this much used cupboard, and the results make us very, very happy!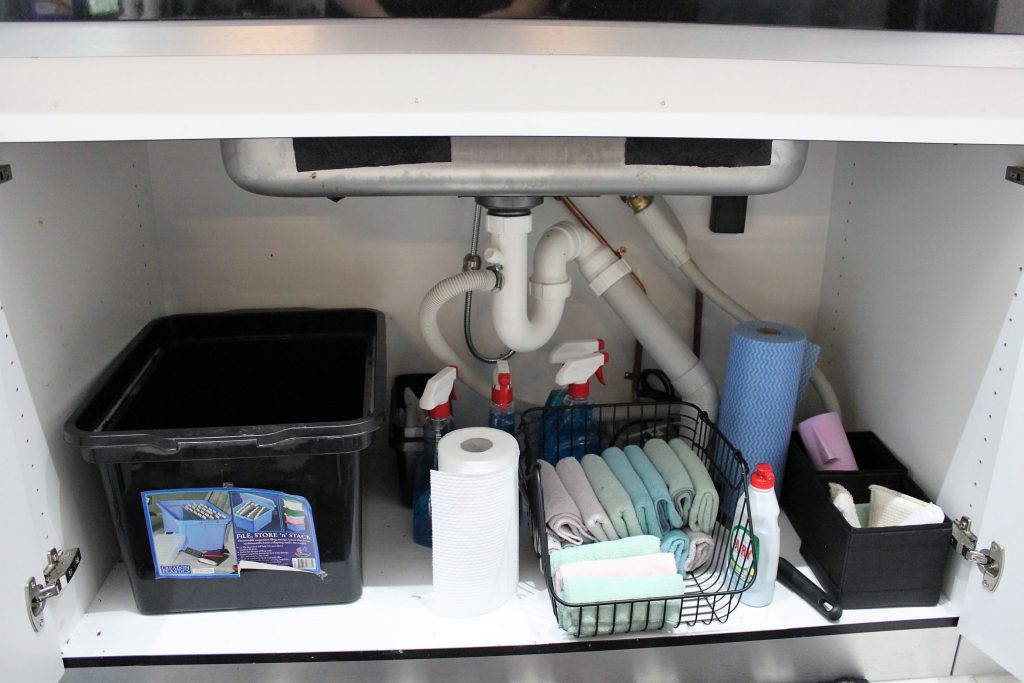 Here's our cupboard – untouched, and unloved! The tub is our makeshift rubbish bin and as you can see, we mostly open this cupboard and literally throw things back in there! So the first step is to take EVERYTHING OUT!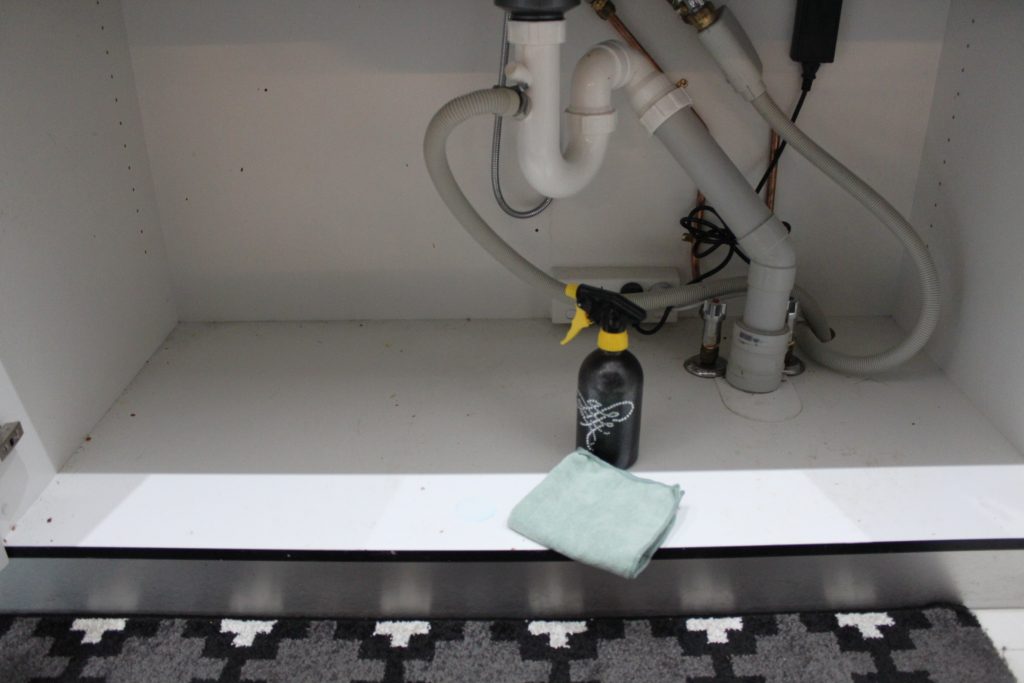 Not so pretty! The next step is to get down on ground level and clean all the surfaces. (If you're not using our 'Magic Mix' for cleaning, then you really should consider it! It makes life so. much. easier! – The recipe is 1 x Cup Water, 1 x Cup Windex and only 2 or 3 drops of good dish washing detergent, we use Fairy brand. Put this in your spray bottle, replace the lid and gently turn it upside down once or twice – not too vigorous, you don't want too many bubbles! We use this product on every surface in our home, except for our flat painted walls.)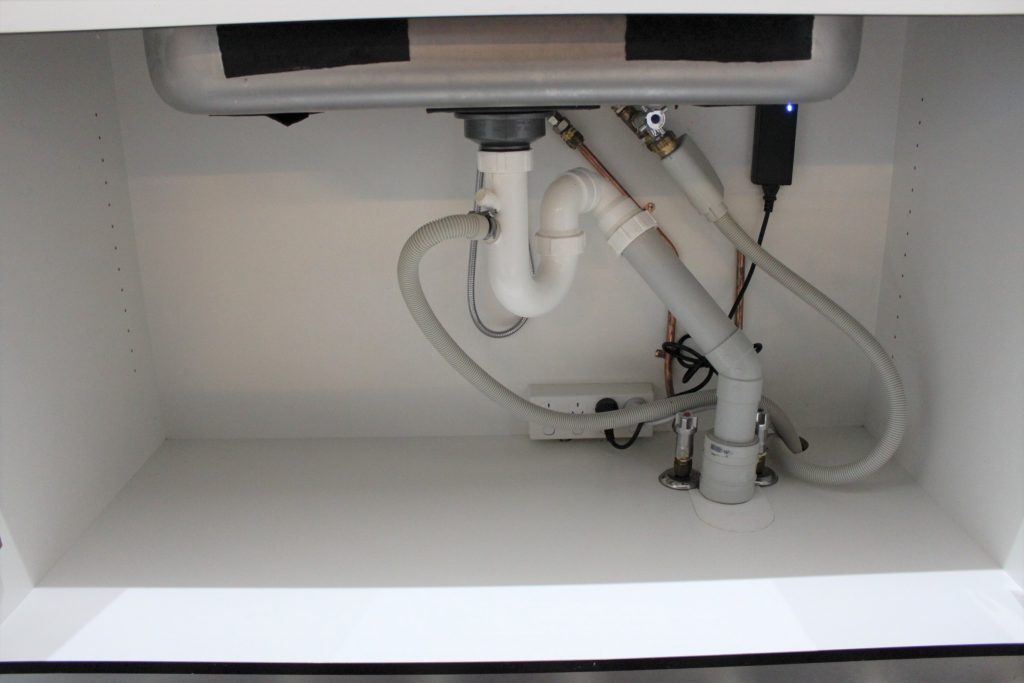 That's better! Now it looks pretty! Now you can start putting your items back in. We like to keep only the necessities in this cupboard – easy to see, easy to reach and easy to put back – if you stick to these rules, your cupboards should always stay neat and tidy!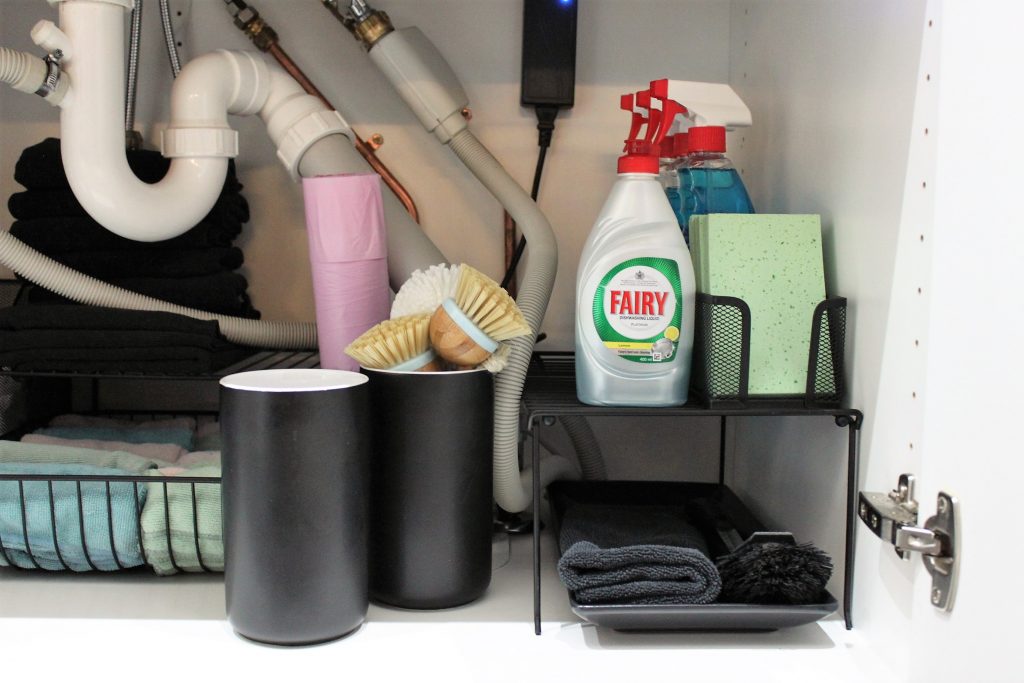 We've made use of the wire shelves to give us double the storage space without compromising our visual – 'easy to see' … Each group of items have their own storage making them easier to reach and easy to put things back where they belong!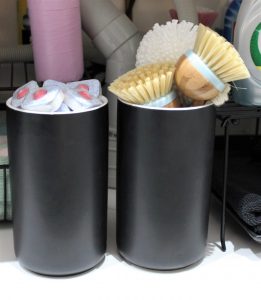 We've popped our dishwashing tablets and scrubbing brushes in black canisters – easy to see when the dishwashing tablets get low and the brushes can drain in the canister, not all over your cupboard!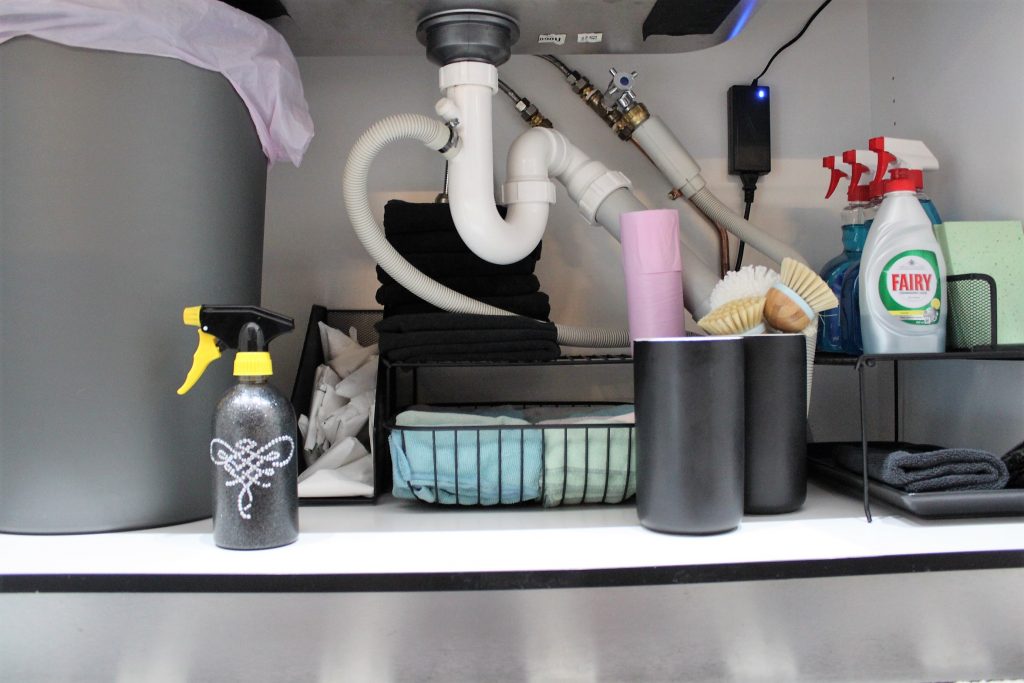 And we go rid of our very unglamorous tub and replaced it with the 40L bin! Now when we open our under sink cupboard our eyes are happy! We can see where everything is, and it's all easily accessible! Best news, this all took under and cost a total of $67 including the cost of sponges and dish brushes!
Here's a breakdown of the items we purchased and used in this cupboard makeover:
Desk Organiser Set $10
Fruit Bowl $7
40L Touchtop Bin $22
Large Black Canister $4
Black Serving Platter $5
2 Pack Black Wire Shelf $7
PVA Sponges 4 pack $2
Dish Brushes $3 each
Microfibre Cloths 3 pack $2
Happy Styling!!
Categories: Learn How To