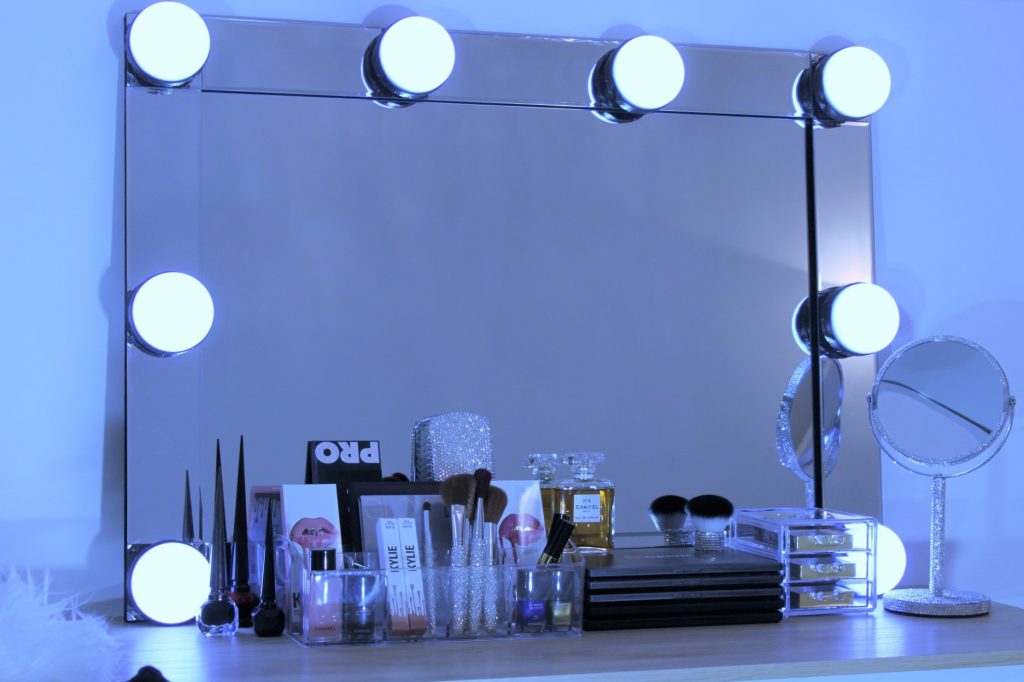 Most girls at one time or another covet one of these gorgeous 'Hollywood Mirrors' but for lots of us, they remain just a dream. Not any longer! Thanks to Kmart and a bit of ingenuity, we're going to show you how easy it is to make your very own Hollywood Mirror!
We started with Kmart's Bevelled Mirror $29 (sadly not available at the moment) but you could use any mirror – we also think the modern mirror would work well here too!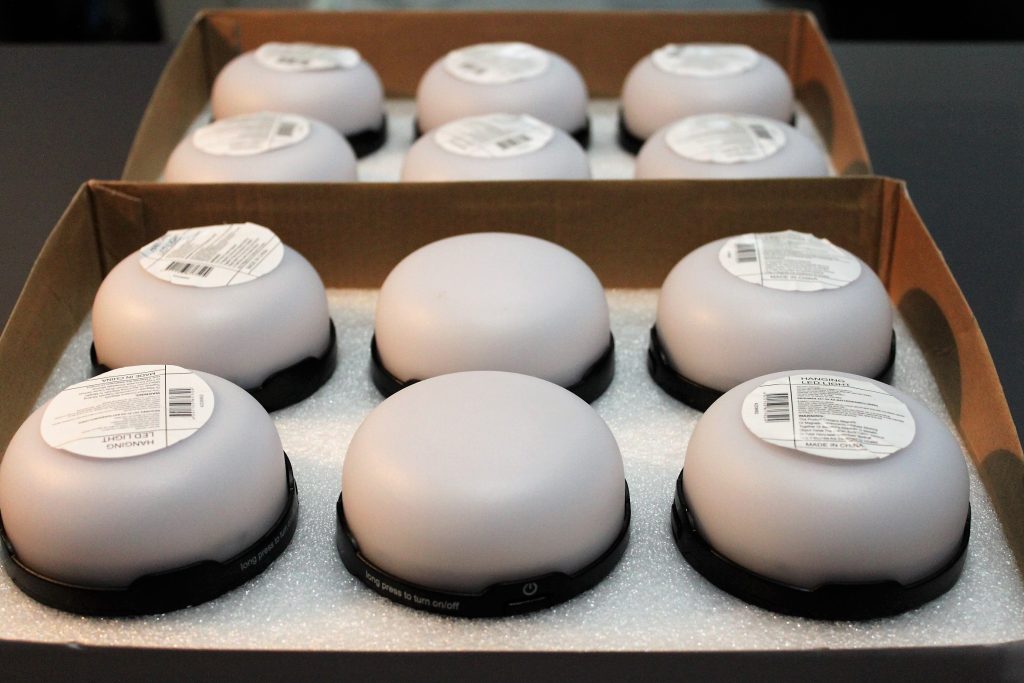 In the Camping Section you will find these brilliant LED battery operated lights $10 each. When designing your own mirror, you can chose how many lights, or how much you spend on lights – we wanted to keep this projects' cost down as much as possible, so we opted to use 8 of them – you could either use more or less, totally up to you and your budget and the look that you're after!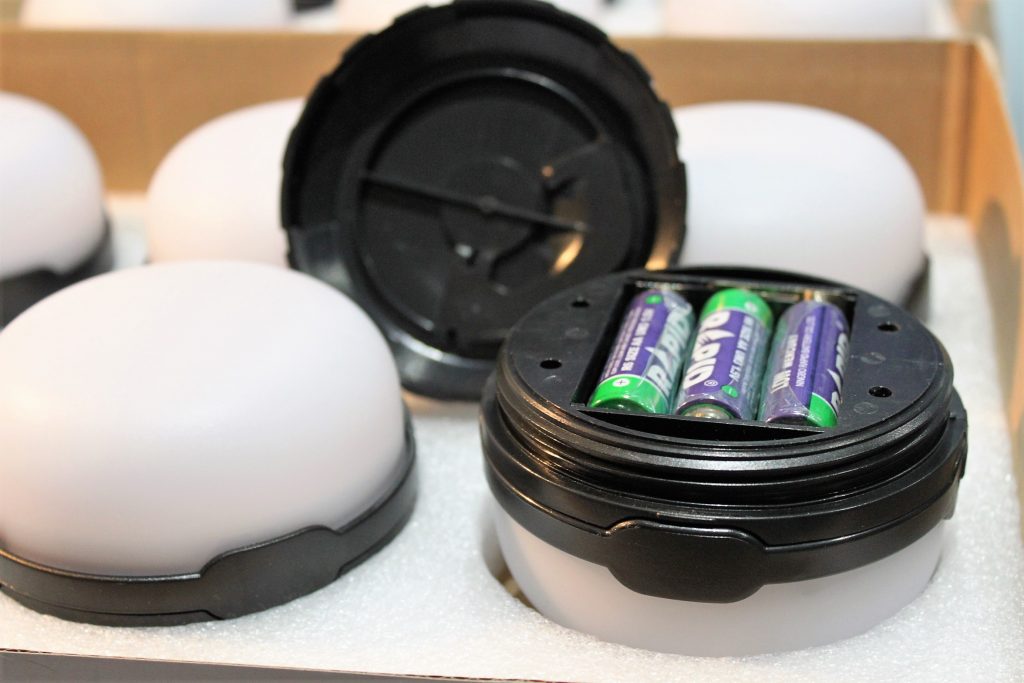 These lights come with their own batteries, so make sure you take the plastic off them and when the time comes to replace them, Kmart have 24 pack of AA batteries for $5!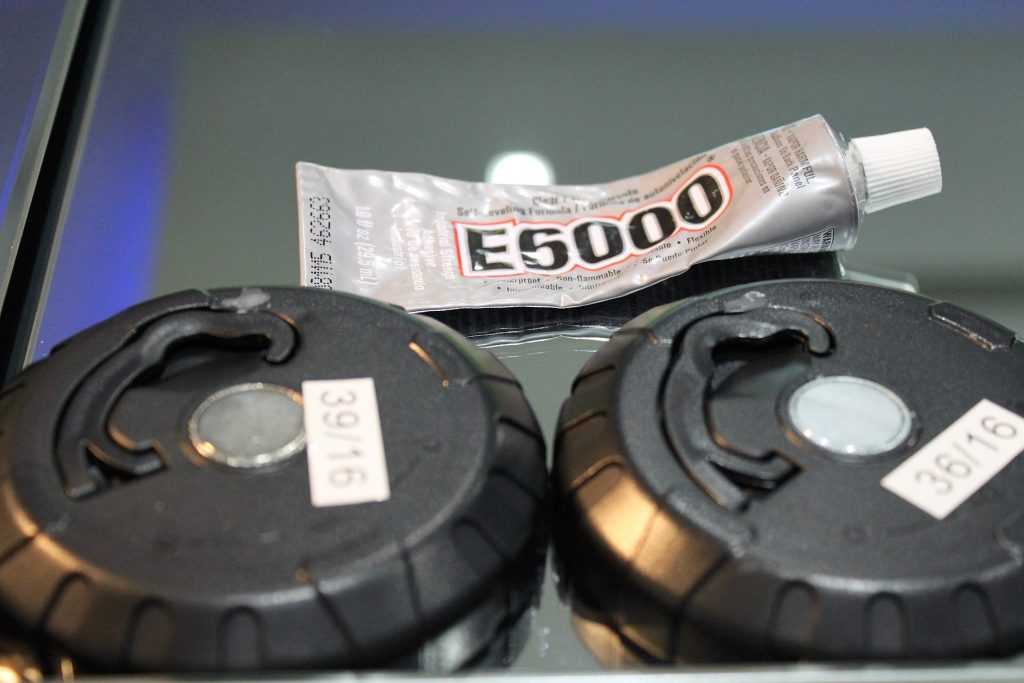 Before you unscrew the tops from the light, use a white marker and put a small mark on the base of the lights where the switch is to turn them on – what we want to end up with, is all the switches positioned at the top of every light.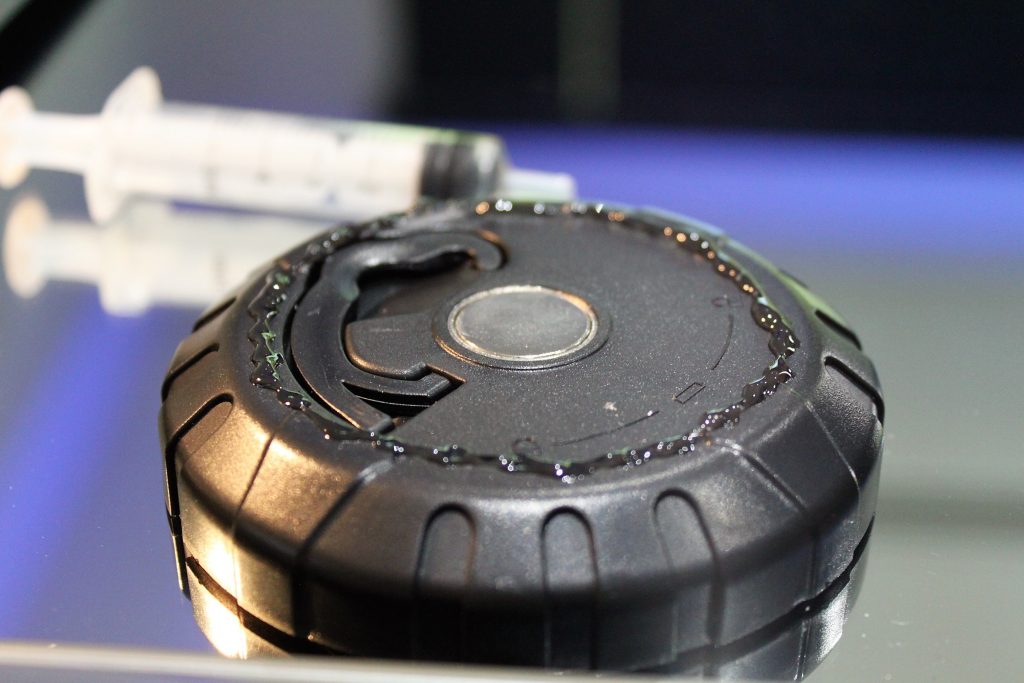 We've attached our light bases to the mirror with our E6000 glue – it's the only glue we trust for our rhinestones and it's perfect for this job. To make application easier and more accurate, we used a syringe to apply a line of glue around the entire edge of the light base.
To make sure your Mirror looks perfect, you need to work out the positioning of your lights – make sure the distances between your lights are all the same – This isn't too difficult – measure the length of your mirror, then subtract the width of the lights you're attaching, then divide that number by the spaces that you'll have between the lights on that particular side. And then do the same calculations for the other sides.
Glue all of the bases on, making sure your white mark is positioned at the top, and then set the mirror aside for the recommended drying time – for our glue it's 24 hours.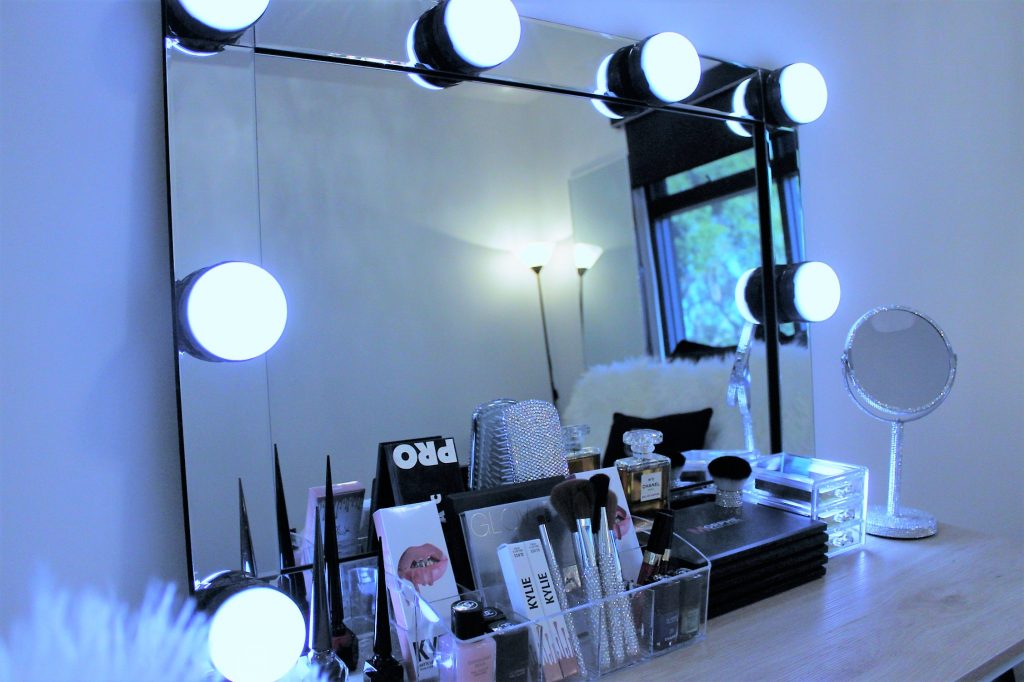 Once the glue is dried you can screw the lights back on and you now have the most fabulous Hollywood Mirror for about one third the cost of buying one from a store!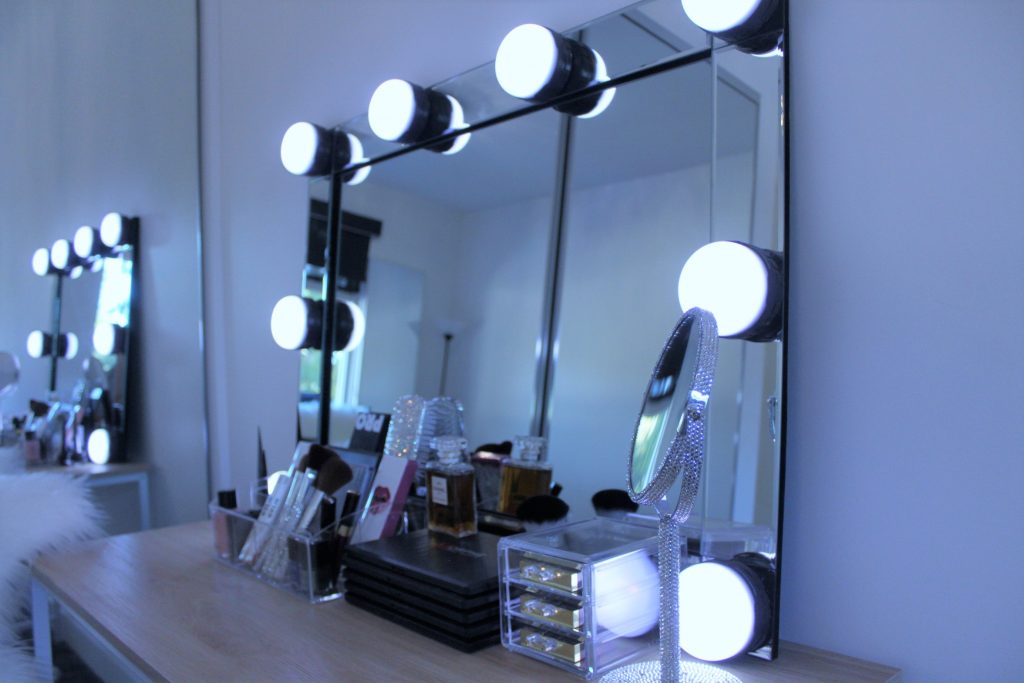 This Hollywood Mirror is perfect for those who are renting and aren't able to have a mirror hard wired into their homes. It's perfect for anyone who wants one but doesn't have a power point near their vanity area. And of course it's perfect for anyone who wants one, but simply can't afford to buy the real deal, or would rather save their money for other exciting things!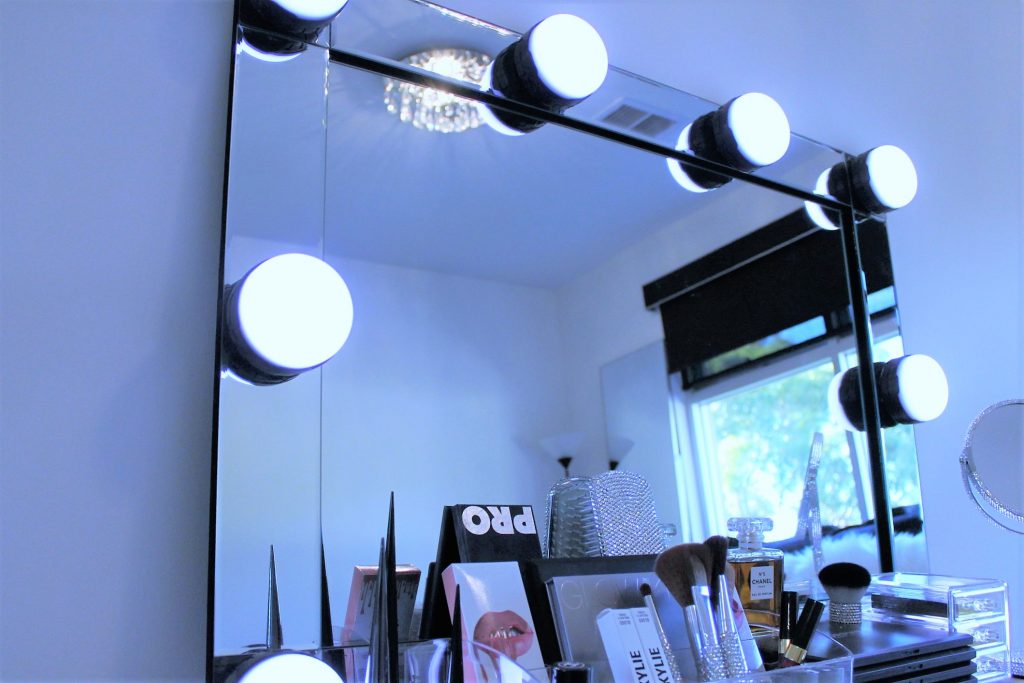 How fantastic does it look finished off with Kmart Makeup Storage accessories? And of course if you're wondering about the blingy vanity mirror, click here, and you'll find all the step by step instructions on how to make your own!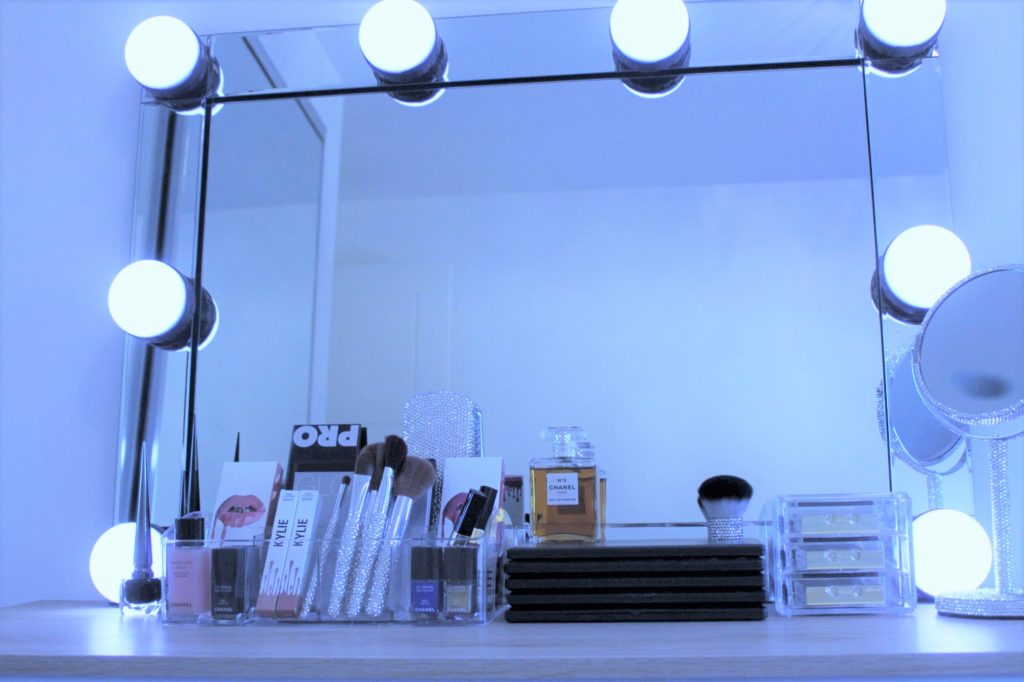 We hope you like this Kmart hack as much as we do! Make sure to share your photos on social media using the hashtag #kmartstyling so our followers can see your projects as well!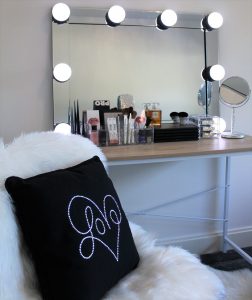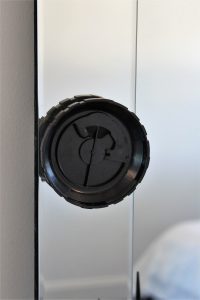 FOOTNOTE: When it comes time to change the batteries, simply unscrew the cover which will leave the base attached to the mirror as shown in the picture above. The batteries are held inside the cover, so swap them out with fresh batteries, screw them back in and you're ready to light up all over again!!
Categories: Homewares