These pet bowls are amazing value! They come with a removable stainless steel bowl for easy cleaning and they have a rubber base which stops them sliding around when your pet eats from them. And they are cheap! (Thank You Kmart!!)
Dog Bowl Medium – $6
Dog Bowl Large – $8
Dog Bowl Extra Large – $10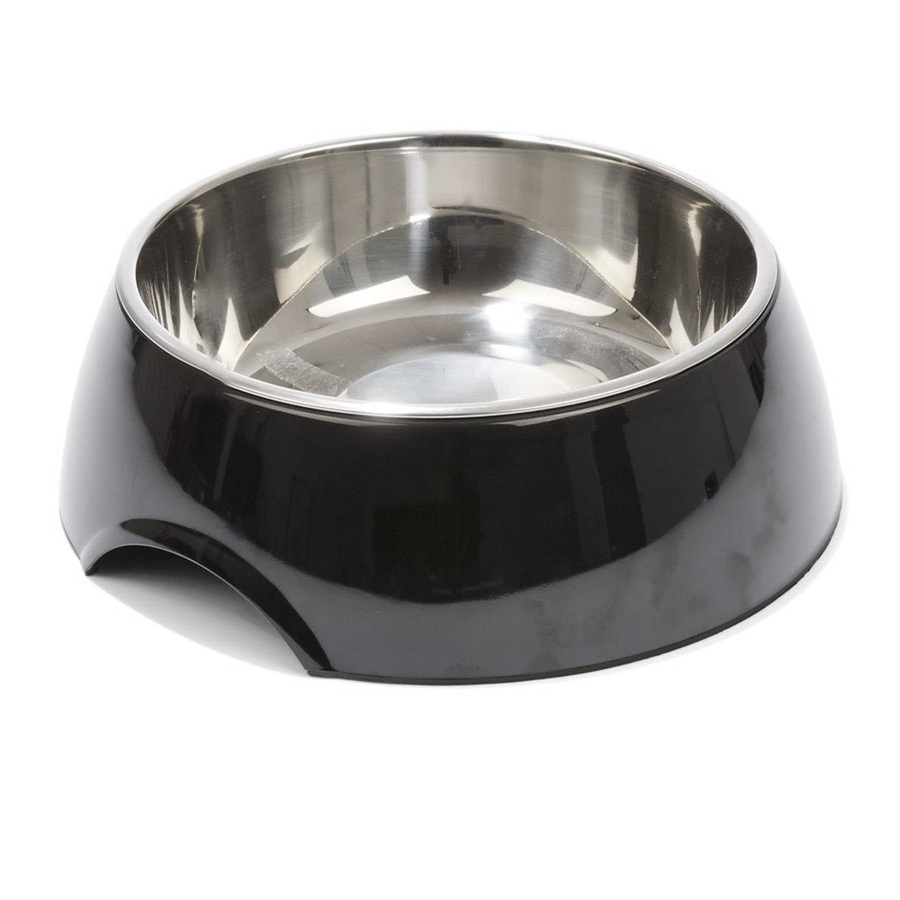 We've come up with a way to personalise them so your pet feels extra special! This is a simple project and if your pet's name isn't too long, you will be able to complete it with one bag of stones! Of course this can vary greatly, depending on the size of the bowl, the font you use, and the size of the stones being used.
We made two bowls for some special dogs in our life – Duke and Lana! They're English Staffies so we went for the extra large size bowls.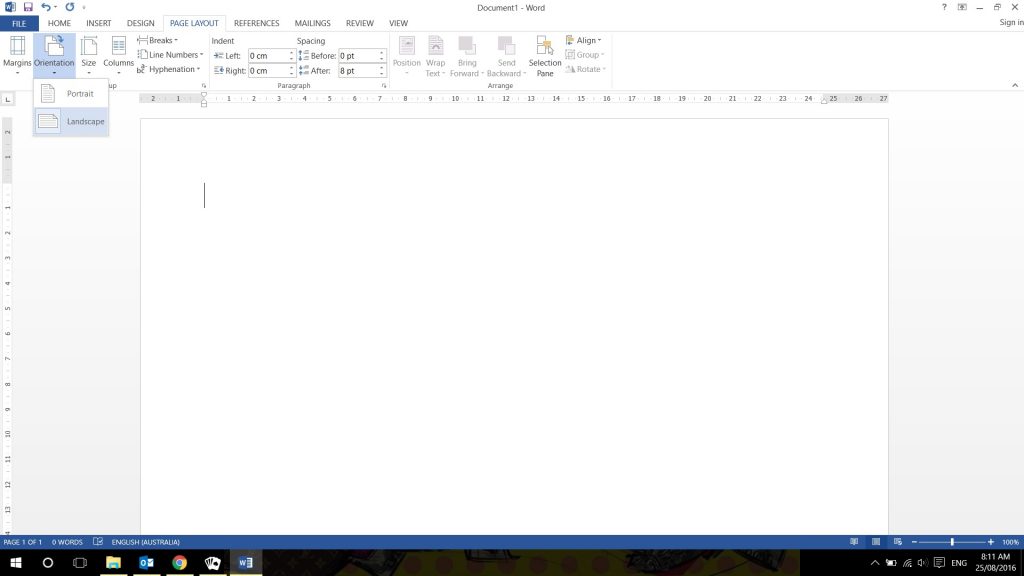 First we had to make a stencil of their names. To do this we opened a Word document and changed the page orientation to landscape. Next we chose which font to use – and then set the sizing of the font. It's a bit of trial and error matching the printed out font size to the size of the bowl, but nothing too difficult!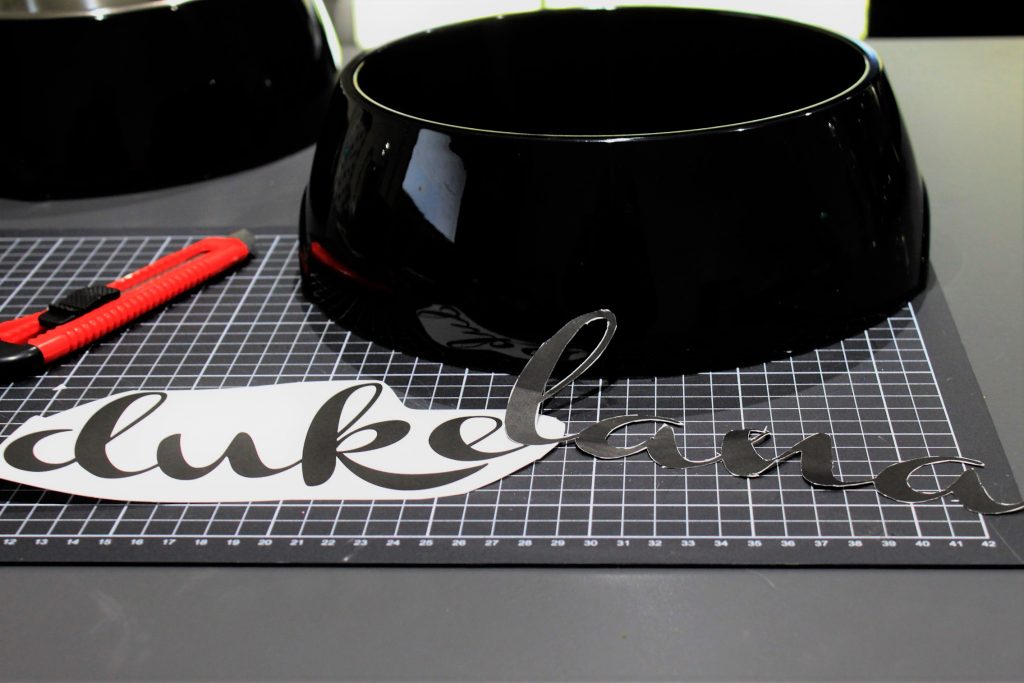 Carefully cut around your letters – in our case, because we used a script type font, all the letters are joined. If you chose a plain font, cut around each individual letter.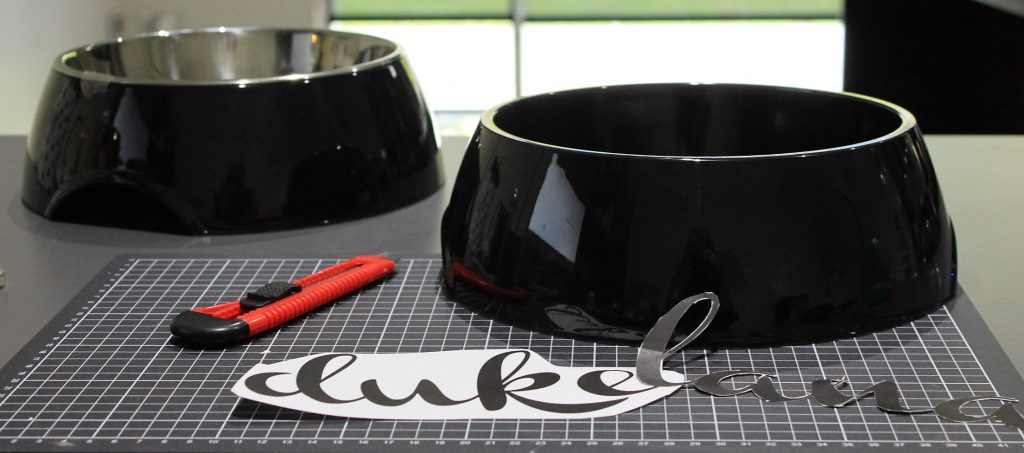 You don't have to cut them out perfectly, although, the neater the stencil, the easier it is to trace around in the next step!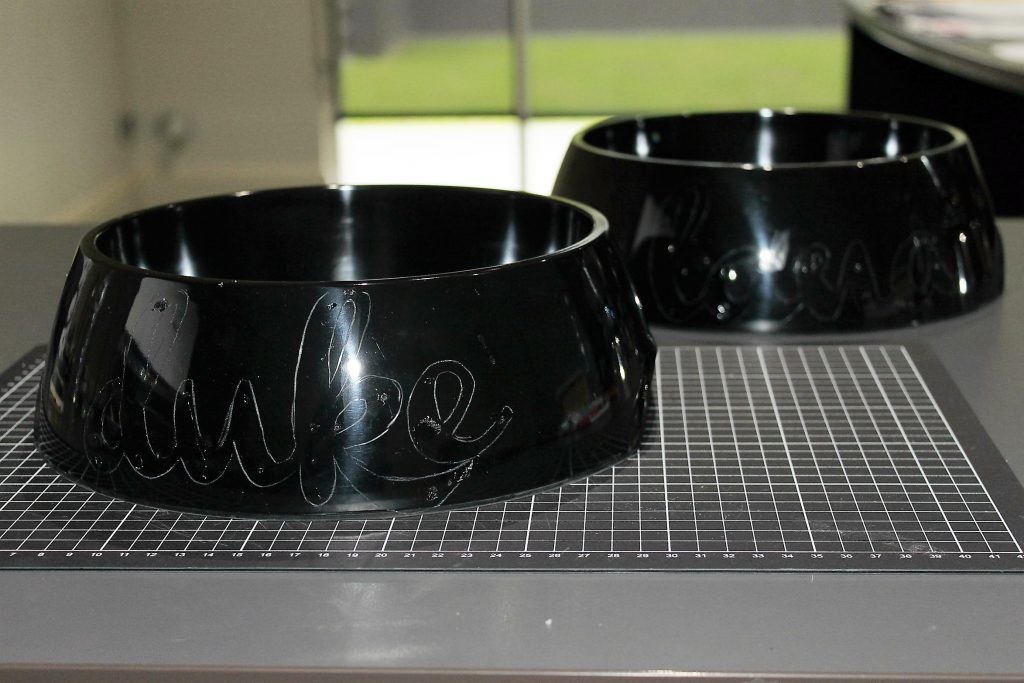 To make our life simpler, we used a few dabs of our E6000 glue on the stencil to hold it in place while we traced around it with our wax picking tool pencil – The E6000 will dry rubber-like so after you've finished tracing, quickly remove the stencil and just let those dabs of glue dry for a few minutes. When it's dry, simply rub your finger on the glue and it will ball up and you can remove it really easily! Once the project is finished and dry, you can go over it with a damp cloth and remove any other glue spots or glue strings that may be present!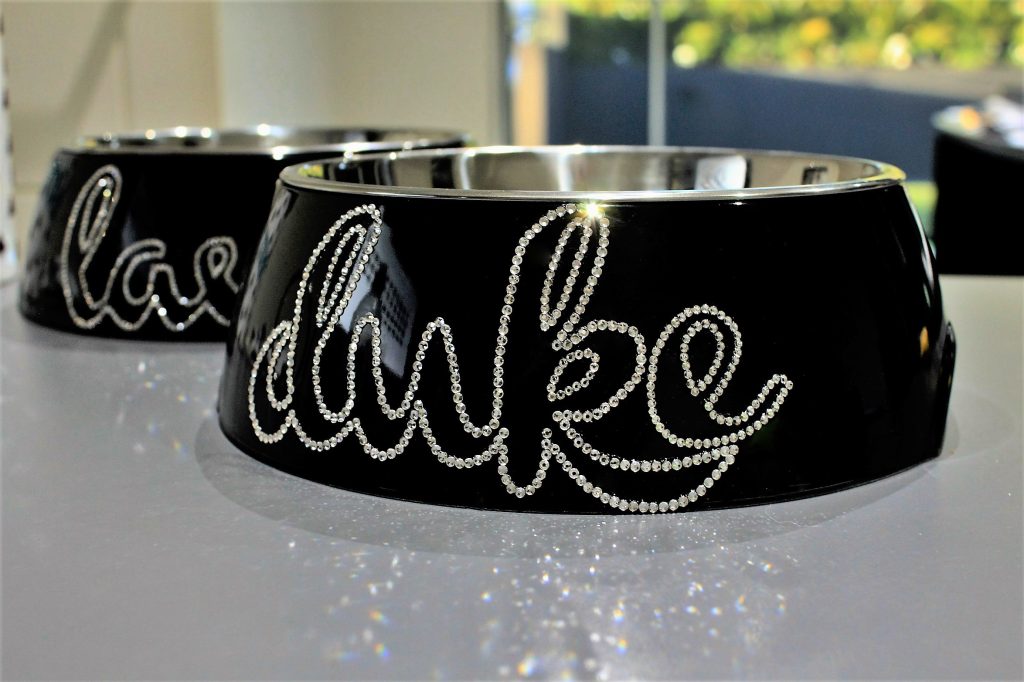 That's the hardest part done! The next step is fun and simple! Just start laying your stones, one by one on the traced line …. And you're done!
Try to let the glue set for the full 24 hours – and then, of course, you can wipe away any finger prints and glue marks that may be visible. Even though these bowls have a removable stainless inner bowl for washing, don't be afraid to wash the sparkly part of the bowl! The beauty of our E6000 glue is that it dries waterproof! You can handwash, pop it under water, give it a good rinse off and gently towel dry and it's all ready for your Pooches dinner!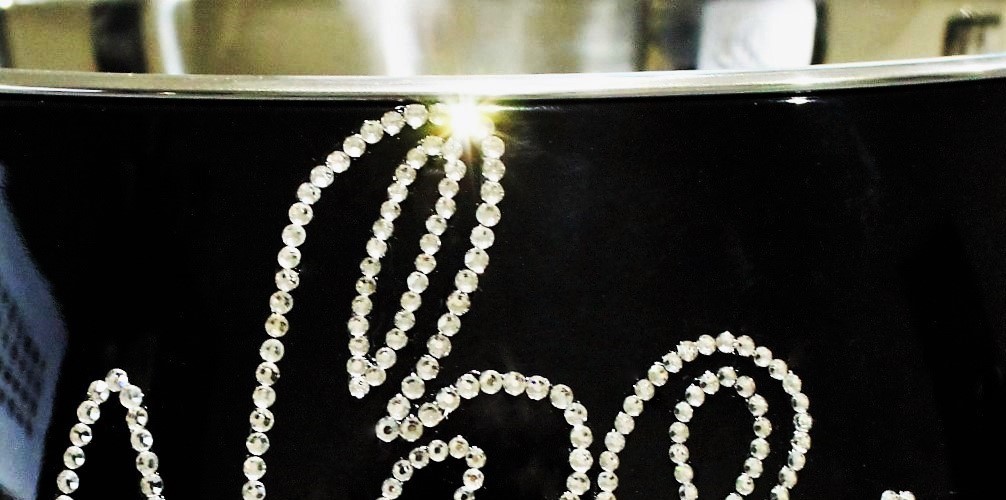 These bowls are stunning and the possibilities are endless! We didn't forget the other special dog in our life – Harry – he loves a bit of sparkle!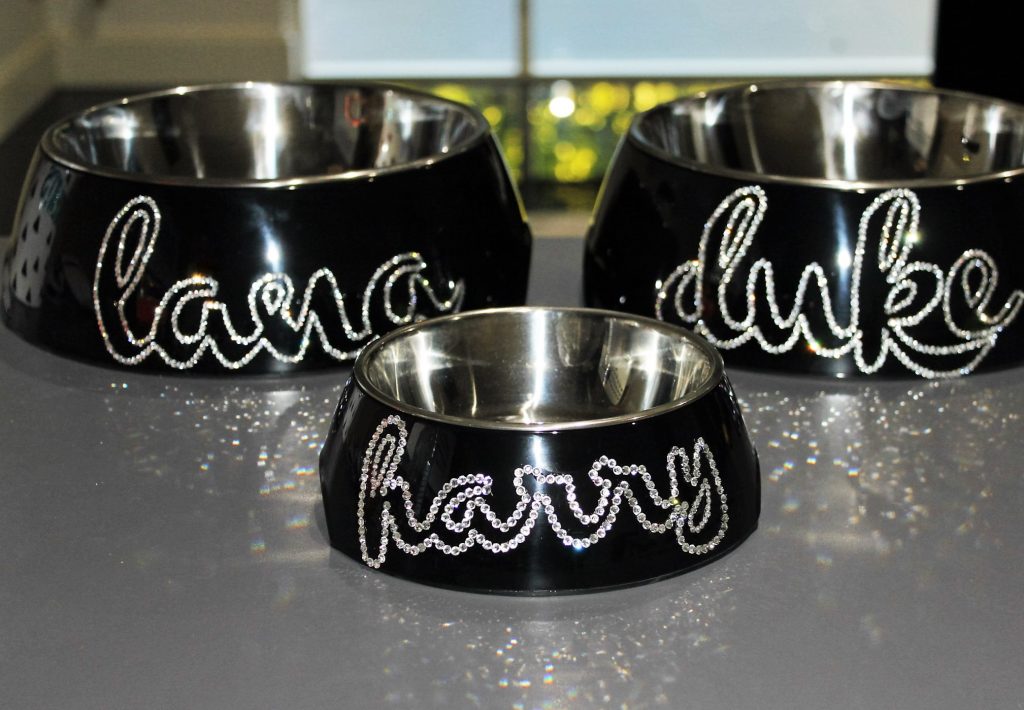 To give you some idea of the stones we have and use, we made these bowls with different sized stones ….
On Lana's bowl, we used approximately 390 of our KS .8 stones which are $5 in our store.
On Duke's bowl, we used approximately 432 of our KS 1.0 stones which are also $5 in our store.
Harry's bowl has approximately 236 of our KS 1.2 stones which are $6 in our store and we have enough left over, that we can do his water bowl for him as well!!
So in short – Harry's bowl cost a total of $12 finished (plus some glue), Duke's bowl cost $15 completed (plus some glue) and Lana's had a total cost of $15 as well (plus some glue). How great is that?!!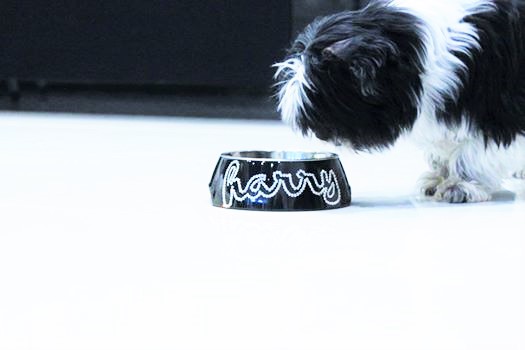 We think these bowls would make a great, affordable gift for any pet lover in your life!
We also think they'd make a great birthday present for the pet in your life!
We've had so much fun making these bowls. We'd love to see your own spin on them, so make sure you tag us in your photos and use the hashtags #kmartstyling and #kmartKraze , so other @kmartstyling_official followers can see them too!
As always, have a blinging great day!
Categories: Pets