Posh Puppy Bed!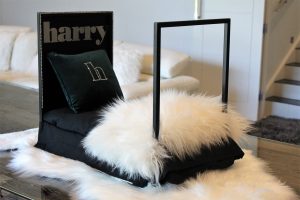 Once your dog sees you reading this post they will hound you (see what we did there?!) until you make one for them, and yes, they want their name on it too! Dogs like that, according to Harry!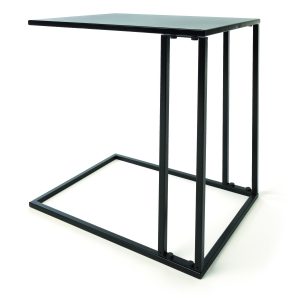 The bed frame used for this project is the Sofa Side Table ($19). You're also going to need a pillow (we purchased the High Profile Polyester two pillow pack $12), 1 Pillow Case in your choice of colour (we used Standard Pillow Case in Black $4) and 1 European Pillow Case (we used the 225TC in Black $6 – you could also use another Standard Pillow Case here).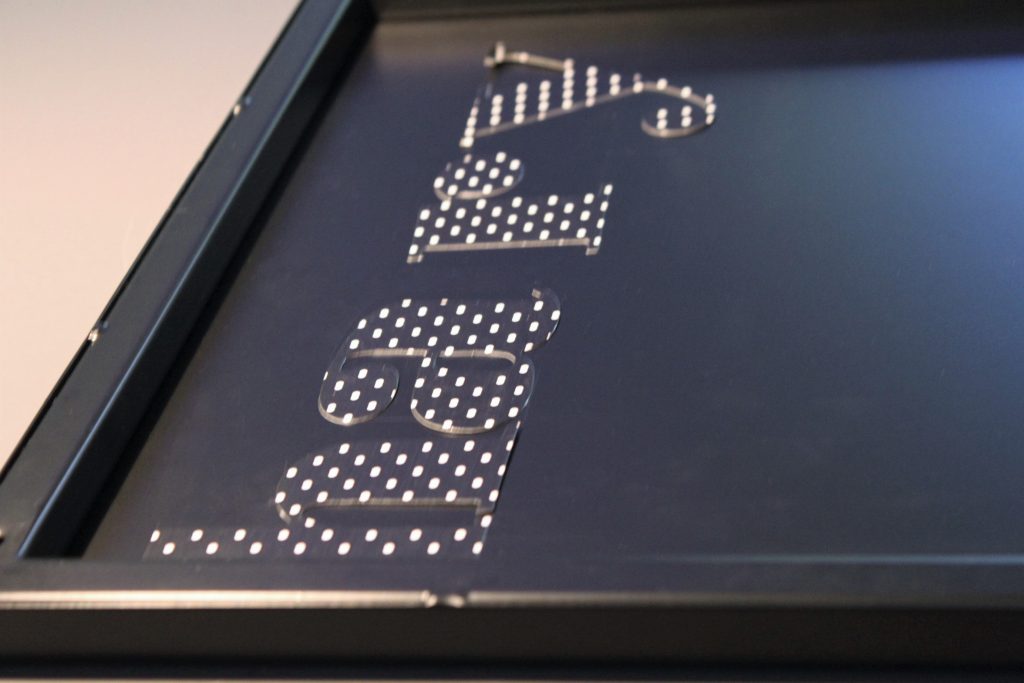 Before you assemble the table, take the solid black table top and lay it on your desk. You need to have it this way up – if you have it on the other side, you won't be able to assemble the table when you're finished!
Either print out, or use cut out letters like we have, and arrange the size and spacing so it fits across the top (the short end) of this piece.
We've opted to use the Silver Contact for his name, but you could also paint it on, cut out different patterned paper etc – but if you're using contact, remember to mirror your letters on the back so when you stick them on, they're all facing the right way!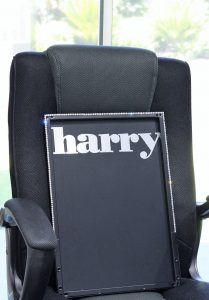 Here's our 'Bed Head' finished. We drew a light line in pencil to help with the application of the letters and then we erased it. We also went around the upper 2/3's of it with one single row of our KS 2.0 stones ($7.50 available from our shop here).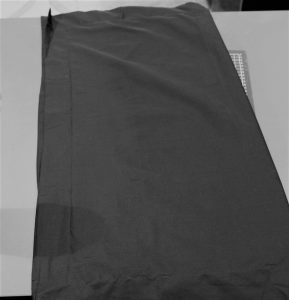 Now for the bed valance.
For this step we've used a European Pillow Case only because we had a spare one on hand. You could also use a standard pillow cover.
Take the cover and fold it in half lengthwise. Then cut along the fold line so you now have two pieces – if you're using the European cover, have the wide hemmed area facing out making this a feature of the valance.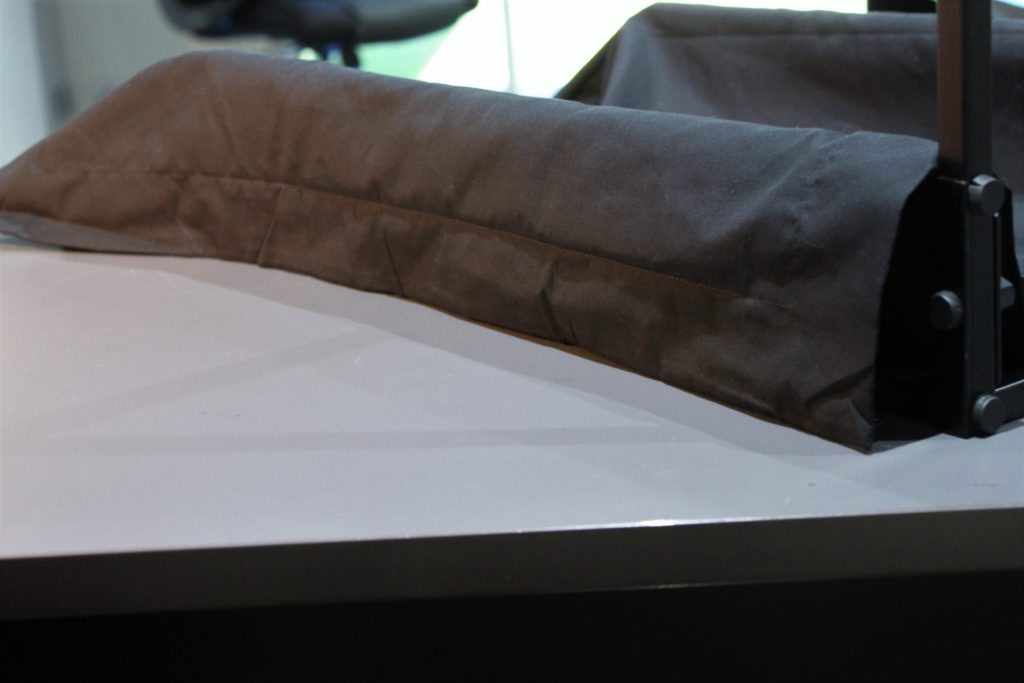 Now hang the cut half piece across the rail and measure the length of the rail and cut this piece to that length. We used some of the left over KS 2.0 stones from the headboard and ran a row of them along the edge of the valance for an extra touch of glam!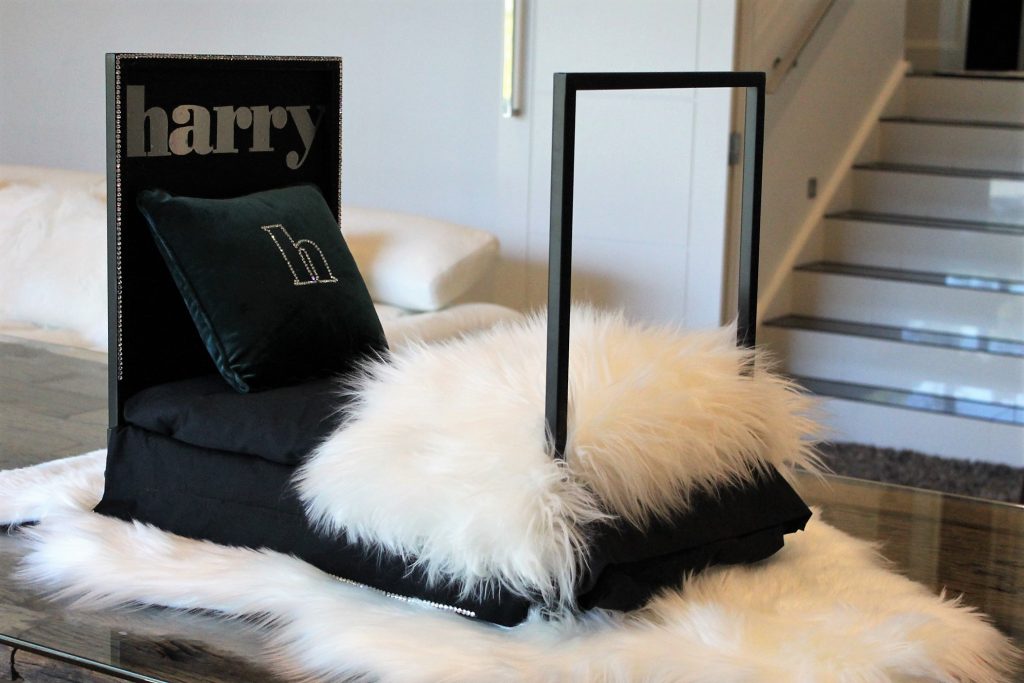 Now it's time to reassemble the bed! Thankfully, this is one of the more easy assemblies! Put your pillowcase on your pillow and sit it inside the railings and you now have a gorgeous dog bed! But …. what fun is it, if you can't dress the bed up?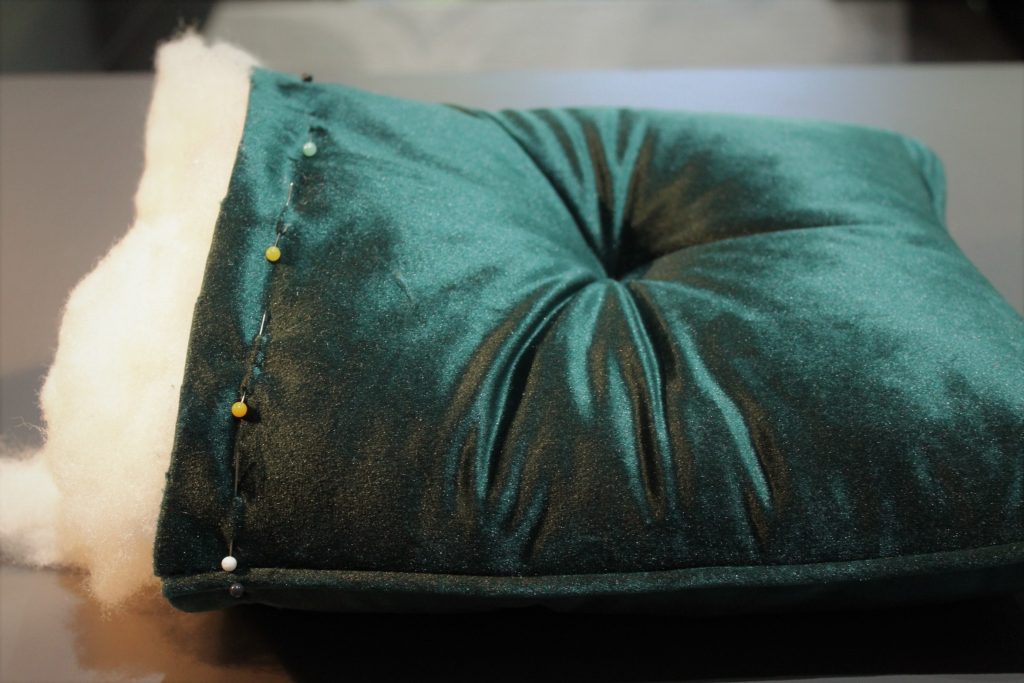 The new Breakfast Button Velvet Cushion ($8) is so beautiful we wanted to add it to Harry's bed so we cut it down and made it dog size! This was really simple to do. We literally took to it with a pair of scissors and cut about 1/3 of it off. We cut straight through the piping, velvet and filling. Then we pinned a hem on the edge of the velvet right around the edge and also cut off any filling that was still spilling out of the cushion. Once we had it at a comfortable fill, we pinned the two edges together and ran it through the sewing machine. (You could just as easily hand stitch this part.)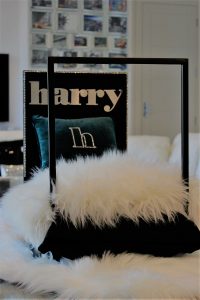 Because Harry loves the glam life, we used some more of our stones and monogrammed the cushion for him!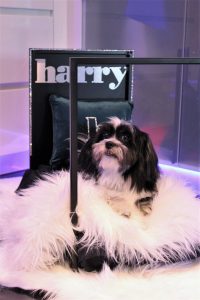 And just to finish off dressing his bed, we took the cover off a Zsa Zsa Faux Fur Cushion ($12) and folded it in thirds and popped that on the end of his bed!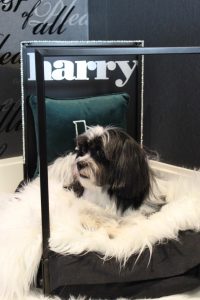 Harry feels like a King! This is definitely a 'No Cat Zone'!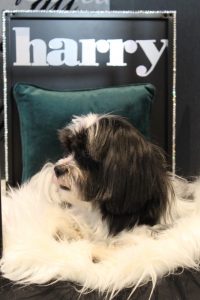 The Sofa Side Table is the perfect size for a small dog like Harry. (Harry is a Maltese Shitzu cross and weighs about 6 kilos.) If you have a larger dog, you could still use the same theory, only look for a larger sized coffee table as your base.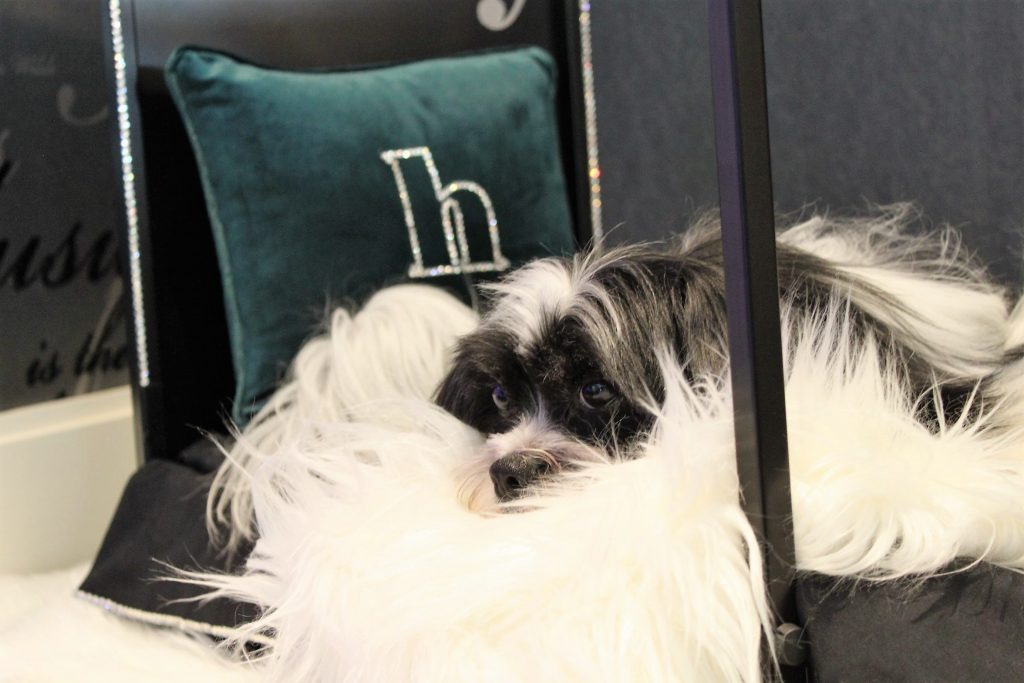 Luxury Dog Beds are super expensive to buy but no one would know that this didn't cost a small fortune – it looks like the real deal!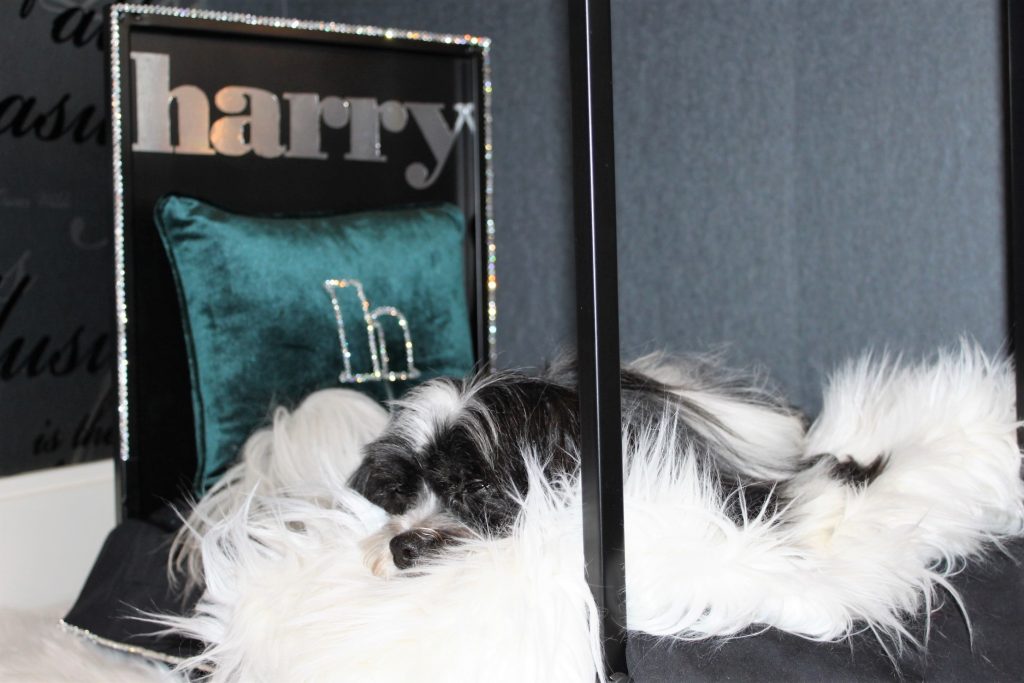 So comfortable he's almost asleep ….. Sssshhhhhhhhh!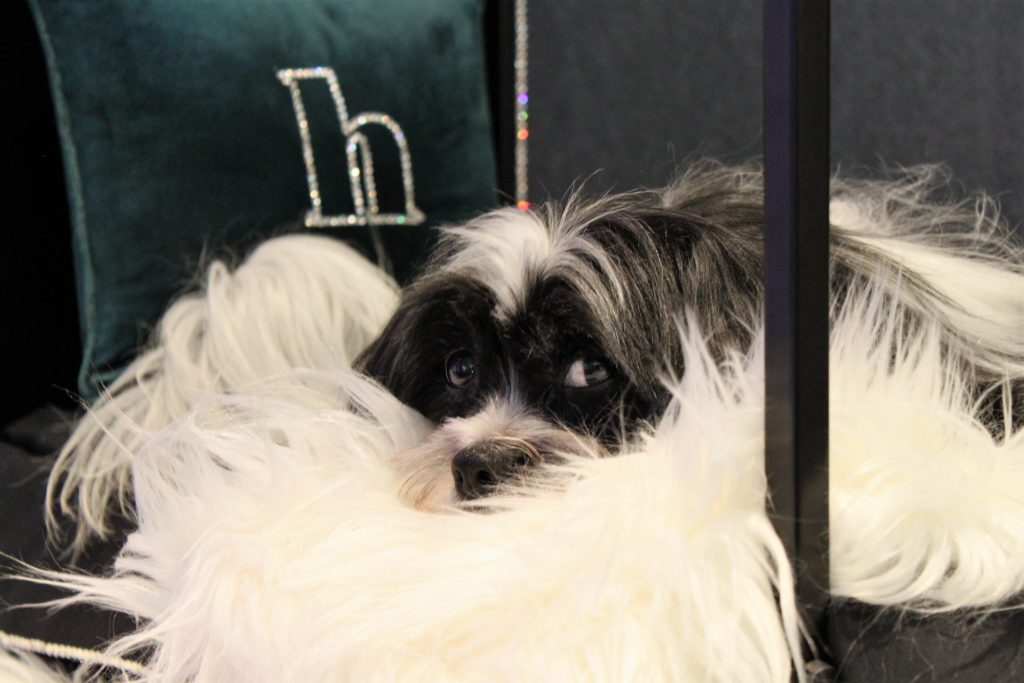 Just tricking! Someone said Treats!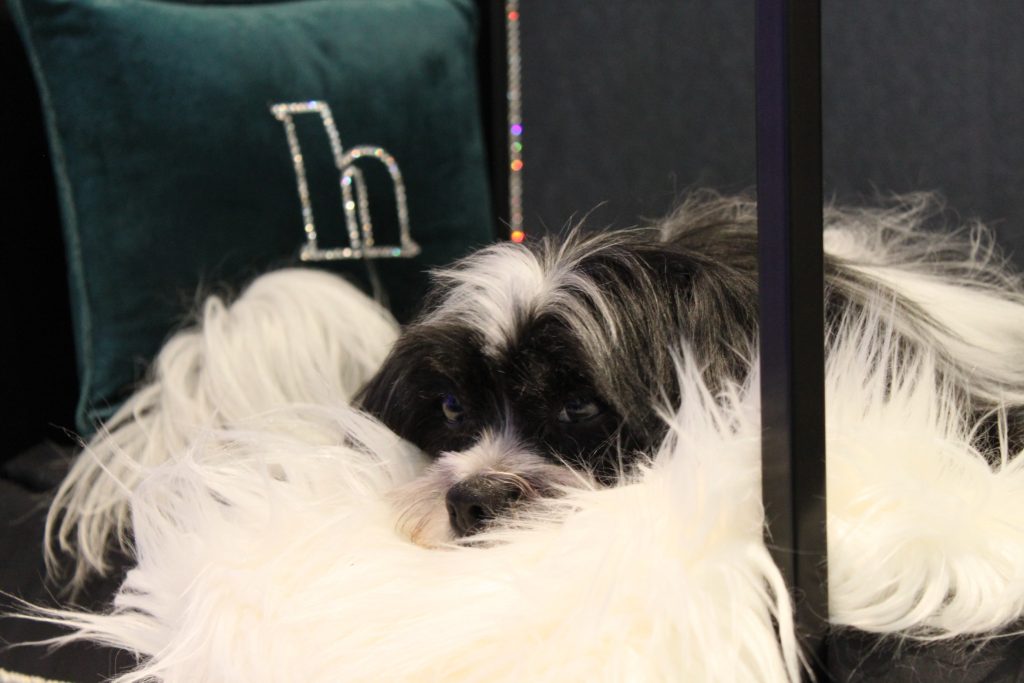 Harry loves his new bed so much, and it's so comfortable he didn't care about the photo shoot!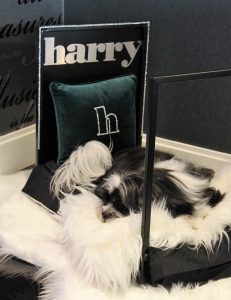 We hope you like our latest Kmart Hack! Don't forget to share your Kmart Styling and hacks with us by using the hashtag #KmartStyling – that way we don't miss seeing them, and neither do our followers!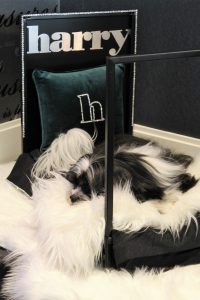 But for now, it's time for Harry to get some sleep, so until then …..
Happy KmartStyling!
Categories: Pets