Want to keep your Champagne chilled in sophistication? We're going to show you can make one of these for yourself, and the best part is, it doesn't have a whopping big designer price tag! This Champagne Cooler costs under $20!
We started with Kmart's 20 Litre Metal Cooler which retails for $12.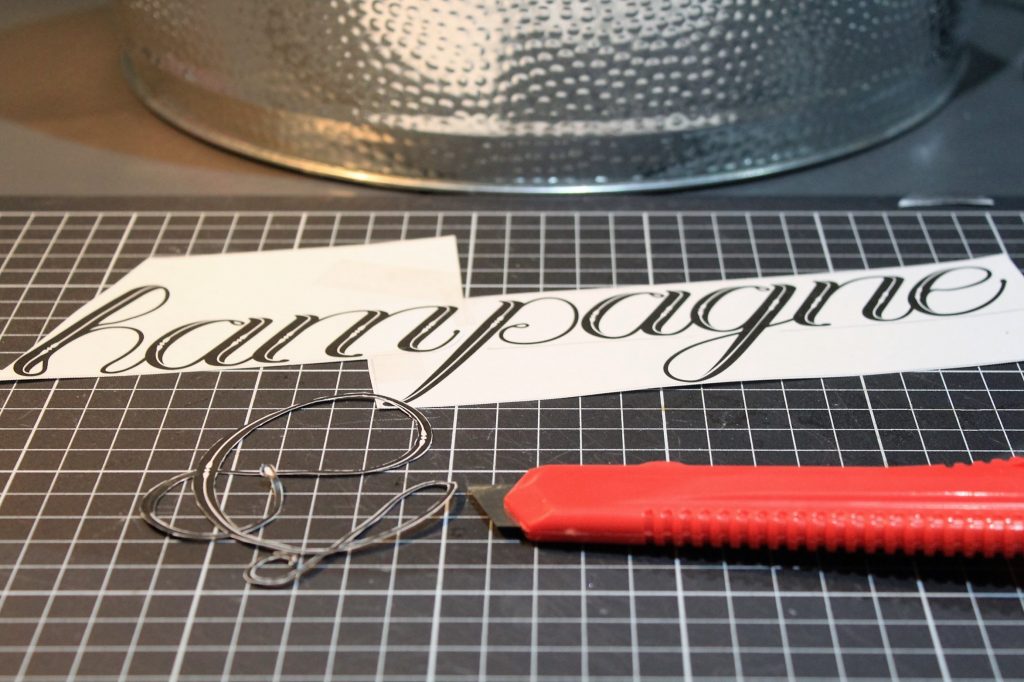 We've opted to use the word 'Champagne' on our cooler, but of course, you can use any word(s) you like. (These would be great to make for a special birthday, or any celebration.)
Firstly, we used Word and set it to landscape orientation. Then we selected our font, and set the size to 250. (Every font will be different, you will need to play around a little bit to get the right sizing for your needs.) Because Champagne is a long word, and the font is so large, we printed it out on two pieces of paper.
Once you have it printed, you may want to make yourself a cup of coffee …. The next step takes a while, but it's fun! Using a box cutter (Stanley knife) carefully cut around the letters.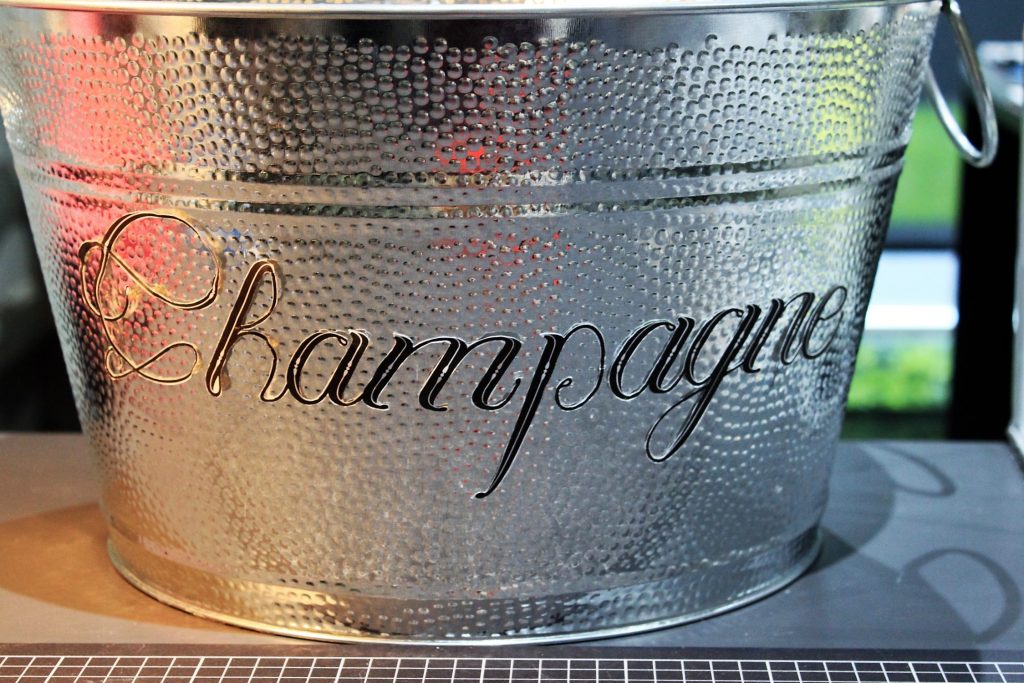 Once we had all the letters cut out, we used some of Kmart's Glue Dots $1 – and stuck the word into position on the cooler.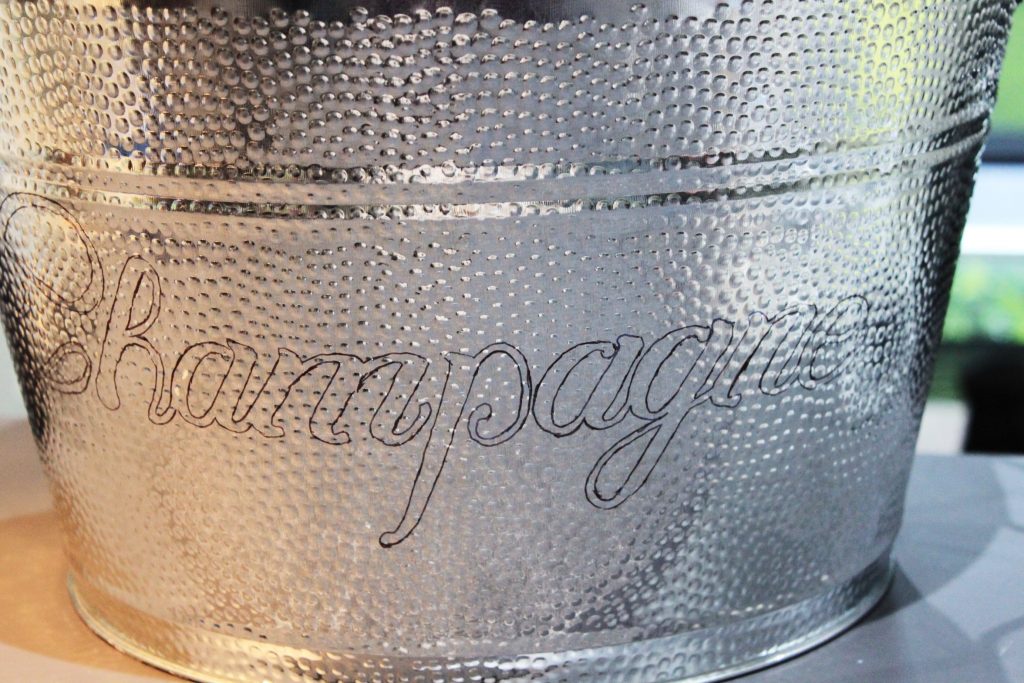 Next we took a fine 'Sharpie' pen and traced around the letters. Using our new KSB 1.6 sized Black stones – $7 for 500 stones – we then set about filling in the letters. There's really no correct way to do this – sometimes we just glue them around the edges, but for this project we decided to outline the letters and fill them as well, where we could.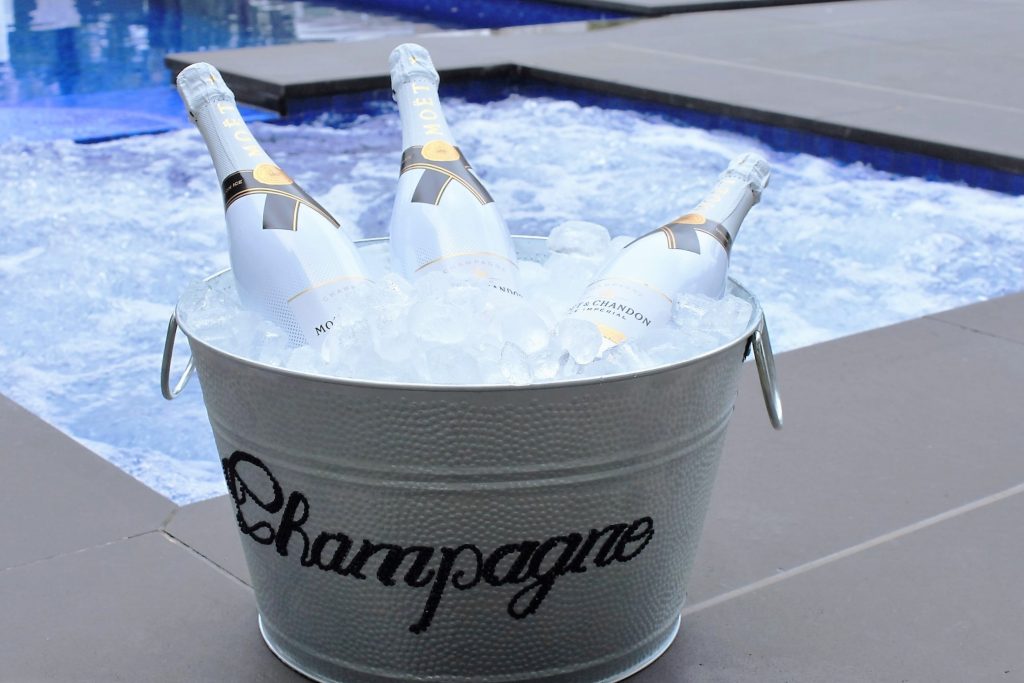 We completed this project easily in an evening and had a lot of fun doing it! Now we've got a unique way to display and chill our Champagne for upcoming events! Once it's filled with ice and the Champagne has been added, you can sit back and relax!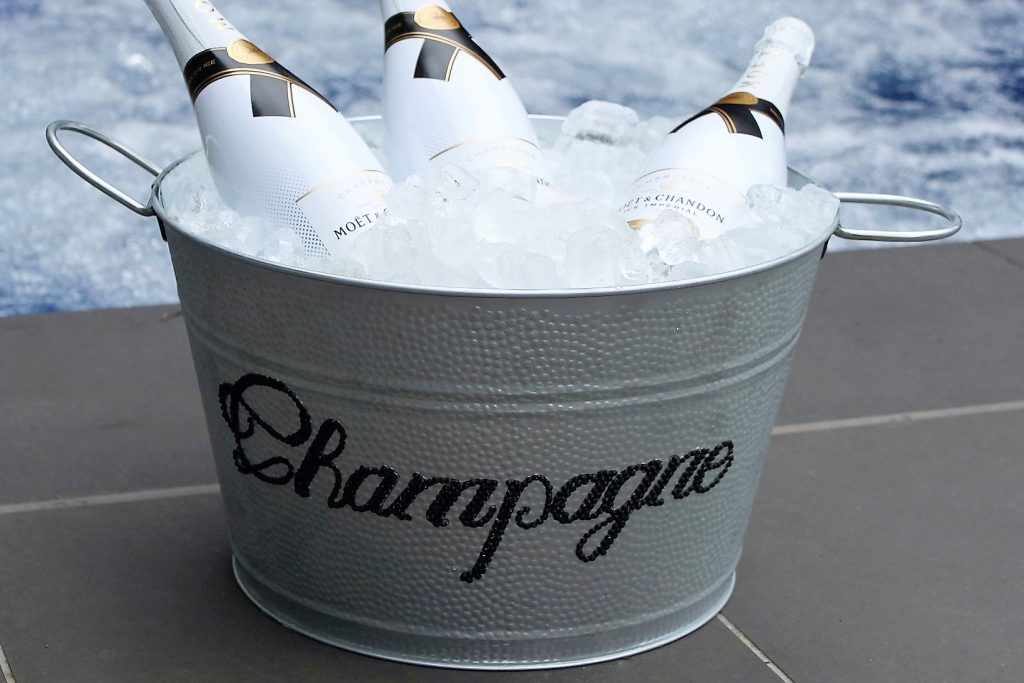 It's stylish and sleek and perfect for either a small or large gathering and, as you can see, makes a great accompaniment to the pool area!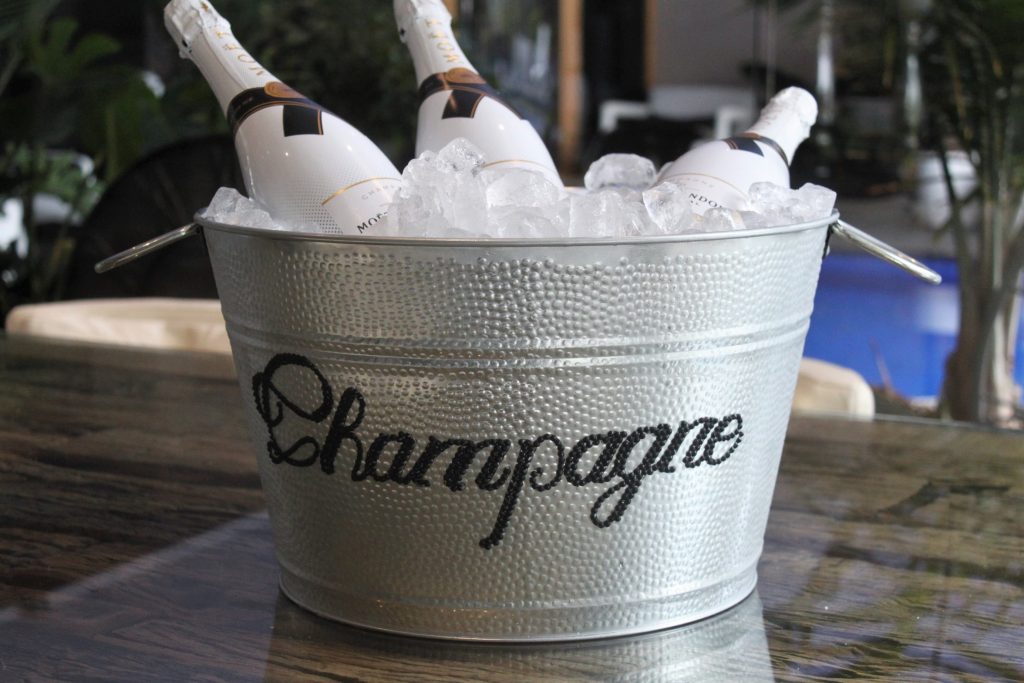 In total we used approximately 539 stones – it's hard to give an accurate measure of the quantity of stones you will need due to the vast selection of fonts available – but it gives an indication for this font, in this size. If we had made the font marginally smaller, we would have been able to complete this project with one full bag of 500 stones.
Champagne on ice, such a beautiful sight!!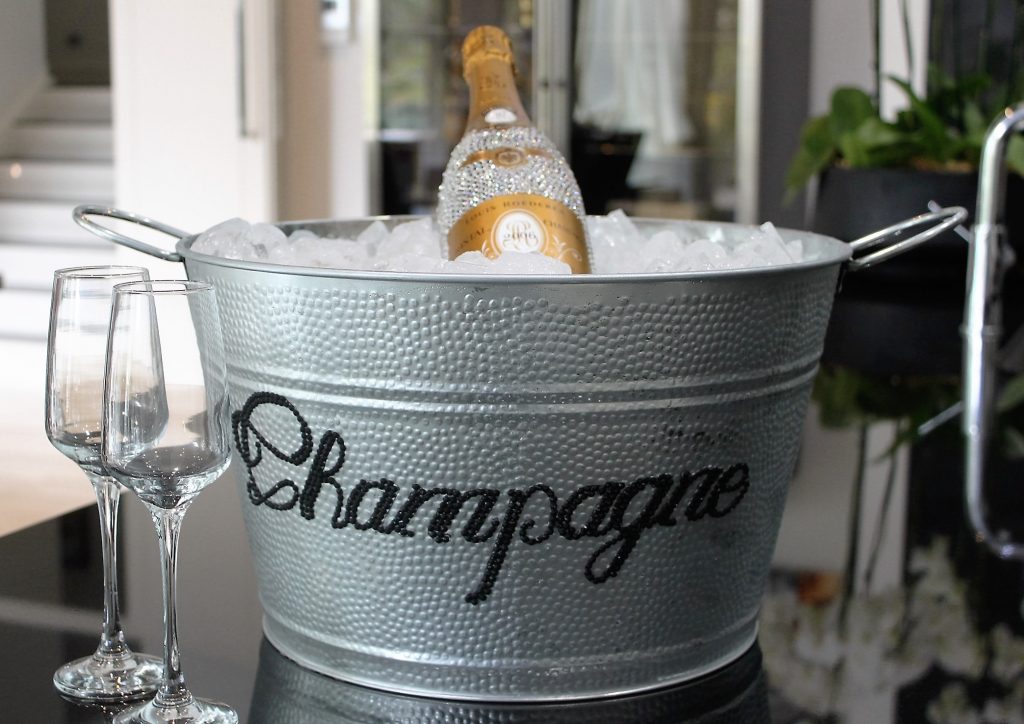 We plan on using our new cooler both outside, and indoors. It's v v glam and would look gorgeous used as a self serve Champagne bar for a special occasion.
(Or you know, you could just pop a few bottles in there, and sneak off with it, all. by. yourself.)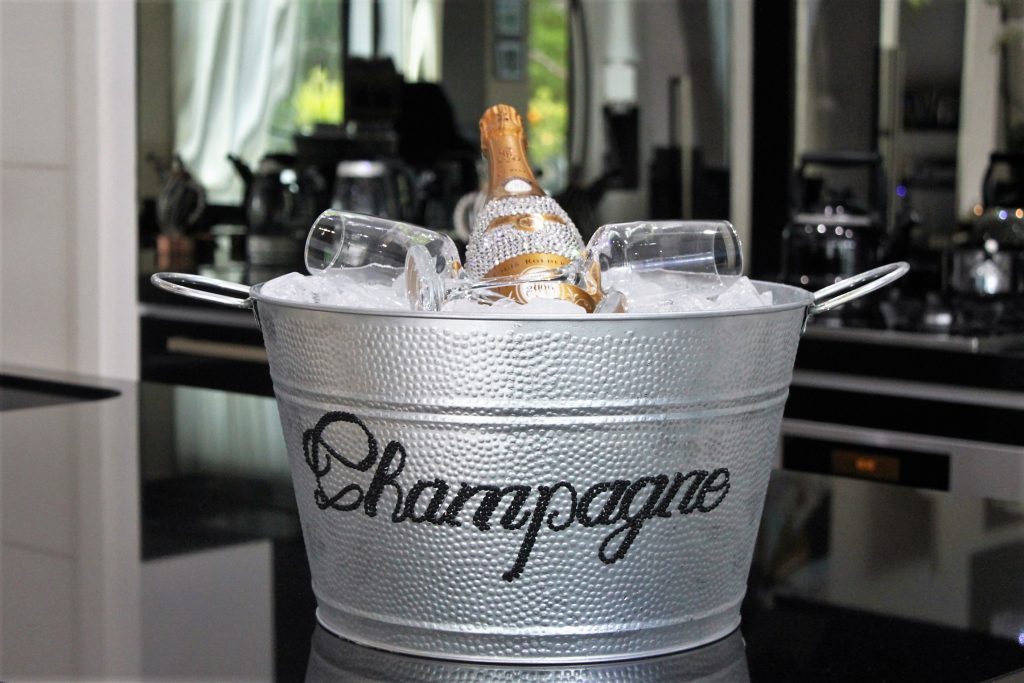 Of course, we would love to see your own spin on this one – (and some photos if you do sneak off with it by yourself!) Remember to hashtag your photos with #kmartstyling or #kmartkraze so other @kmartstyling_official followers can see them as well.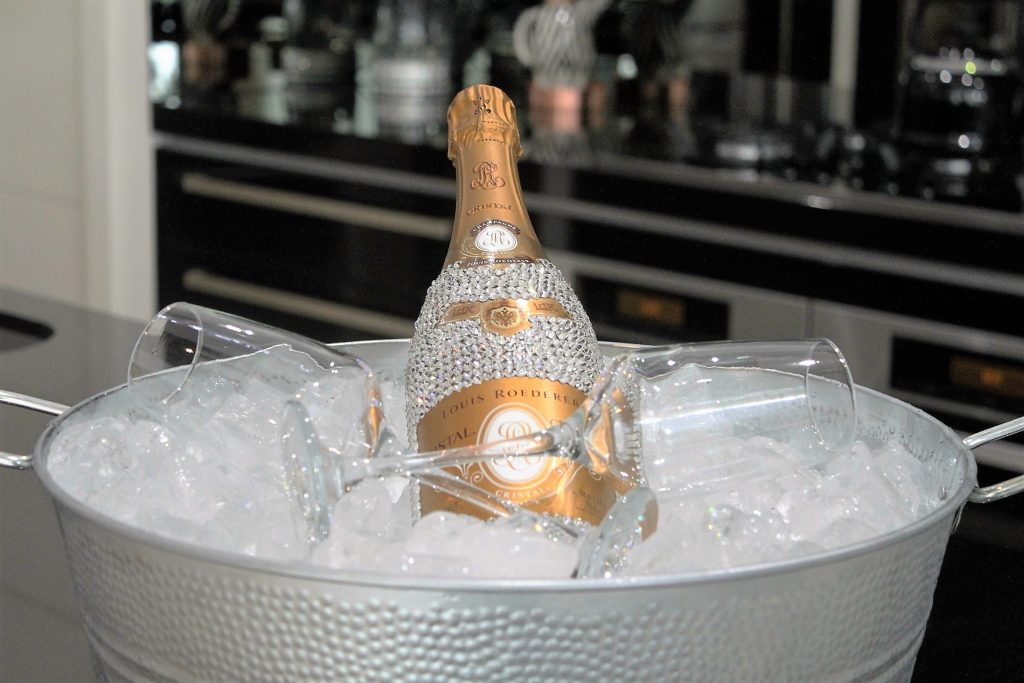 And before we sign off, here's a close up of our beautiful bottle of Cristal …. Proudly wearing our stones!!
As always, have a blinging great day!
Categories: Special Occasions