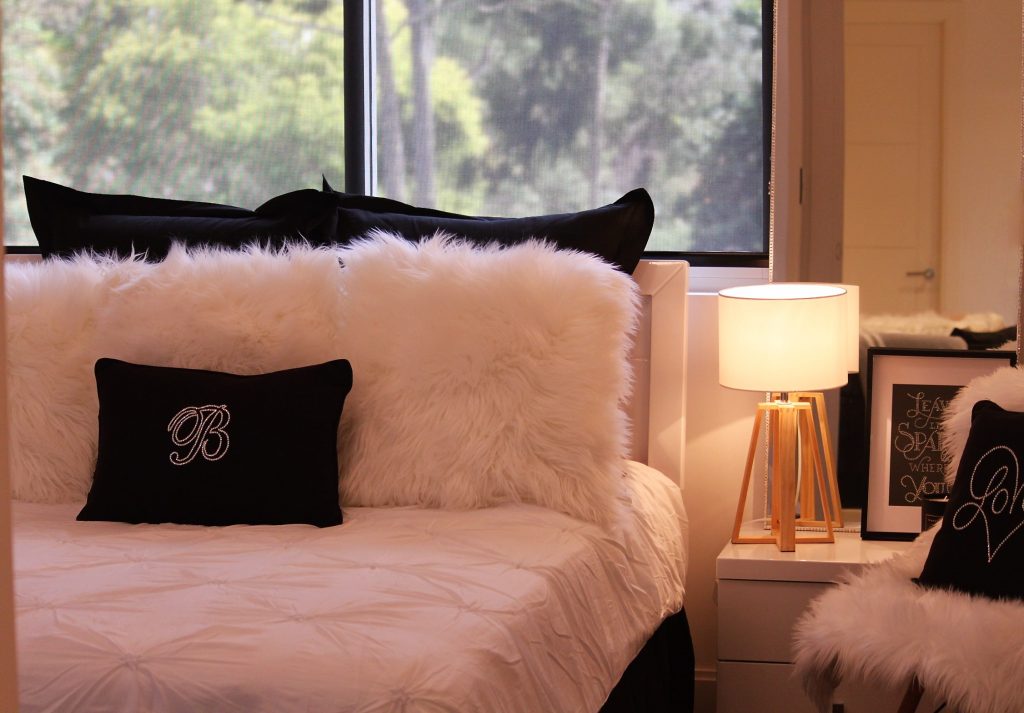 One of our Daughters is turning 16 so it was time to completely revamp her room and what an incredibly transformation it turned out to be!
This was her room …. Plain, boring and definitely a room that was better left with its door shut!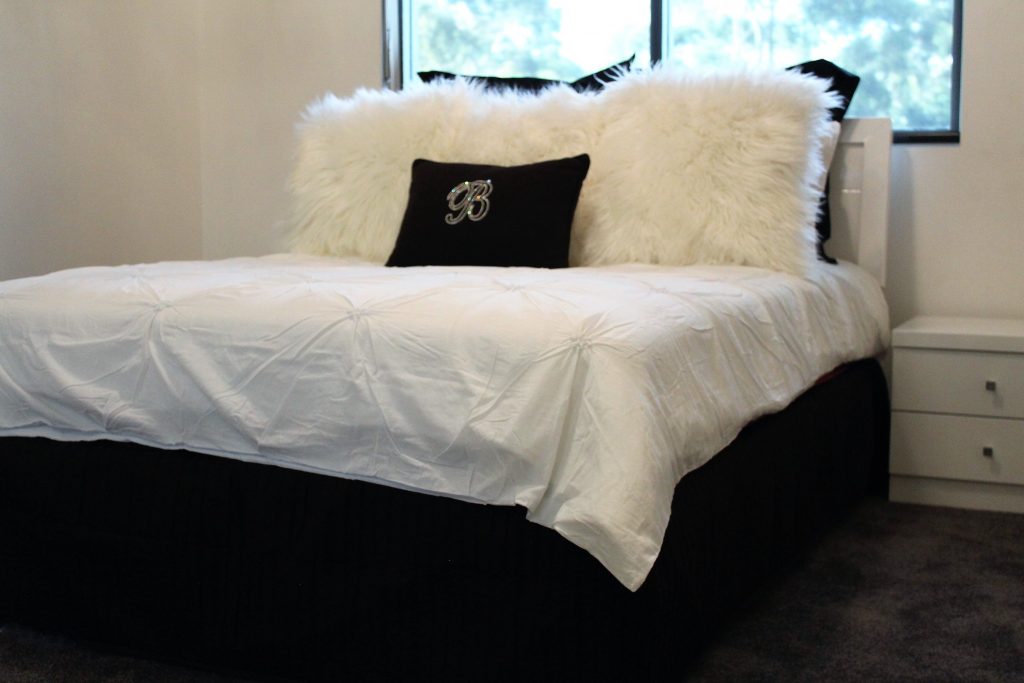 We started by removing all the old bed linen and table lamps, and then moved the bed into a position under the window. By moving the bed, it's given the room a more open feel, definitely something we need because this room isn't overly large. We've dressed the bed with the Angelina Embellished Quilt Cover in double ($32) and we've used a queen sized Quilted Valance ($35). We use a size larger than the bed because it gives a bit more room to pull it down making sure it touched the floor.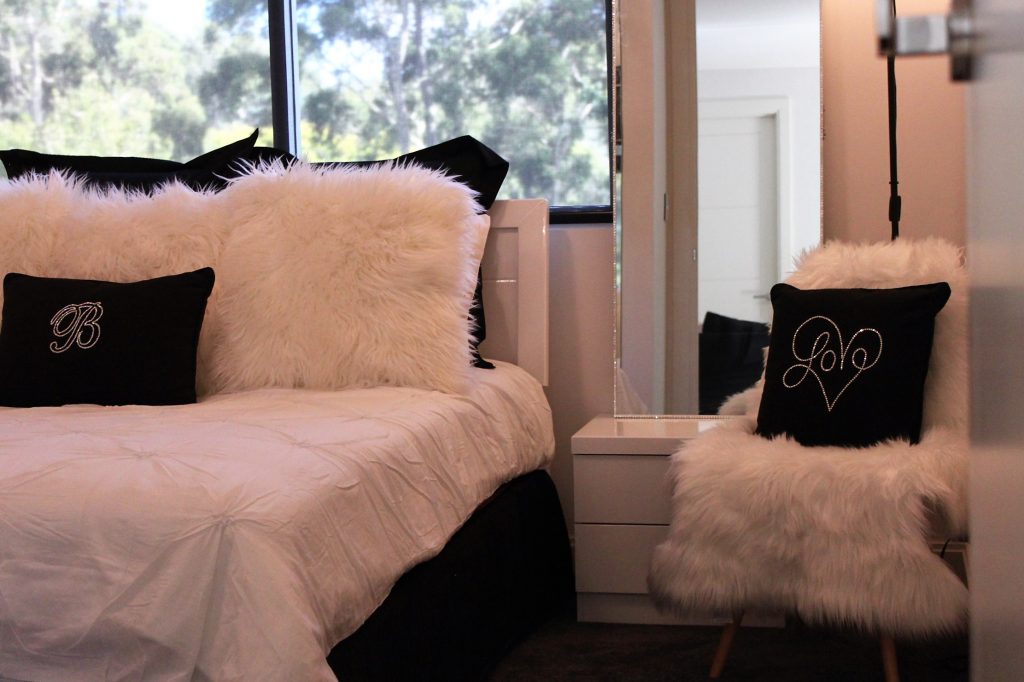 On top of the bed, we've dressed it with 2 European Cushions ($12 each) with the European Pillowcases 225TC in Black ($6 each). We've also added 3 Zsa Zsa Cushions in White ($12 each) and our own cushion in front.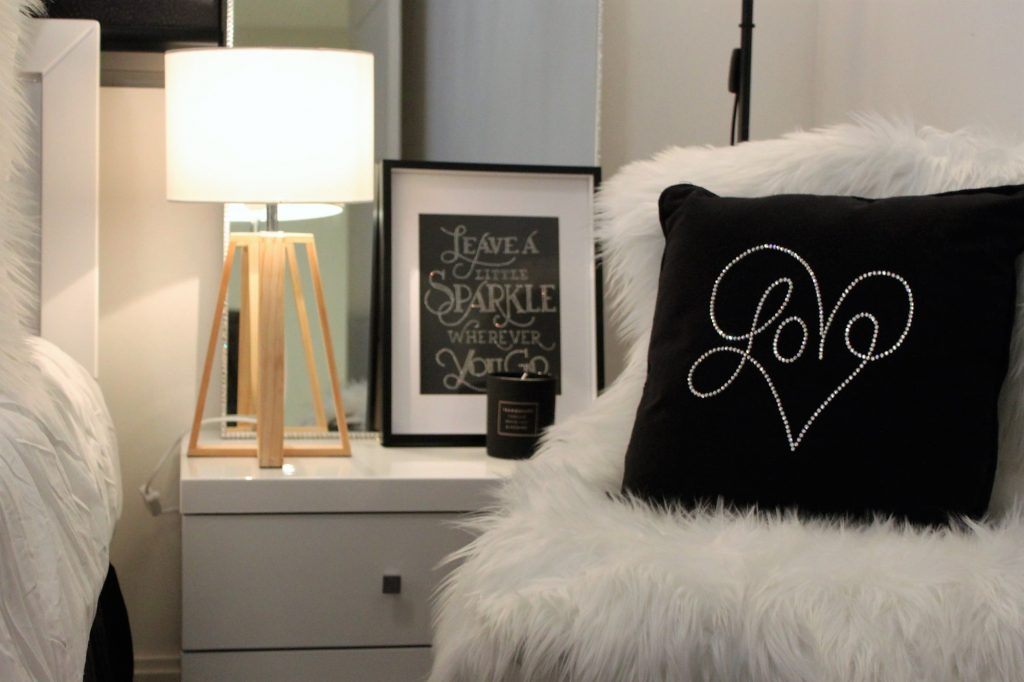 On the side table we've placed the Modern Mirror ($39) decorated with a single row of our KS 3.0 stones. In front of that we've got the Wooden Table Lamp ($20), a personalised 'Sparkle' picture in a Roberta Frame ($10) and the Boxed Candle, Green Pear, Honeysuckle and Neroli scented ($6).
Behind the chair is the upright floor lamp ($12). We've used the White Dining Chair ($39) as her seating and layered it with a Wellington Rug ($19) and a Hudson Cushion ($5) decorated with our stones which can be found here.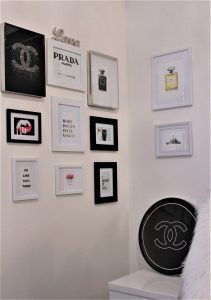 To add some interest on the opposite wall, we've hung a gorgeous collection of frames making a beautiful gallery wall.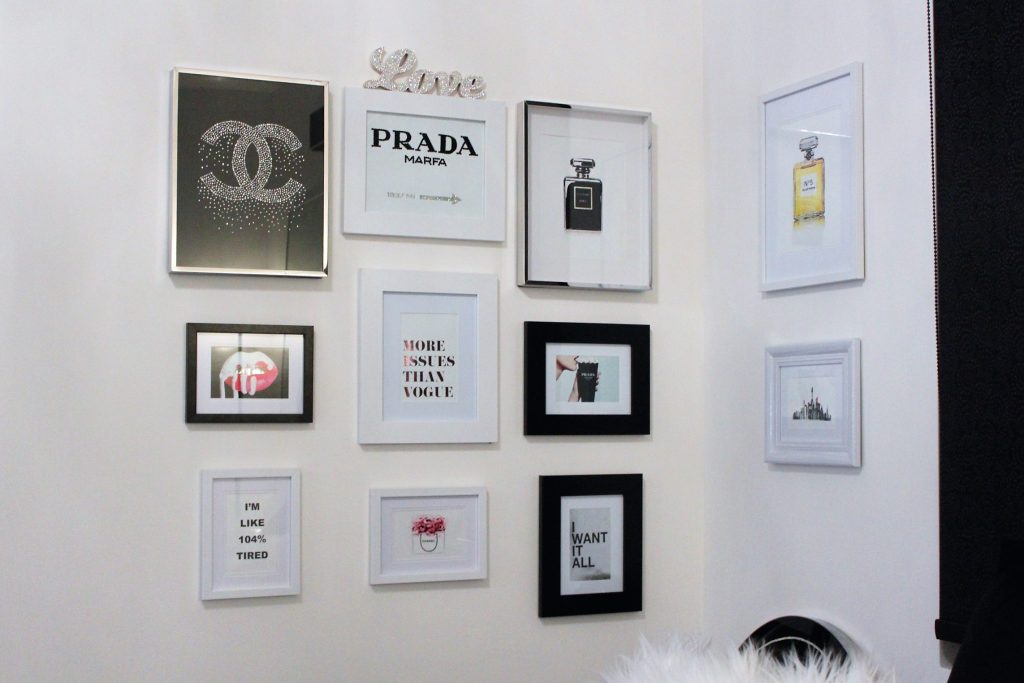 We've also hung two of the Hanging Accessory Storage Grids ($6 each) so she can hang pics of her favourite boy bands, quotes etc, and totally put her own spin on the room.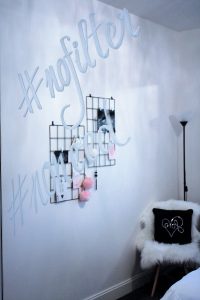 She has mirrored wardrobe doors so we've also put a few liquid chalk pens on her desk so she can draw and scribble on them and when she wants to change it, one quick wipe with a dry microfiber cloth and it's all gone!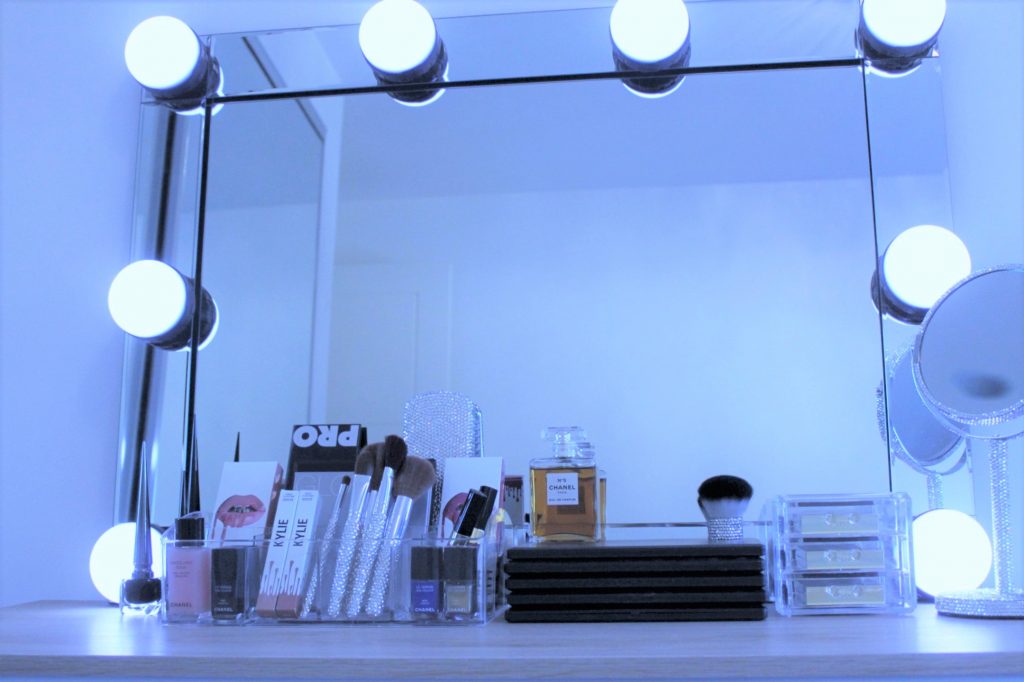 Of course, on the desk, is the fabulous Hollywood Mirror – we have the full do it yourself instructions here – very simple to make, and yet it looks amazing!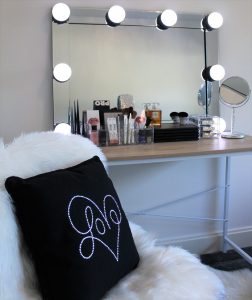 We've chosen the Scandi Essential Desk ($39) for her to sit at and do homework, but more importantly (for her), a place for her to do her makeup! We've complemented it with the Montreal Office Chair ($39) – again draped with a Wellington Rug ($19) and another Wellington under the desk. (After all, you can never have enough Wellingtons!)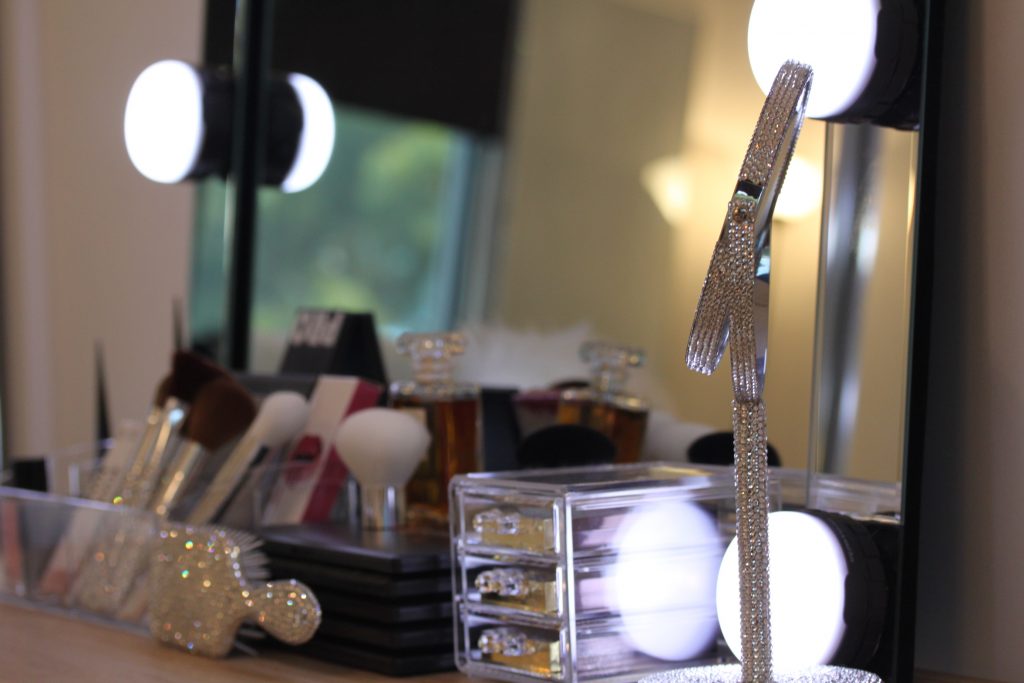 On the desk we've got a few of the acrylic Cosmetic organisers – starting at $7 and also brushes from the Metallics range and of course of fabulous vanity mirror ($7). You can find detailed instructions for making this stunning mirror here.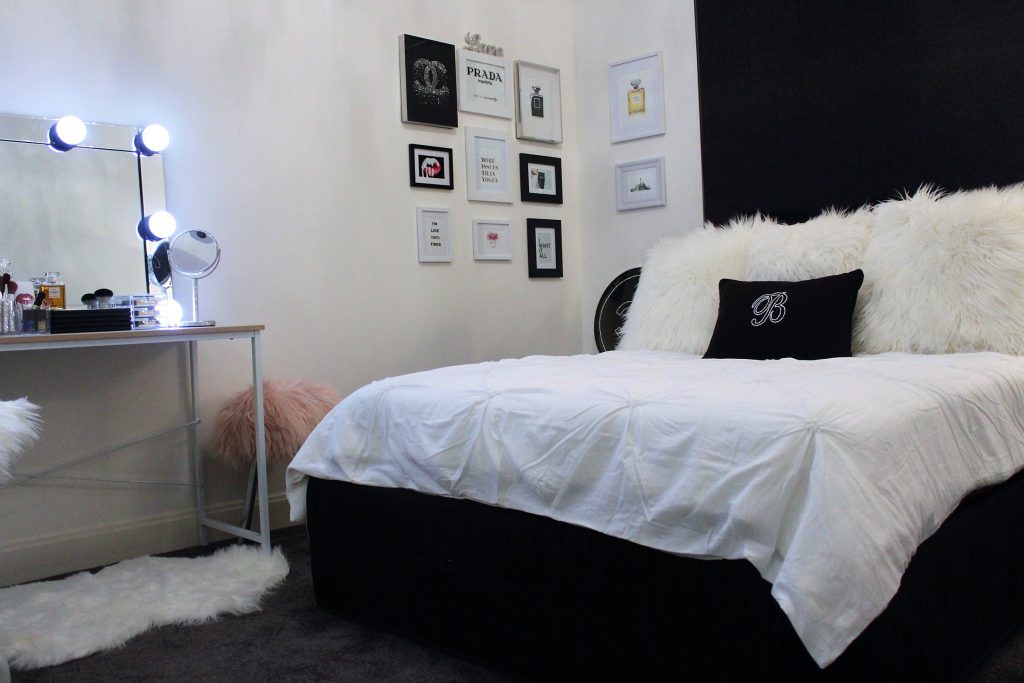 So here's the view from the door – such a crazy difference!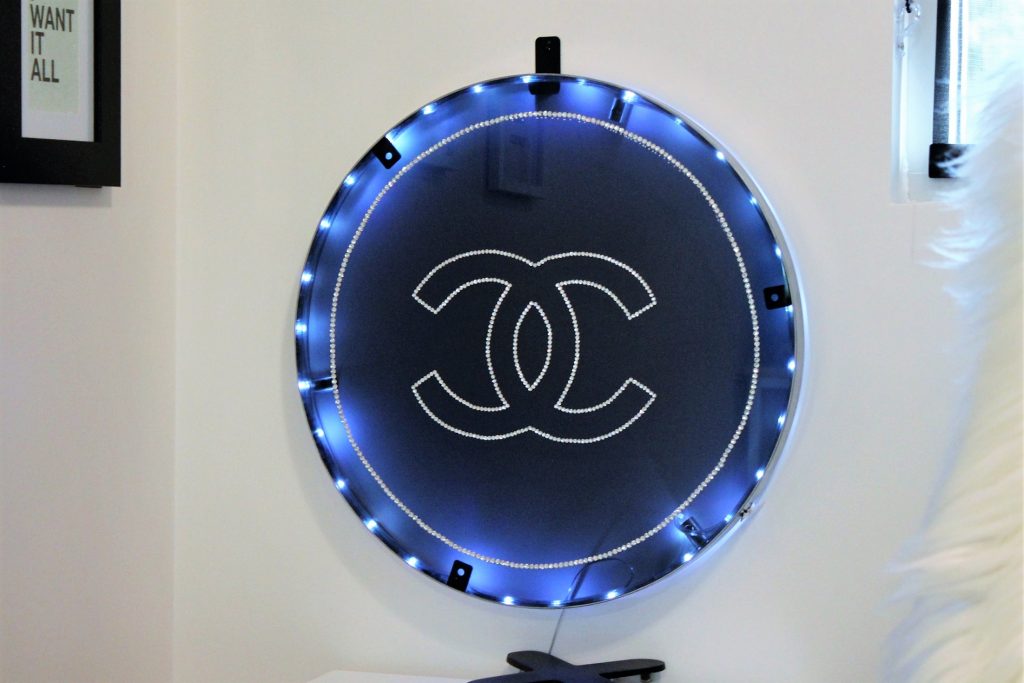 Finally we have this stunning piece! This started life as the Brass Look Side Table ($29). Incredible right?! We took the glass out of the table top and sprayed the metal silver. While that was drying, we traced out our design and went over it with our KS 1.6 sized stones. Once that was dry and the metal edging was dry, we placed the glass back in its surround.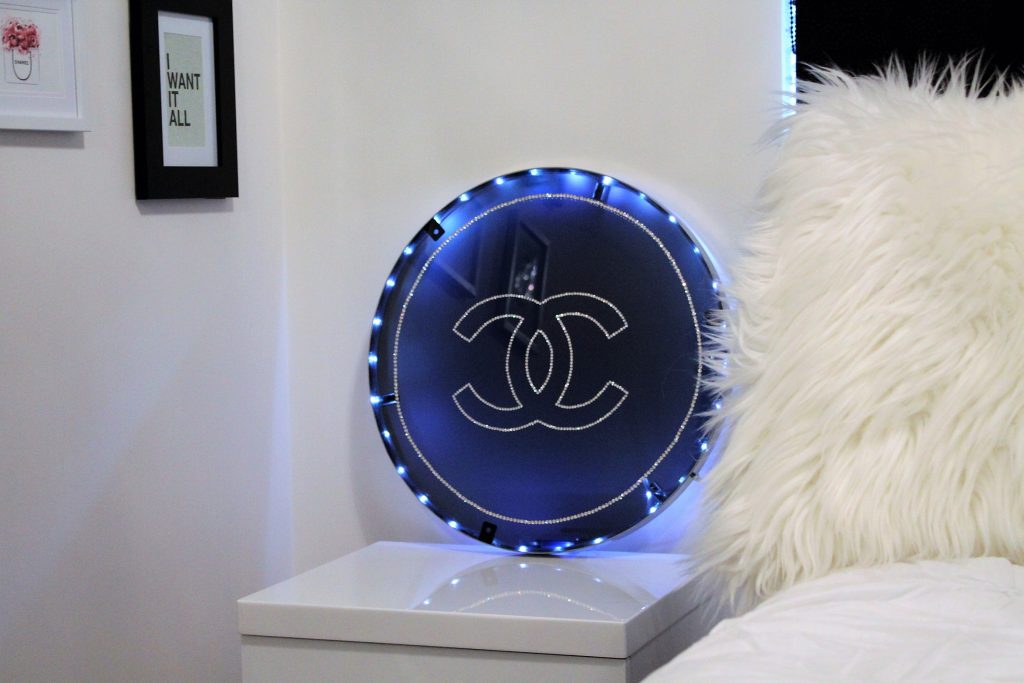 Then we flipped it over and glued in a strand of LED lights which also glued the glass securely into place. We let it all dry and then hung it just above her side table. This emits a fabulous glow at night adding a wonderful ambience to the room.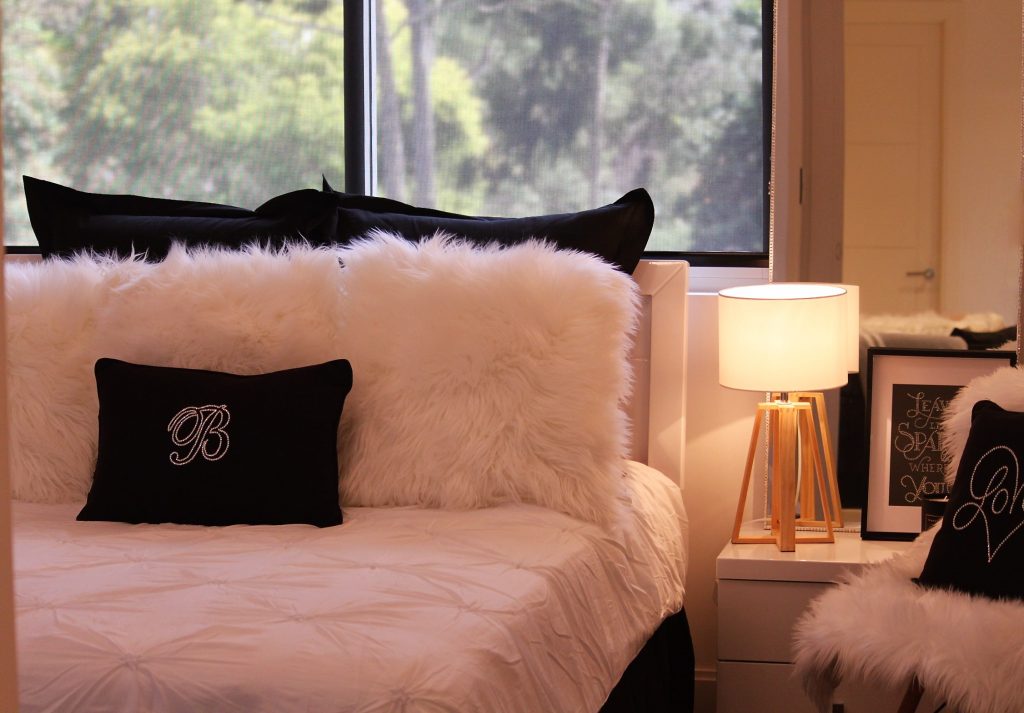 We hope you like this total room transformation – we had a lot of fun styling it and needless to say our Daughter loved it!
Don't forget to share your own styling with us – we love to see your homes styled with Kmart products. Use the hashtag #KmartStyling so our followers can see them too!
Until next time,
Happy Styling!
Categories: Homewares