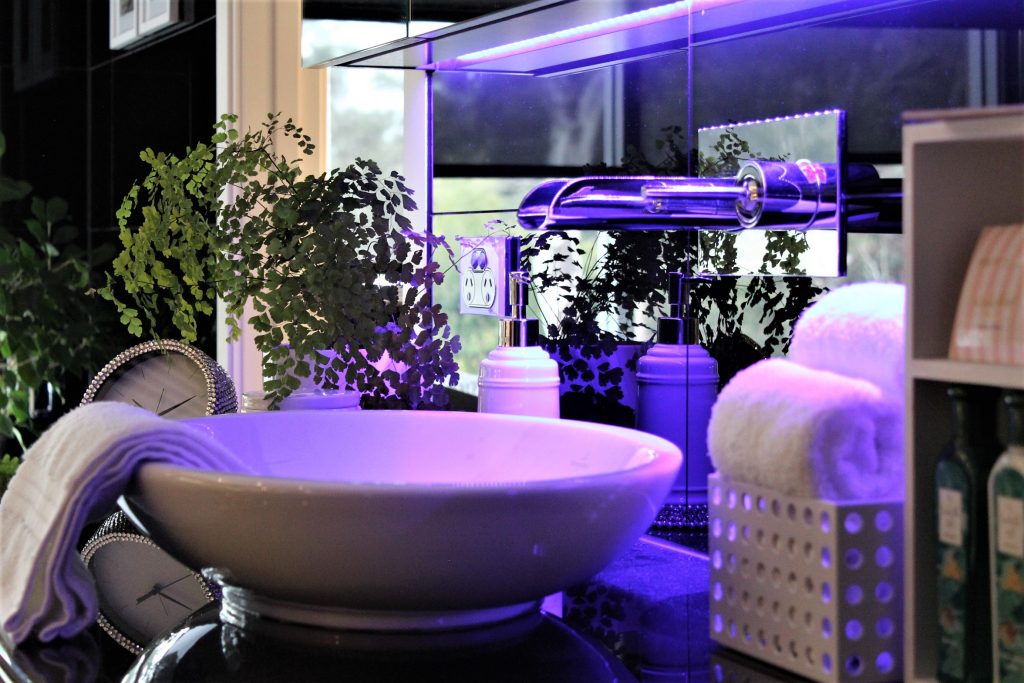 Winter is dragging on in Adelaide – it feels like every single day is cold and wet and I just want to be somewhere warm and sunny, preferably, poolside!
It's not possible at the moment to take a nice sunny vacay, so the next best thing is to make home, feel like a holiday, and the best place to start that, is in my bathroom!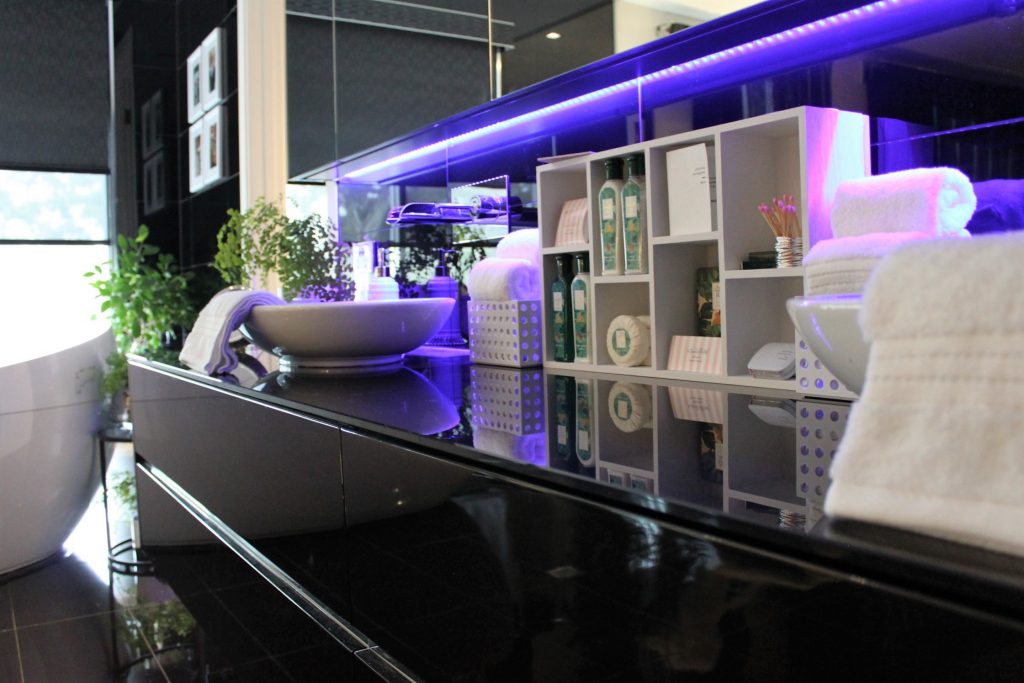 I want to feel like I'm staying in a 5 Star Hotel and thanks to Kmart, it really looks like I'm staying in a 5 Star Hotel!!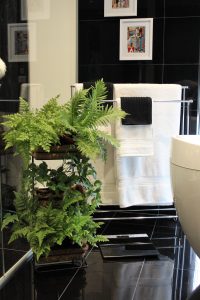 In this corner, I've used the 'Small Vertical Garden' that I showed you how to make here. (It's made using the Black 3 Tier Floor Caddy $15)
Behind that, I've got the 4 Rail Towel Rack – $19 – which is holding an assortment of the luxurious Landon Towel range – starting at $2 each.
On the floor in front of the towel rack are the Slimline Glass Digital Bathroom Scales – $15 – that I up styled – I show you how here.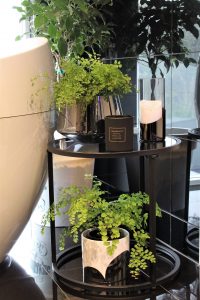 At the other end of the bath I've used a White Plastic Pot – $15 – holding a nice tall plant.
In front of that, I've placed the Smoky Glass Side Table – $15 – with a pot I got on clearance, underneath.
On top of the table I've used the Hurricane Vase as a planter, and styled it with the Vanilla, White Lily and Jasmine Scented Candle – $6 – and next to that, the Black and Glass Candle Holder – (which I'm desperately trying to find online, and I can't – sad face)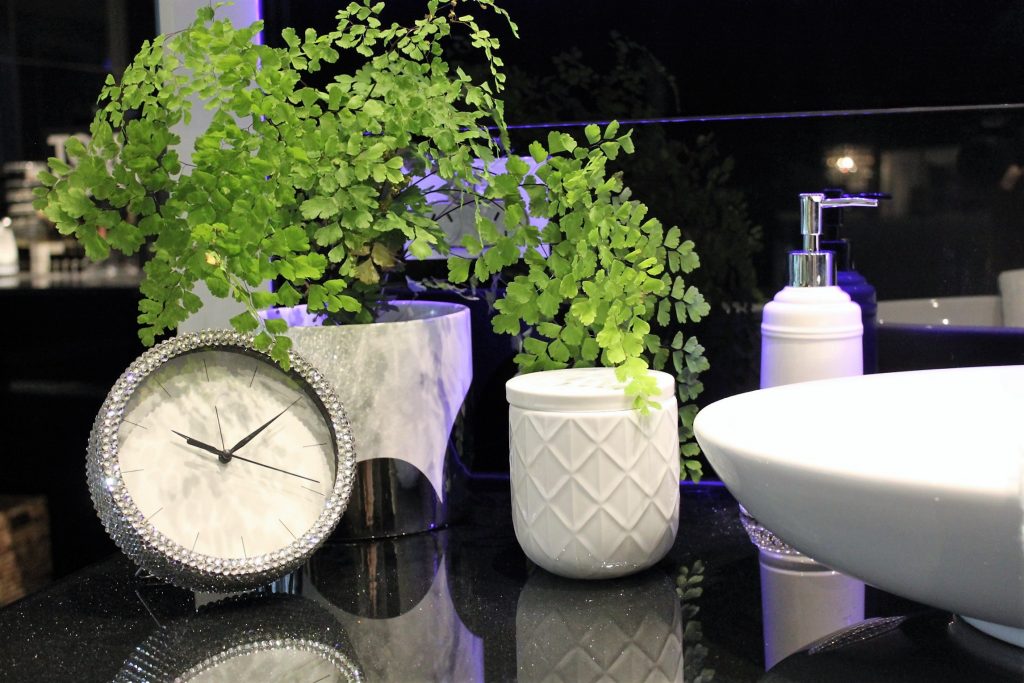 Down one end of the vanity, I've used another of the white and silver pots that I got on clearance along with the new white Embossed Container with Lid – $5, and the Black Table Alarm Clock – $7 that I covered with our KS 2.0 stones.
Also near the basin is a Soap Dispenser which was the subject of my very first blog – which you can find here!
I really love the Landon range of Bath Towels – they wash well, they're super absorbent, and they're always fluffy! Here I have a White Landon Hand Towel – $3.50 over the basin and on the right, I'm using a Small White Modular Basket – $3 – filled with rolled up Landon Face Washers – $2 each. We use these as hand towels, to dry our hands after washing.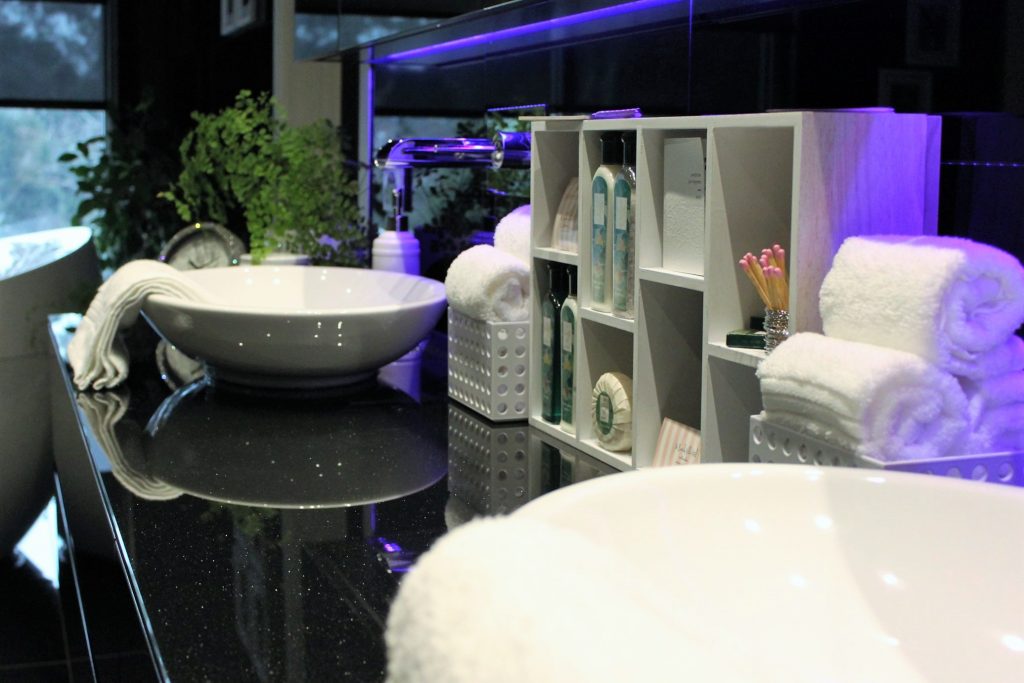 I've replicated the look down the other end of the vanity using the rolled up face cloths in the modular basket.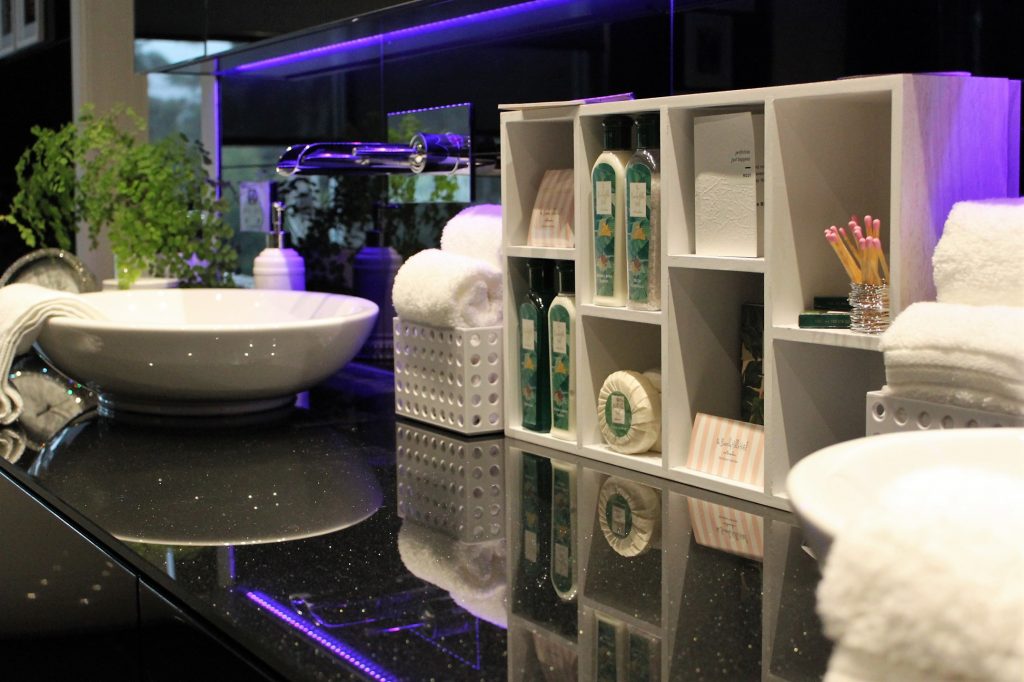 Also sitting between the basins is the Rectangle Wall Shelf – $15. We'll have a closer look at that in the next pic!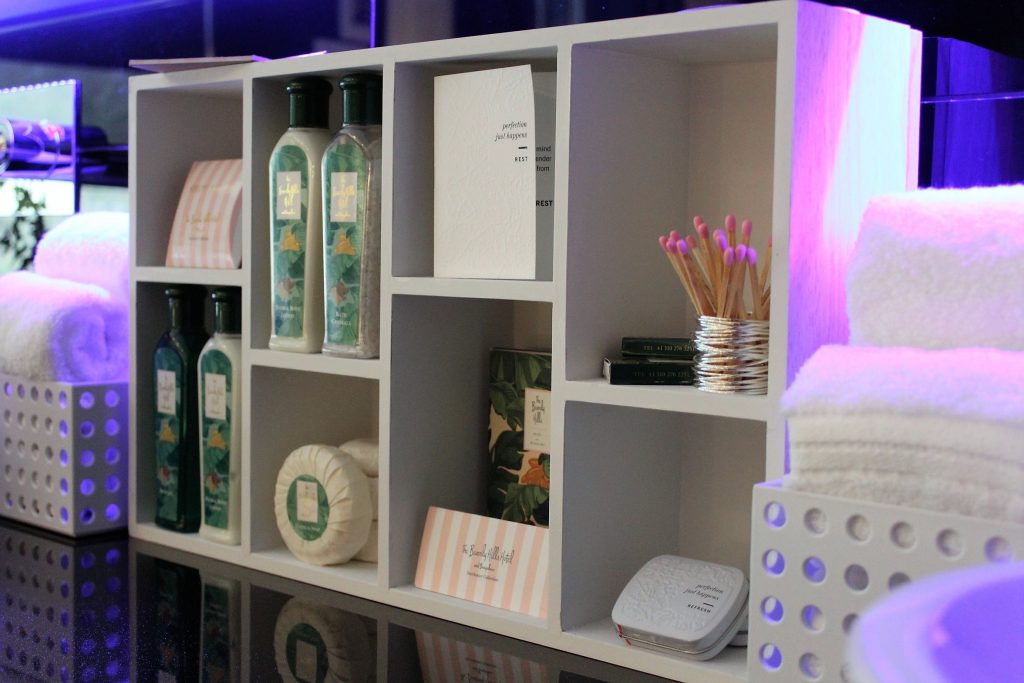 To really give this space the 'Hotel Vibe', I've filled the shelves with some amenities from my most favourite hotel on this planet – The Beverly Hills Hotel! There's some bath products, shower caps, soaps, pillow fragrance, mints and some matches.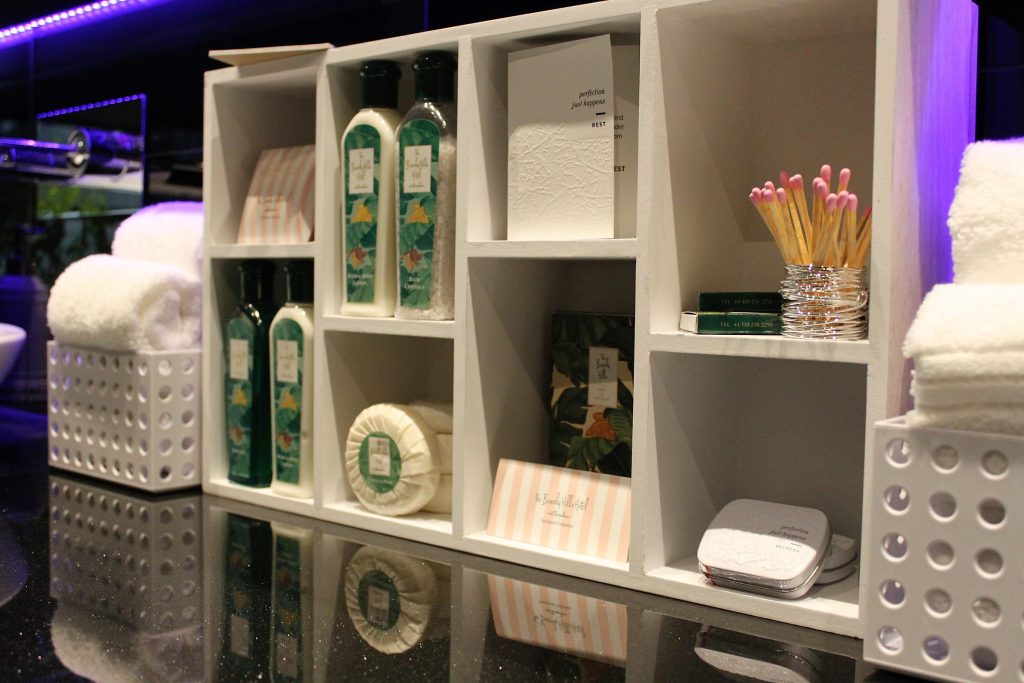 I adore the little pink tipped matches, so I have some sitting out of the box inside a Silver Napkin Ring – set of 2 – $2.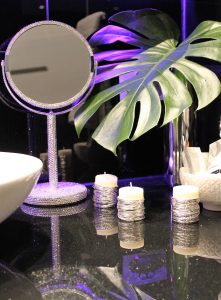 And right down the other end, (which is my end!) I have one of my favourite projects that I've made, the Vanity Mirror. If you'd like to see how I made this, you can find it here.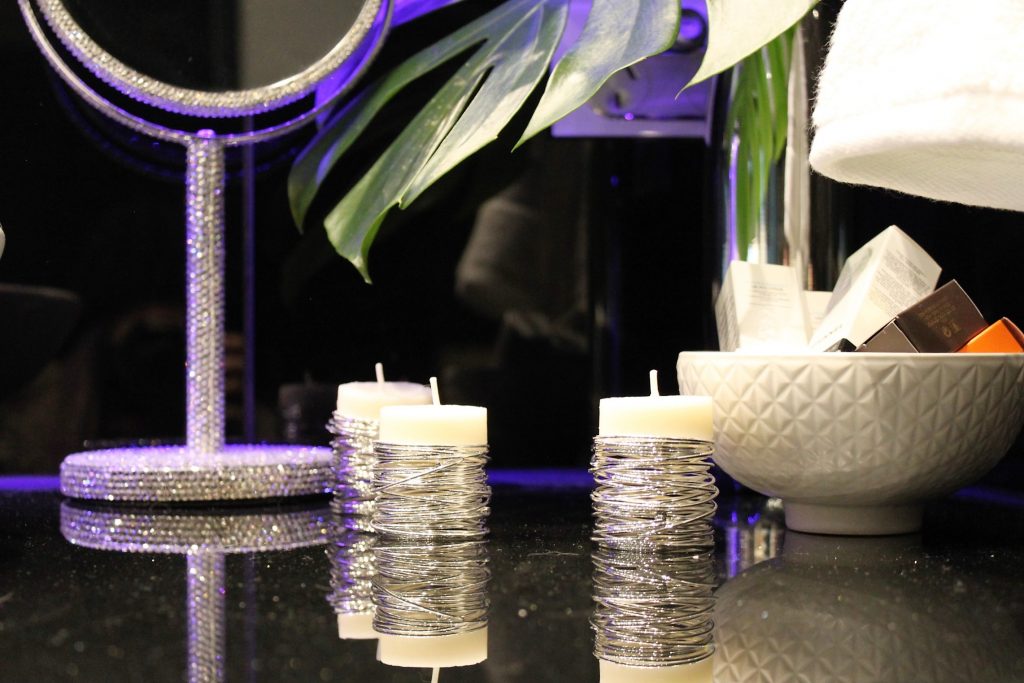 Sitting next to the mirror, I've used 3 more of the Silver Napkin Rings, and used them as tea light candle holders. You will need to shave a small amount from the side of the tea lights to make them fit, but they look super fab once they're done! I've also got some fragrance samples sitting in the empty pot from the Vanilla and Pear Scented Candle – $4.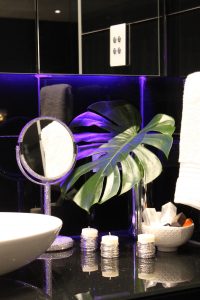 Nestled right at the back is a Stainless Steel Insulated Drink Bottle – $7 – which I've used as a vase for my Monstera stem.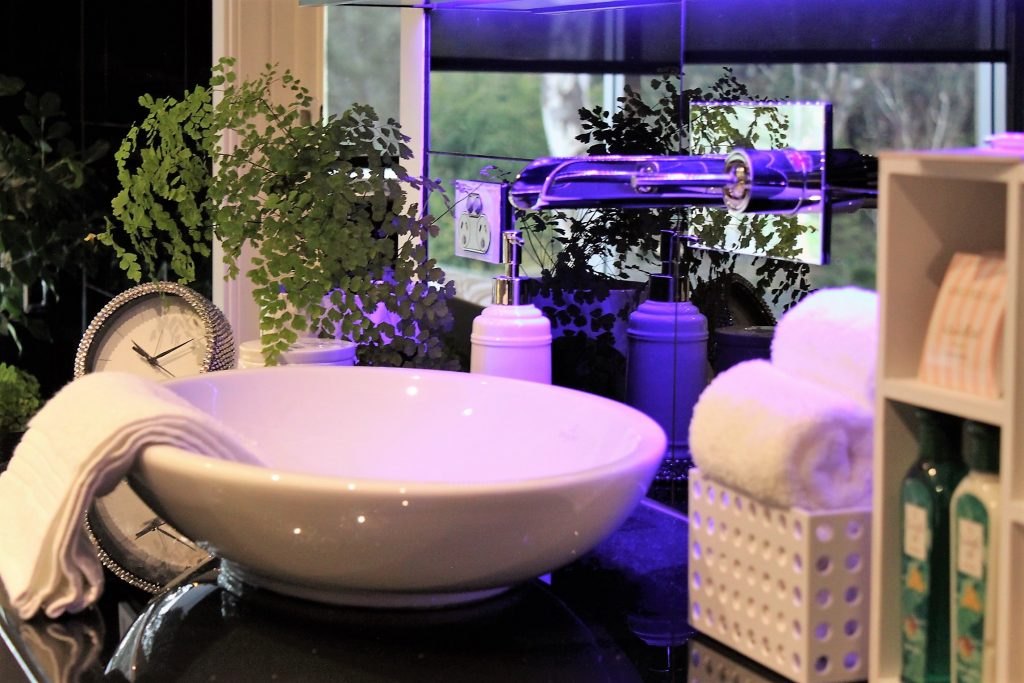 How amazing does my bathroom look?!! I LOVE IT!
Sometimes, all you need is a holiday at home!
Here's a little video of the completed bathroom, and because I get asked all the time, I've added a small bit of video of the rest of my Master Suite – just for you!
Don't forget to find us on Facebook here to keep up with all the latest posts, and I do try my best to keep up with Instagram, so if you'd like to find me there – @kmartstyling_official
Until next time,
Happy Styling!
xoxo
Categories: Homewares