This is definitely not your typical Kmart Bedroom! It looks more like suite in a luxury hotel than a bedroom kitted out with our beloved Kmart items. Unbelievable, right?!
What we're going to do is break it apart, section by section, to show you how we've managed to pull this off! We'll start on the left side and work across the room to the right.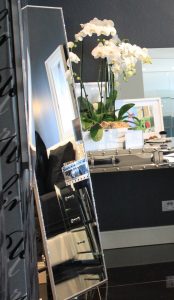 This is the 'Modern Mirror' – retailing for $39. – (Available instore only, not online.) We attached a single row of our largest stones around the entire edge of the mirror and it has dramatically changed its appearance! (Instructions here) The sparkle is real on this one!
Next we've got the corner of our console table. We turned the small white rustic case $17 into a planter for these beautiful Phalaenopsis Orchids. Then we've sat a few photo frames around the planter – Champagne quote is in a Block Photo Frame 5×7 Clear $12 – and we placed the Bevelled Mirror $29 behind it.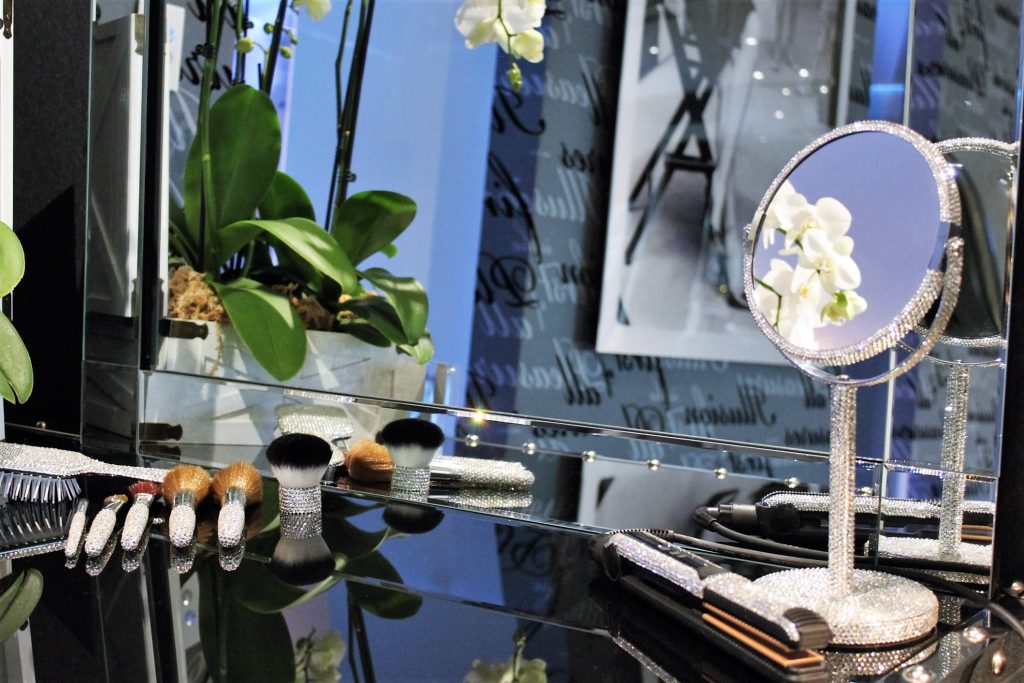 Then we've got our gorgeous Elf Make Up Brushes (prices start from $3) all glammed up – (Instructions here) and the Metallic Silver Hair Brush $12 we also added some glitz to!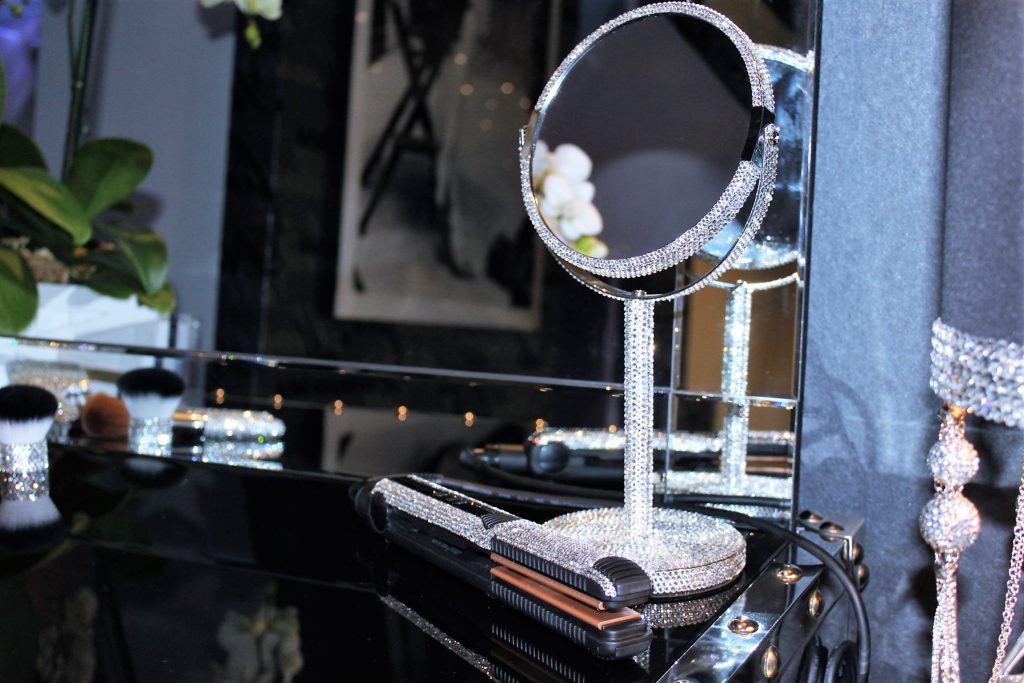 On the right hand side we've got one of our favourite, and most popular items, the Beauty Mirror $7. What a transformation that is! If you want to see how we did it, click here and it will take you to a step by step showing you how you can do it too!
Sitting in front of the mirror is one of our newest projects! That's the Slimeline Hair Straightener $25 with a facelift! Make sure to check our Facebook and Insta for updates on this one being posted!!!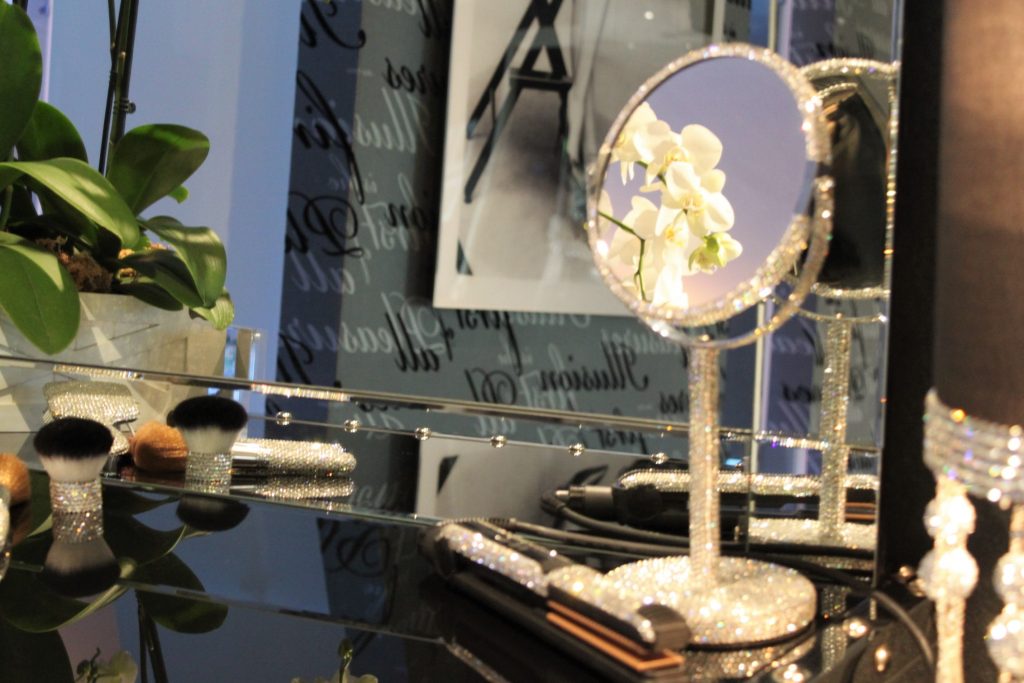 So Pretty!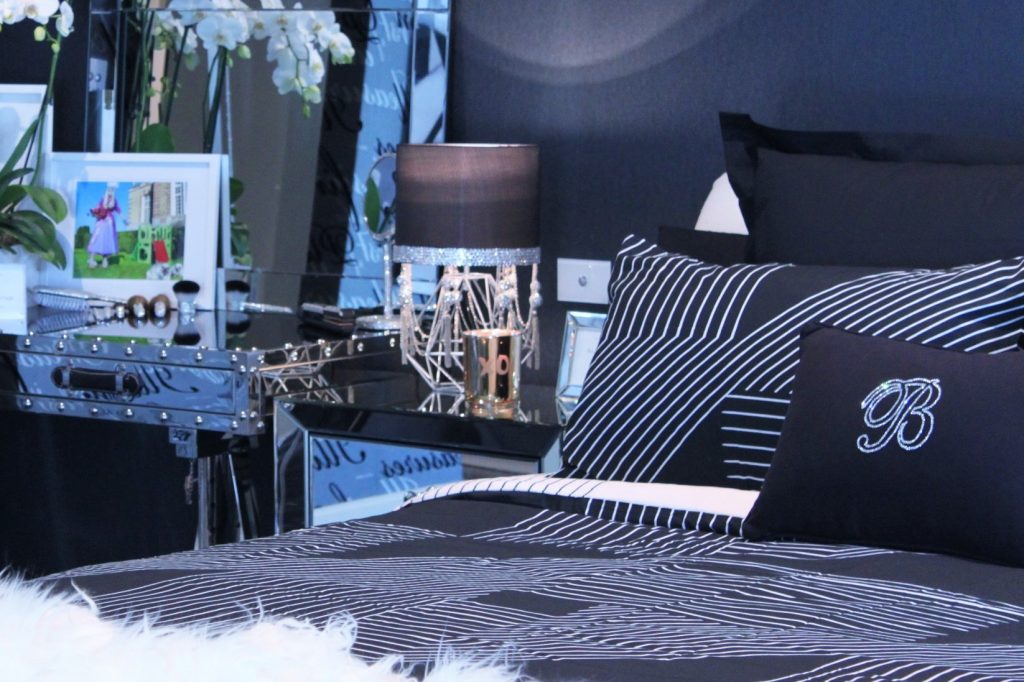 Sitting on our bedside table we have the Geometric Table Lamp $20 with the complete how to make one yourself here!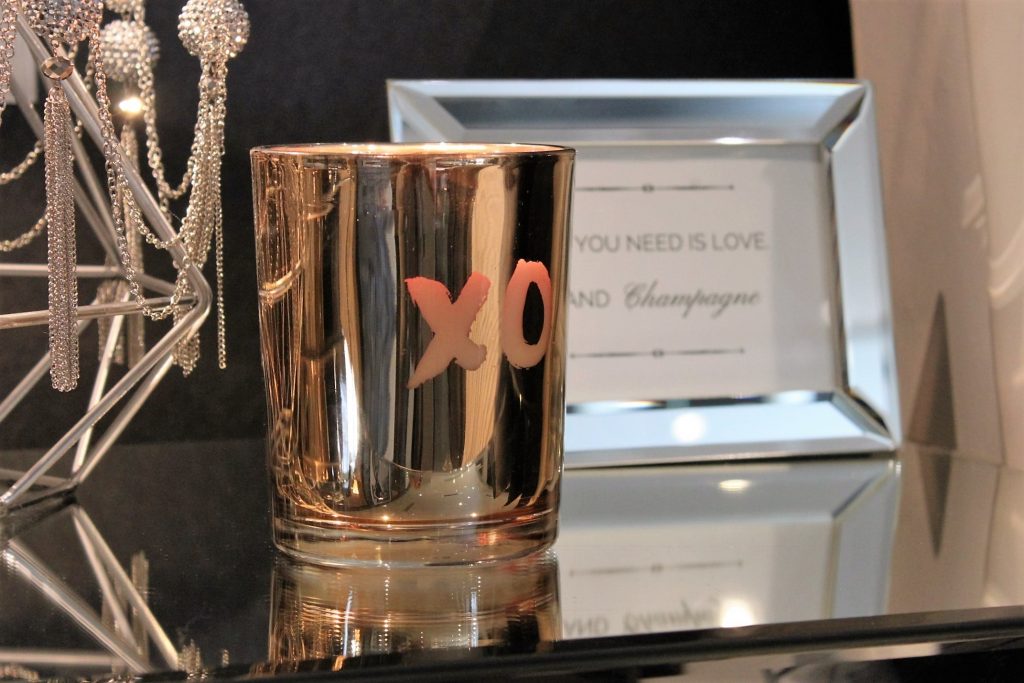 And we've also got the divine Copper Coloured Glass Sandalwood and Patchouli Candle $12 – the scent is so beautiful. (Dear Kmart, Please keep these in stock – they are that good!) Sitting behind the candle is a 5 x 7 Mirror Photo Frame $8.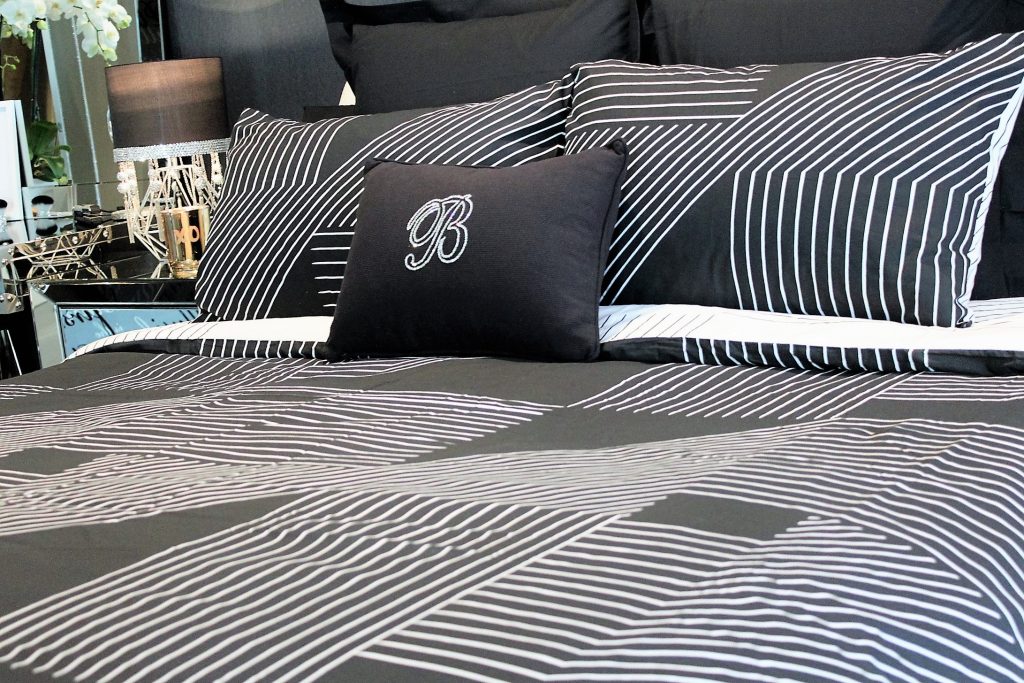 We're going to be honest here and say, this is the first time we've purchased any Kmart linen and to say we are impressed, is an understatement! The quality is fabulous, the fit is fabulous and the price is fabulous ridiculous! We started with the King Bed Sheet Set in Black $42 and also purchased two European Pillowcases in Black $7 each. And then we've chosen a King Size Linear Quilt Cover Set $26 … $26!! And it's reversible! We also purchased a pack of two High Profile Polyester Pillows $12 which look really nice and 'plump' on the bed!
Above the bed we've got the Horse Print $14 which we put into the Ava Collage Frame $25 with all the instructions on how we did that here.
At the foot of the bed we've got three of the White Zsa Zsa Faux Fur Cushions $12 each. We've got a full styling tip here that shows you how to get these cushions looking fabulous! Next to them we've got our #HOLLYWOOD cushion which started life as a Hudson Cushion $5. If you'd like to personalise your own cushion, we've got the details here.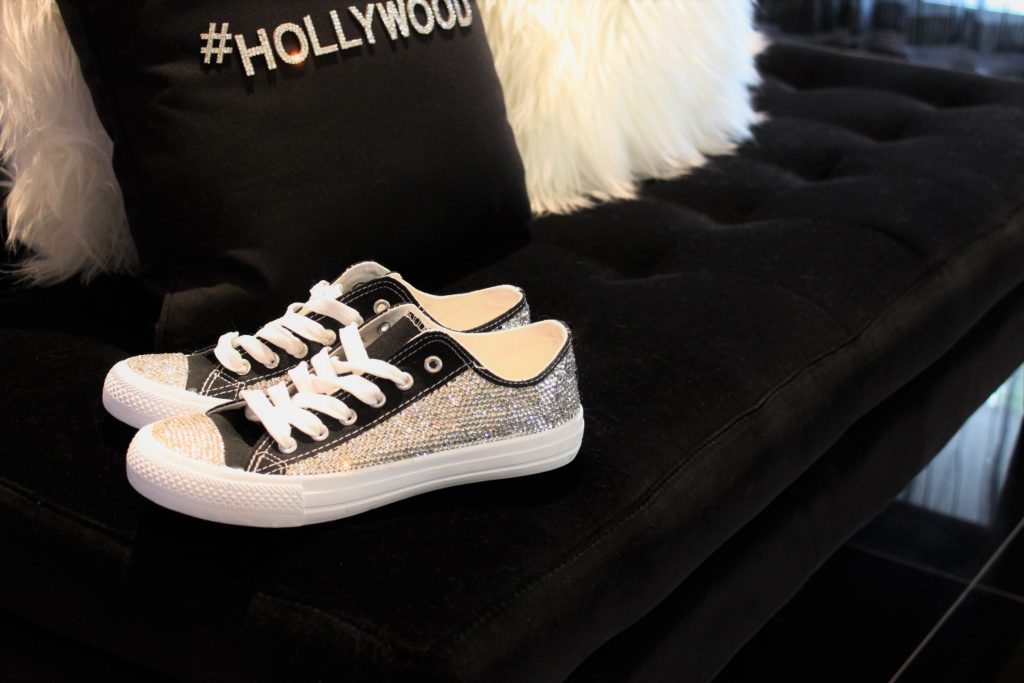 We popped these Womens Black Canvas Shoes $10 in the photo to give you a peek at yet another upcoming project! These look like they stepped straight out of Hollywood!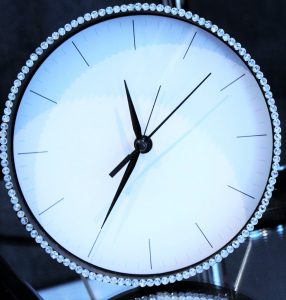 On the other side of the bed we've got the Copper Coloured Alarm Clock $7 totally made over! Very simple little DIY, but it makes a big statement!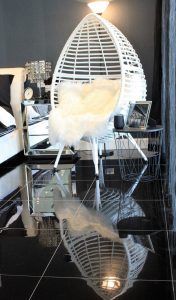 And on the far right we've got the stunning Wicker Tear Drop Chair $229. We've styled it with a white Wellington Rug $19 and three white Zsa Zsa Faux Fur Cushions $12 each. These textured pieces make it so inviting …. What a gorgeous piece of furniture!
Sitting next to the chair is a Black Wire Storage Table $19 with another Mirror Photo Frame 8 x 10 $10 and the Black Kara Tumbler $7.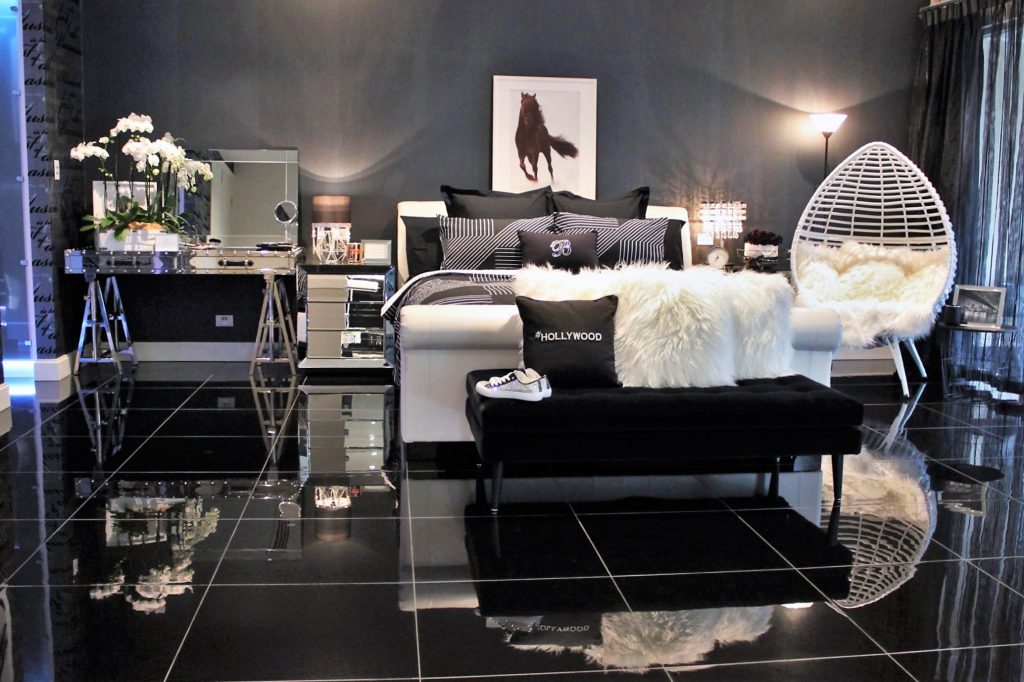 If you have any questions about the styling of this room or how to do a project yourself you can leave them down below, or find us on Facebook here. We love answering your questions and we love seeing what you create with our stones. Don't forget to tag us in your pics and use the hashtags #kmartystyling and #kmartkraze – that way all our followers get to see your creations as well!!
As always, have a blinging great day!
Categories: Learn How To
1 comment